Overview
On this luxury Thailand escape package, you can enjoy an action-packed tour of Bangkok's must-see sights, including a lavish river cruise and an exciting helicopter ride, before jetting north to hang out with the elephants and the hill tribes in the Chiang Rai province. You will then fly south to Phuket for some rest and relaxation at a beachside resort, meeting rescued gibbons and endangered marine turtles. Your tour finishes with four days of exploration and relaxation on a small and beautiful paradise island in the Andaman Sea.
A first-class city tour
Your tour of Thailand's fast paced capital city combines sightseeing, temples, palaces, culture, history, entertainment, fine wines and fine dining, complete with a fabulous cruise and a royal Thai feast aboard a luxurious river barge, a helicopter flight over the iconic sights, a visit to the famous floating market of Damnoen, and a dazzling cultural stage performance.
Meet the elephants and hilltribes of the Chiang Rai Province
Immerse in the nature and spectacular beauty of Chiang Rai, Thailand's northernmost province and the Golden Triangle, stay in an incredible jungle resort and spend a day with the happy, healthy rescued elephants of the Golden Triangle Elephant Foundation, meeting them in their natural habitat and watching them do what they love doing the most. Visit hill tribe villages in the highland regions, each with a distinct language and a fascinating well-preserved culture, meet and mingle with the friendly tribespeople, whose traditional dress is truly gorgeous.
Indulgence, entertainment, and conservation in Phuket
Head back south, this time to the island of Phuket, and allow yourself to be pampered at a private spa villa with a two-hour massage blending aromatherapy with acupressure. This will bring harmony to your entire body, leaving you feeling restored, reenergized, and in a contented state of lingering bliss. The next day, take a conservation tour to meet the island's rehabilitated gibbons and endangered sea turtles. A famous and colorful cabaret show is also on the agenda.
Rest, relax and explore Koh Yao Noi
Accessed by speedboat from Phuket and largely untouched by modern development, Koh Yao Noi is a wonderful place to relax and wind down after your splendid adventures and encounters in Bangkok, the Chiang Rai Province and Phuket. On this paradise island, you will discover hidden coves, lovely white sand beaches, spectacular views and a laid back pace of life. Take a day trip to the amazing Phang Nga Bay and James Bond Island; enjoy kayaking, snorkeling or scuba diving in the pristine waters; or venture out on your own on a bicycle or in a tuk-tuk to visit the local restaurants, cafes, bars, and shops along the coastline.
Accommodations
Of all the luxury escapes Thailand has to offer, this tour includes stays in top-class hotels in the city as well as a jungle resort in Chiang Rai, an upmarket beachside resort in Phuket, and a stunning hill resort on the island of Koh Yao Noi. Look forward to exemplary comforts and outstanding food, service and facilities.
Please note, this luxury tour is just a sample itinerary, and the featured excursions, activities, and accommodations herein can be tailored to suit your taste, budget and time availability in accordance with your personal wishes.
Itinerary & Prices
Welcome to Bangkok!
Upon your arrival to Bangkok airport, you will be met by the guise and a driver, who will escort you to your hotel in the city. If need be, we will have an immigration officer ready to assist with any visa procedures.
Settle down at your hotel and enjoy the remainder of the day, resting after the flight, getting a massage, and relaxing.
Meals: x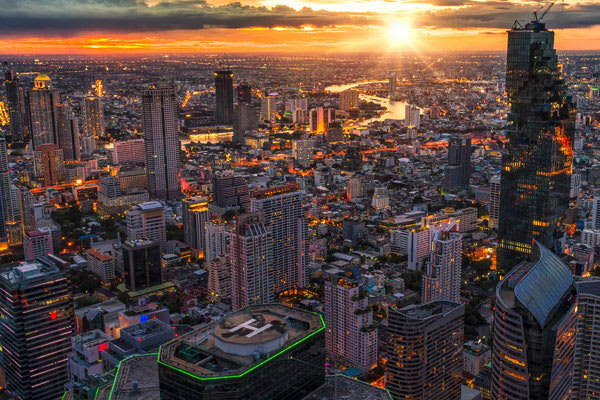 Venice of the East and Chao Phraya River Dinner with Historian
Take this morning easy, have a late breakfast, or plunge into the pool and get into the holiday mood.
Your guide will meet you after early lunch, to start your sightseeing with the legendary Bangkok canals.
Explore the rivers and canals of Bangkok for an insightful view of local life. Transfer from your hotel to the Chao Phraya River and visit the Bangkok riverside. Bangkok has been called the "Venice of the East" because of its many klongs (canals) that zigzag through the city. While many of them have been filled in to make way for roads, old bridges remain and colorful houses still crowd the water's edge. Visiting the waterways is very much a local experience rather than a touristy one.
Make a stop at Wat Arun on the west bank of the Chao Phraya River. It is easily one of the most stunning temples in Bangkok, not only because of its riverside location but also because of its unique design. Notice its impressive 82m (269ft) high Khmer-style tower and the many detailed floral mosaics made from broken Chinese porcelain.
Return to your hotel to refresh before your dinner experience.
Meet your driver for a transfer to Chao Phraya River.
Step aboard a lovingly restored old rice barge to experience the ultimate luxury river cruise, privately joined by a Thai Historian who will give you an orientation of this exquisite trip. He has extensively studied over 600 ancient temples in the old town area and will tell the story of how the Kingdom was built alongside the river, a principal factor in the development of Thai heritage, culture, and economics. Listen to the artistic tales and secret love stories of princes and princesses while enjoying the sumptuous Thai set menu aboard this magnificent vessel as it meanders through one of the largest cities in Southeast Asia. Savor the essence of Thailand's world-renowned authentic cuisine and sample an evolving Royal Thai feast of unforgettable flavors, textures, and aromas as you glide down the Chao Phraya River, uncovering the City of Angel's cultural contrasts by night.
The cruise will take you to the King Rama VIII Bridge from where the boat makes a turn to return. Upon arrival at the pier, transfer to your hotel.
Meals: B, D
Helicopter over Bangkok, Palace and a Sommelier Dinner
Meet your guide in the morning. Ride to the AA Bangkok Base to embark on a helicopter flight. Enjoy the amazing bird's eye view of Bangkok.
Fly over Ratchamangkala Stadium to Erawan Museum. From there, Phra Samut Chedi, Paknum Samutprakarn, and the Ancient City. On the way back, you will pass Silom area, well-known as a business road in Bangkok.
After the 30 minutes flight continue by car to visit the Royal Palace.
King Rama I began the construction one of the most impressive palaces in Southeast Asia in 1782 after he moved the capital from Thonburi to Bangkok.  The vast 94ha (233ac) grounds encompass more than 100 buildings including the Royal Residence and Throne Halls, government offices, and the renowned Wat Phra Kaew, home to the most revered Buddha image in Thailand, the Emerald Buddha.
Later tonight Wine & Dine with one of the best sommeliers in the region, president of the Association of Thai Sommeliers. Mr. Pairach Intaput has been well known in the food and beverage business for more than twenty years, hosting wine dinners for some of the most prestigious events and the important political as well as business figures in the country. This exclusive experience includes the service of selecting food and wine according to your liking and demand.
PM: Pick up from your hotel in the early evening, we will take you to one of the Thai restaurants in Bangkok where Mr. Pairach will welcome you with wine and tell you the stories of the winemaking around the region. Enjoy your exclusive dinner and taste some of the region's top selections. Listen to a short orientation on how to pair Thai food with wine and enjoy the evening with one of the most exclusive experiences.
Meals: B, D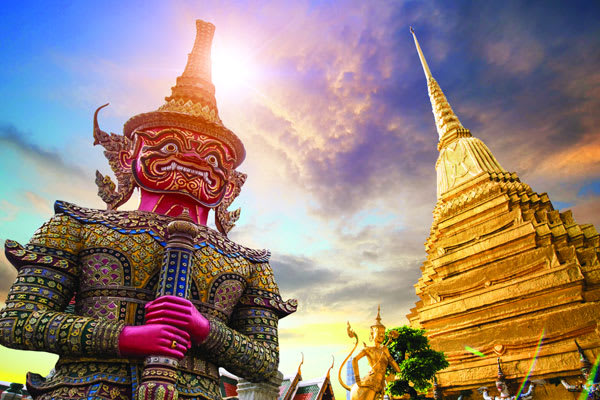 Damnoen Saduak Floating Market and Evening Show
Depart early morning for the 2hr drive to the 100-year-old Damnoen Saduak floating market located 100km (62mi) from Bangkok.
This vibrant, most famous of local markets features numerous small boats laden with colorful fruits and vegetables, paddled by Thai women wearing bamboo hats. Almost always crowded with hundreds of sellers, buyers, and tourists the market is one of the most photographed places in Thailand and certainly a Bangkok icon.
No lunch is included in this tour, but there is plenty of opportunities to enjoy a snack at the market. Drive back to Bangkok in the afternoon.
Spend an evening at Siam Niramit, a world-class celebration of Thailand's artistic and cultural heritage. Set in the heart of Bangkok, this must-see spectacle is performed on a gigantic stage featuring over 150 performers with as many as 500 costumes. Enhanced special effects using the latest technology add to the inspiring experience.
Meals: B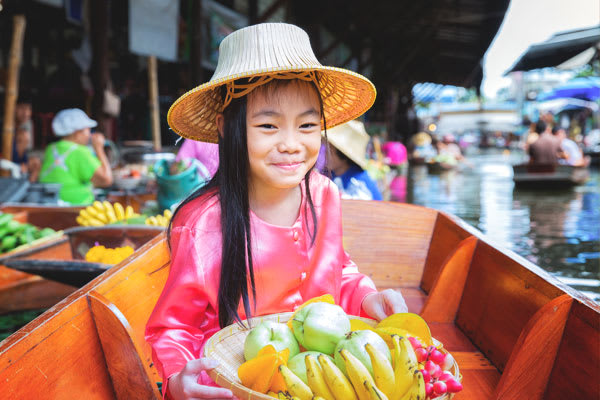 Transfer to Chiang Rai and Evening in Nature
See your driver after breakfast for your transfer to the airport. You will take a short flight to Chiang Rai airport where you'll be met by your driver for a transfer to your remote yet luxury jungle resort.
After check-in enjoy your evening in beautiful surroundings – take in the amazingly clean air, listen to the birds from your jacuzzi, or visit the spa for one of the Thai treatments.
Consider wine tasting in the evening and enjoy your dinner with Elephant Camp insight.
Meals: B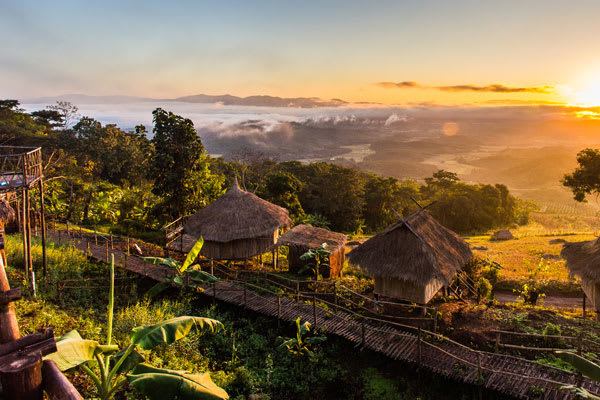 Day with Elephants
Your resort works together with Golden Triangle Asian Elephant Foundation, saving elephants from the streets and captivity, providing them with a happy life in the jungle.
Spend your day with the elephants, by keeping them company in their natural habitat. Meet their caretakers and learn about their habits and needs, as you partake in bathing and feeding.
Rest of the day at leisure.
Meals: B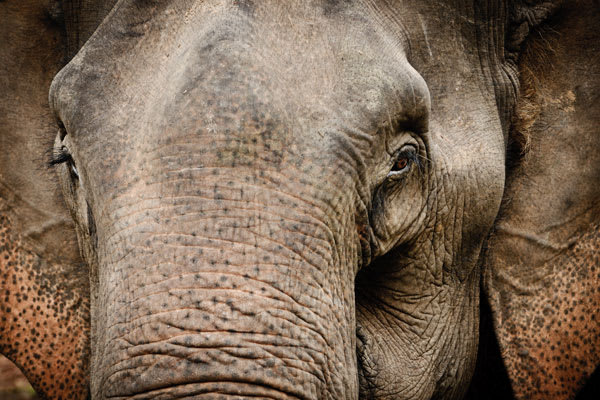 Hill Tribes and transfer to the Beach
North Thailand is famous for its colorful hill tribes.
Drive to Mae Chan district and continue uphill along narrow mountain roads to visit the simple Akha and Yao hill tribe villages. The Akha, who originated in Tibet, are amongst the poorest of Thailand's ethnic minorities and can also be found in the northern part of Laos. They are mainly farmers and known for their artistry. The Yao, whose origins are in China, is heavily influenced by Chinese traditions, still using Chinese characters in the writing of their language. The two minorities live peacefully close to each other. Observe the distinct differences between them and learn more about their culture, traditions, and costumes.
Transfer to the airport and take a flight south, to Phuket. Your driver will pick you up and bring you to the beachfront resort for the night.
Meals: B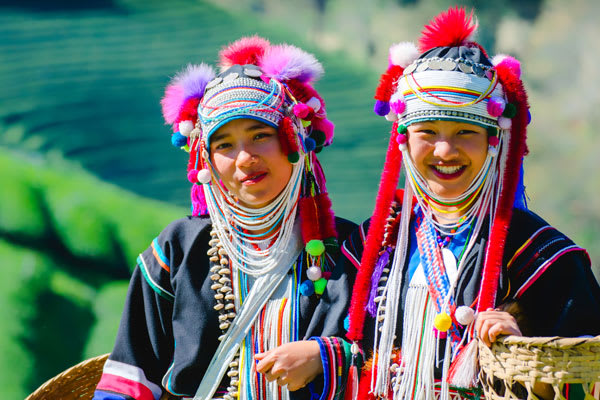 Location
Chiang Rai to Phuket
Private Massage and Evening Show
In the early afternoon, a luxurious and personalized experience awaits at a private villa, equipped with traditional wellness facilities and managed by our specially handpicked therapists from an elite class of the Suuko Academy.
Immerse yourself in a cultural custom that reflects the luxurious legacy of Thai Heritage and experience a massage designed to synchronize acupressure with aromatherapy. Let your strains and stresses fade away with this two-hour session and walk out feeling reenergized.
In the evening, we'll bring you to the renowned Simon's Cabaret Show, for the most entertaining and colorful performance.
Conservation Projects in Phuket and Evening Show
After breakfast, take a conservation tour that will give you an insight into the efforts to preserve the natural condition of the island.
Visit the "Gibbon Rehabilitation Project" and learn about the effort to return the abandoned and abused gibbons to the wild. We continue to Mai Khao Marine Turtle Foundation, an organization helping the endangered leatherback turtles, one of the world's most ancient species.
From here we head to your hotel. Take the remainder of the afternoon to relax or shop. In the evening we'll bring you to one of the famous shows: Simon's Cabaret or Phuket Phantasea Show.
Meals: B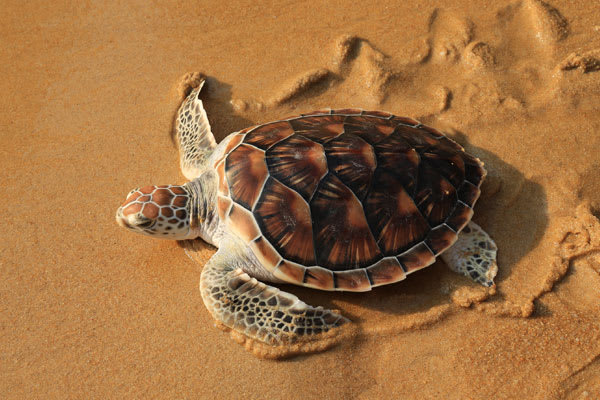 Transfer to the Paradise Island
This morning, you will take a speedboat from Phuket pier and arrive at your stunning Joh Yao Noi hill resort around an hour later. Check-in and settle down, find your way around the resort, discover the pool and the spa.
Choose your spot for the sunset – at the resort or right at the beach!
Meals: B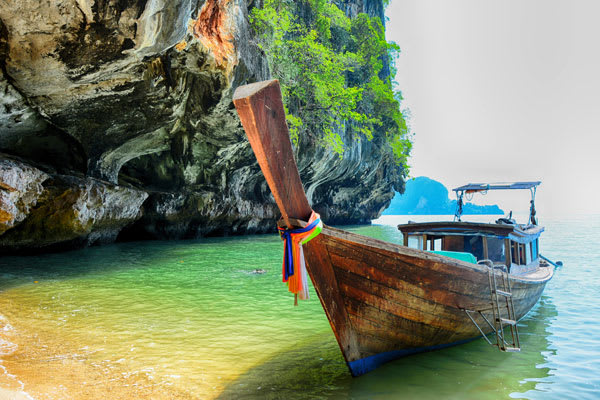 Phang Nga Bay and James Bond Island
Phang Nga Bay is nature's treasure at its best. Take the speedboat or a traditional long-tail boat and set on an exploration of this beauty. Greenery-covered karst formations mount over pristine waters, in a labyrinth of sandstone and jungle. Find secluded beaches, visit the wild monkeys, arrive at the famous "James Bond Island".
Meals: B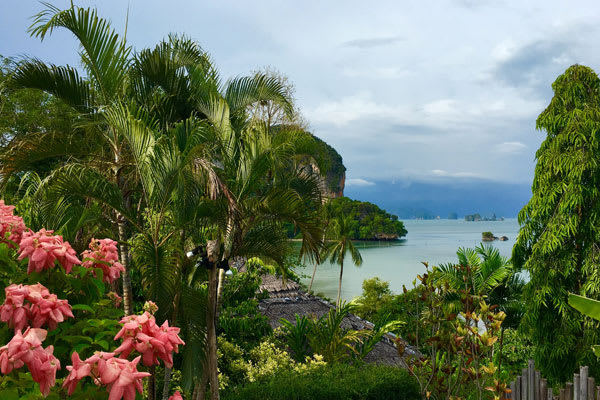 Day to Explore the Island
Day at Leisure.
Koh Yao Noi is an island of unique charm. Small and never overcrowded, it is home to many attractions. Enjoy the quiet beach and luxury spa, or explore the island's treasures! The rubber plantation, batik production, or lobster farm give you insights into the local living.
If you wish, you can just hop on a bicycle on your own, finding the lovely cafes and local restaurants. Watersports, including snorkeling and diving, are available.
Meals: B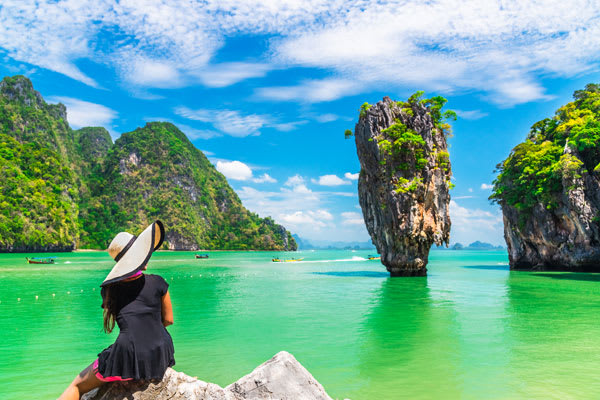 Beach Day
Take this last day on the island to fully relax, enjoy a massage on the beach, go swimming, and having the time of your life. If you wish to visit a rubber plantation, take a cooking class, go snorkeling – there is an abundance of options!
Meals: B
Departure
Let us bring you to the airport in Phuket and wish you safe travels. If need be, we will also provide a transfer between airports in Bangkok.
Meals: B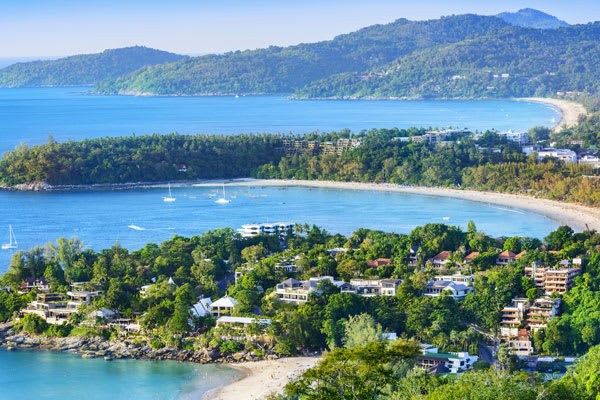 1 / 14
Accommodations
Hotel Options
5 Star
Anantara Riveride Bangkok Resort
Bangkok
5 Star
Four Seasons Tented Camp Golden Triangle
Chiang Mai
5 Star
Treehouse Villas - Adults Only
Phang Nga Bay