Overview
Thailand is a place of dramatic contrasts. This ancient country's historic sites, welcoming people, lush jungles, elephants, gorgeous beaches, and fabulous food all combine to make it an enchanting and fascinating destination. From the stunning gilded temples and exotic klongs (canals) of Bangkok, to exploring the ancient city of Ayutthaya, the temples and tea plantations of Chiang Mai, the tribal highlands of the Chiang Rai Province, to life along the Upper Mekong, this Best of Thailand adventure will delight and enchant you. There is also time for relaxation on the idyllic secluded beaches of Phuket and the Andaman Coast. Oh, and did we mention the elephants…
A tour of two cities
Your best of Thailand private tour begins with a three-day city-break in the thrilling capital of Bangkok, where you can indulge in a Thai massage, explore the capital's buzzing markets and gold-tinged temples, ride on a long-tailed boat through narrow canal ways, visit the iconic floating market of Damnoen Saduak, and sample delicious treats in the night markets of Chinatown before discovering the rich past and ancient ruins of the grand complex of Ayutthaya. Located about an hour from Bangkok, this former capital of Thailand was once one of the wealthiest cities in the region. Here, dozens of ruins, many of which have been at least partially restored, offer a tantalizing glimpse into Ayutthaya's rich past.
Temples, tea, and elephants
Delve into the temples of Chiang Mai on this next leg of your Thailand temple tour, where you will be drawn by the golden spire of Wat Phra That Doi Suthep, one of northern Thailand's most sacred temples, which glitters near the summit of Doi Suthep. Visit a tea plantation, pick your own tea leaves, and later spend an afternoon interacting with the beautiful elephants of the Patara Elephant Sanctuary. In the Chiang Rai Province, near the famous Golden Triangle, cruise the Upper Mekong, immerse yourself in the fascinating culture of the traditional hill tribe villages, observe commercial trade on the border of Laos, and again on the border of Myanmar.
Phuket and Phang Nga Bay
Finally head to the sublime whiter-than-white tropical beaches of Phuket to chill out and take in a cabaret show before island hopping through the islets, caves, mangrove lagoons, and sheer limestone cliffs that jut vertically out of the emerald green water in the Phang Nga Bay Marine National Park. Visit James Bond Island and the floating fishermen's village on Panyi Island. Swim or grab an inflatable canoe and paddle around the dramatic karst formations. The birds and wildlife are almost as stunning as the cliffs themselves, making this a spectacular way to spend your final day.
Accommodations and Food
Throughout your Best of Thailand tour, you will be staying in comfortable four-star city hotels and upmarket beachside resorts, where you can enjoy superb service and luxury facilities as well as outstanding Thai and western cuisine. There will be opportunities to sample street food, and you can enjoy ample free time for private exploration, relaxation, and shopping.
All excursions and transfers on this tour are on a private basis, featuring private transport with private guide, and all day trips, activities, and accommodations can be tailored to suit your taste, budget, and the time that you have available in accordance with your personal wishes.
Itinerary & Prices
Welcome to Thailand!
Welcome to Bangkok – the city that truly never sleeps.
Your guide will meet you at the arrivals, for our private car ride to the hotel in the city center.
Take the rest of the day to relax and rest. Time permitting – try some of the spa treatments – Thai traditional massage after the long flight will be a great way to start your holiday!
Highlights of Bangkok
Morning drive to Wat Pho – one of the oldest temples in Bangkok, Wat Pho houses the famous 45m (148ft) reclining Buddha as well as the original school of traditional Thai massage. From here, take a tuk-tuk ride via Pak Klong Taland Flower Market towards the spectacular Grand Palace, home to the most revered Buddha image in Thailand, the Emerald Buddha (which is actually made of jade or jasper, rather than emerald).
Continue with a walk to the pier for a long-tailed boat ride along the "klongs" (canals) of Thonburi to get a flavor of local life. Stop at Wat Arun, once the grand royal temple to King Rama II.
After lunch at a local restaurant, cross the river and drive to Chinatown for a first-hand look at Old Bangkok. Walk along Yaowarat Road with shops selling everything from gold and garments to antiques and musical instruments. Explore the bustling Talad Kao Market where a variety of food, fresh and dry fruits, and Chinese herbs are on offer before returning to your hotel.
Floating Market and China Town Street Food
Depart early morning for the 2hr drive to the 100-year-old Damnoen Saduak floating market located 100km (62mi) from Bangkok. This vibrant, most famous of the local markets features numerous small boats laden with colorful fruits and vegetables, paddled by Thai women wearing bamboo hats.
Always crowded with hundreds of sellers, buyers, and tourists, the best way to experience the bustling atmosphere of the market up close is to board a boat and float through the small canals, shopping away.
This floating market is one of the most photographed places in Thailand and a Bangkok icon.
In the early evening, meet your guide again and head to the Chinatown area, part of Old Bangkok dating back to 1782 housing Bangkok's Chinese population, many of whom were laborers tasked with building the new capital, for a chance to really become a Thai food insider. Enjoy a behind-the-scenes adventure indulging in the local sights and flavors of this "foodie" neighborhood.
There is a good chance to see the local cooks at a work station (cooking station) and hear their stories through your guide. Sample delicious treats from some of Bangkok's favorite street vendors, local eateries, and/or in restaurants nearby before returning to your hotel.
Meals: (B, D)
Ayutthaya Ancient City and Transfer to Chiang Mai
This morning depart for a 1.5-hour drive through Bangkok's rural outskirts to the Ayutthaya History Park and visit the Bang Pa-In Summer Palace, a beautiful collection of European, Chinese and Thai buildings built in the 17th century and restored by King Rama V.
Continue to Ayutthaya, the capital of the Thai Kingdom for 417 years. Founded in 1350 by King U-Thong, its destruction by the Burmese army in 1767 resulted in the collapse of the kingdom.
The ruins of all the most important buildings have been consolidated, repaired, and sometimes reconstructed, giving visitors an idea of its past splendor and leading to its inscription as a UNESCO World Heritage site. Stroll around the ruins of Wat Phra Si Sanphet, a former royal temple during Ayutthaya's days of glory, and Wat Mahathat, best known for a stone Buddha head entwined in tree roots, before returning to Bangkok. 
After lunch, we'll transfer you to the airport for a short flight to Chiang Mai, Upon your arrival, you will be met by your local guide and transferred to the hotel for the evening at leisure.
Meals: (B)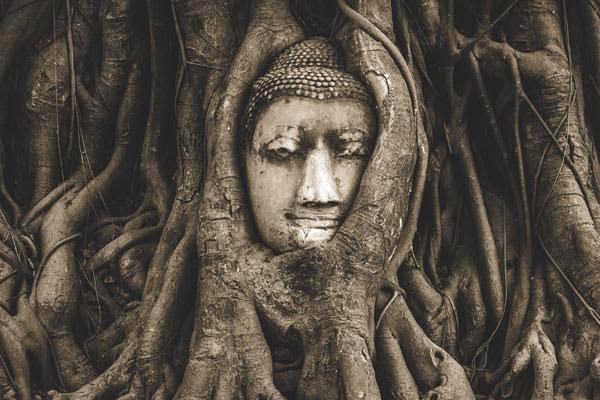 Location
Bangkok to Chiang Mai
Monks and Temples
This morning, rise at dawn and drive towards Doi Suthep Temple to witness dozens of monks streaming down the mountain to the city of Chiang Mai to receive alms from the locals – a visually striking daily ritual.
Afterward, drive up the mountain to visit the picturesque Wat Doi Suthep set amidst the beautifully forested mountains. Founded in 1383 AD, Wat Phra is considered one of Northern Thailand's most sacred temples.
Inside the temple compounds, explore the pagodas, statues, bells, and shrines and enjoy the superb panoramic view over the city before returning to your hotel for lunch.
In the afternoon, we'll take you on a deeper exploration of this ancient city. From the iconic Tha Phae Gate, ride through the old city's labyrinth of narrow lanes before breaking out into the beautiful rural landscape of forest-lined roads.
Stopping for a moment beside a serene 7th Century Buddha, admire the picturesque surroundings before hopping back on the Vespas for a cool ride downhill to visit the artisans of a bohemian craft village in a tranquil garden setting.
Next, shift gears and join in the bustle of Chiang Mai's most famous market, sampling exotic local produce and embracing the chaotic Thai market experience. Finally, visit Thailand's most stunning temple, a truly spectacular sight with incredible photo opportunities, and a place to enjoy a light local snack. 
Stops include: Tha Phae Gate, Wat Doi Kham Temple, Art & Craft Village, Warowat Market, Silver Temple
Meals: (B)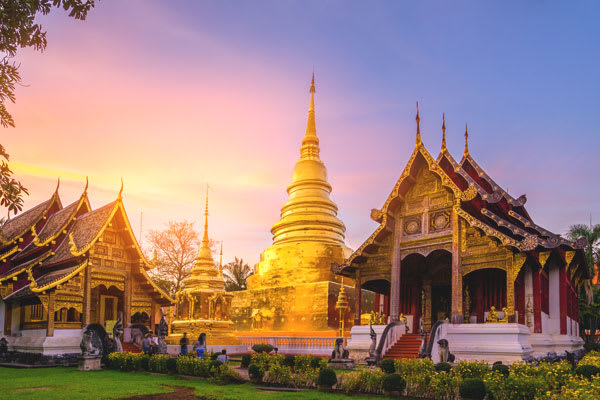 Tea Plantation and Elephants Experience
This morning discover Araksa Tea Garden in Mae Tang District – a verdant plantation, specializing in producing high-quality Assam tea.
Upon arrival at the tea plantation, you'll be greeted by the staff, who will explain the different processes and methods used to cultivate young tea plants.
Afterward, follow the resident plucker to the tea bushes and learn how to gather tea leaves. Feel free to join them in plucking tea leaves. Next, continue to the roasting station, to observe the art of making tea entirely by hand, from kneading to roasting. After the roasting, enjoy a cup of tea with a delicious Thai snack!
After lunch, we'll drive to Patara Elephant Sanctuary. The program teaches you how to approach the elephant, discern the elephant's temperament, feed it and check its health. You can learn how to take care of the elephant, bathe and brush it in the river.
Visitors will have a once-in-a-lifetime experience participating in giving daily healthcare for pregnant elephants and their babies. You can also have a chance to observe elephants interacting with their families in the natural environment.
Drive back to your hotel in the early evening.
Meals: (B)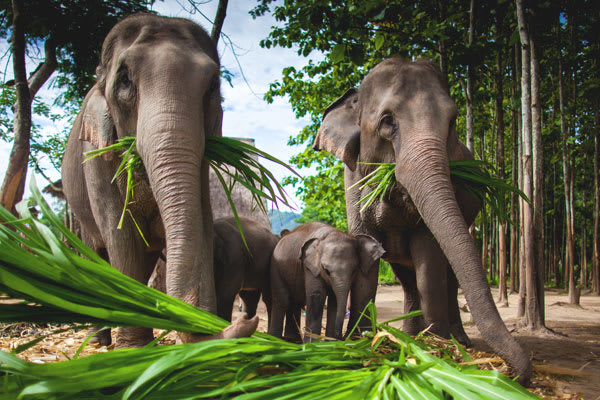 Transfer to Chiang Rai
After leisurely breakfast, embark on a scenic ride to Chiang Rai near the famous Golden Triangle. Arrive at your hotel in time for lunch and have a quiet afternoon in these beautiful surroundings.
Meals: (B)
Location
Chiang Mai to Chiang Rai
Life Along the Mekong
This morning we'll take you on a trip along the Upper Mekong at the Lao PDR border. Start at Chiang Saen, one of the oldest archaeological sites in northern Thailand, and make a stop at Wat Phrathat Chomkiti.
Visit Ban Had Bai, a Thai Lue weaving village. Lunch is at Rai Saeng Aroon, a farm specializing in organically grown produce. Continue down the river to Chiang Khong. This major commercial crossing at the Thai-Laos border marks the beginning of the road to China. See how local people live and observe the trade between the two counties.
Return to the hotel in the late afternoon.
Meals: (B, L)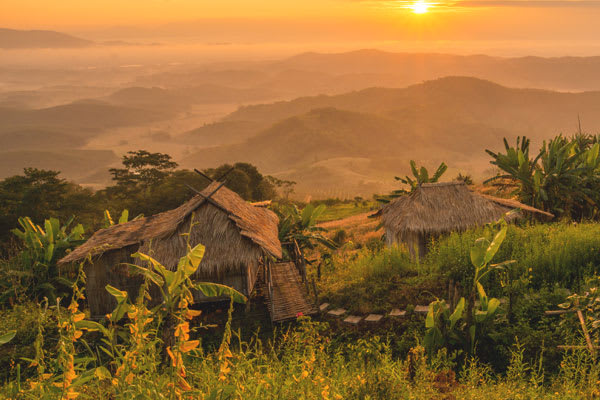 Hill Tribes of Chiang Rai
Chiang Rai is among Thailand's most ethnically diverse provinces and home to many hill tribes.
Start the day with visits to traditional Akha and Yao hill tribe villages. The Akha originated in Tibet and are among the poorest of Thailand's ethnic minorities. The Yao originated in China and are strongly influenced by Chinese traditions. Although different in many ways, they have managed to live peacefully for decades.
Arrive in Mae Sai, the northernmost point of Thailand, and one of the very few official land crossing points between Thailand and Myanmar. Many people from Myanmar come over during the day from Thakhilek to work or do business, hurrying back home before sunset. Lacquerware, gems, jade, and other goods from Laos and Myanmar are sold in shops along the main street.
After lunch, return to Chiang Rai, arriving in the late afternoon.
Meals: (B, L)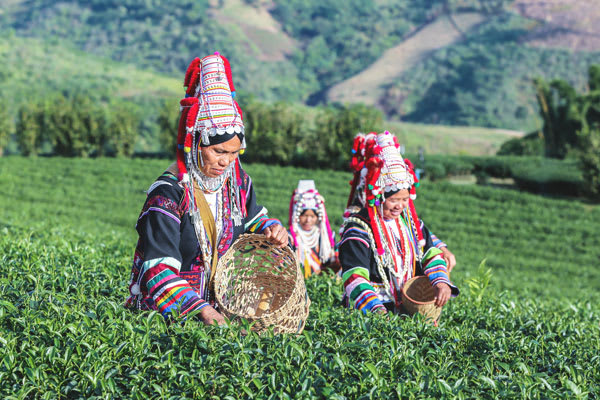 Transfer to the Beach Paradise and the evening Show
After breakfast, we'll pick you up at your hotel and, depending on flights availability we'll take you to one of the nearest airports for your flight to Phuket – the capital of beach life in Thailand.
Here you will be met by your local guide and transferred to the resort. The guide will meet you again in the evening for your Simon's Cabaret experience.
Stunning costumes, bright lights, a state-of-the-art sound system, and expensive sets are all part of this theatrical extravaganza featuring glamorous "ladyboys" performing non-stop musical numbers and dance routines.
Meals: (B)
Location
Chiang Rai to Phuket
Beach Time
Today enjoy the famous Thai beach and local food. Relax in the sun or explore the restaurants, cafes, and boutiques. Whatever you do, don't miss the spectacular sunset!
Meals: (B)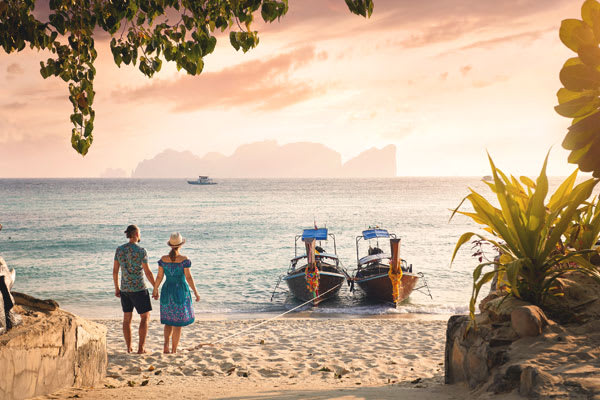 Full Day of Sea and Sun
Full-day tour by speedboat to explore Phang Nga Bay Marine National Park, famed for its rock formations rising out of the sea.
On arrival, explore some of the area's fascinating caves by inflatable canoe accompanied by an expert guide. Visit Hong Island as well as Dark Cave, Mangrove Cave leading to a lagoon with mangroves, and Diamond Cave, named for a glittering flowstone inside.
Cruise to James Bond Island (Khao Tapu), famous for being in the film "The Man with the Golden Gun". Continue to Panyi Island noted for its picturesque village built over small pilings and extending out across the water and inhabited mostly by Muslim fishermen.
After a tasty Thai set lunch at a local restaurant, swim at Lawa or Naka Island before returning to Phuket and your hotel.
Meals: (B, L)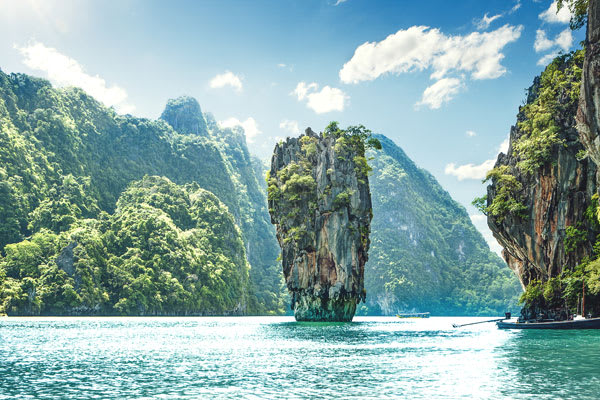 Transfer to Bangkok
Spend your morning on the beach and after check-out head back to the airport, escorted by your guide, for your flight to Bangkok.
There we will transfer you to the hotel in the city center for your last night in Thailand. Don't forget all the shopping and once again find your favorite food before the end of the day!
Meals: (B)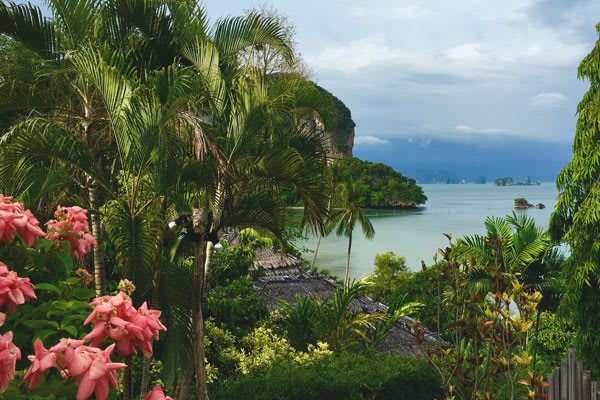 Location
Phuket to Bangkok
Departure
Your driver will pick you up from the hotel for the ride to the Bangkok airport. Have a safe flight home!
Meals: (B)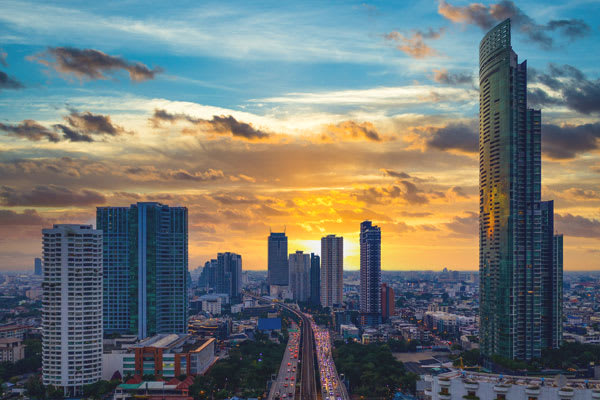 1 / 14
Accommodations
Hotel Options
4 Star
Mercure Bangkok Sukhumvit 11
Bangkok
4 Star
Amata Lanna Chiang Mai
Chiang Mai
5 Star
The Legend Chiang Rai
Chiang Rai
4 Star
DoubleTree by Hilton Phuket Banthai Resort
Phuket
4 Star
Riva Surya Bangkok
Bangkok