Overview
This 14-day tour invites you to experience the myths and magic of four of the most incredible and influential cities in India, before cruising the Hooghly (Lower Ganges) River from Kolkata to the Sundarbans―the only mangrove forest in the world inhabited by tigers.
You will see everything from ancient temples and religious rituals to historic colonial architecture, breath-taking natural scenery, and exotic wildlife—including, if you're very lucky, a Royal Bengal tiger!
Fascinating Destinations
Explore India's bustling capital, Delhi, a colorful and chaotic culmination of at least eight historical Delhis constructed over one another, leaving a jostling juxtaposition of modern mega-city and ancient monuments. Discover oft-overlooked Lucknow's Islamic and British Raj–era architecture and delectable cuisine, the holy Hindu 'City of Light' Varanasi's powerful life and death rituals, and Kolkata's rich tapestry of history, art galleries, religion and culture.
For nature lovers, the draw of the serene Sundarbans National Park—the world's largest delta mangrove forest—and its resident wildlife are the star attractions. The rich and unique mangrove ecosystem is home to abundant avifauna, as well as Gangetic dolphins, saltwater crocodiles, leopard and fishing cats, and the most famous residents, more than 400 'Royal Bengal tigers'.
Exciting Excursions
On any given day, you might be taking an exciting rickshaw ride through labyrinthine lanes of Old Delhi's Chandni Chowk Bazaar, cruising on a colonial-style luxury riverboat, or admiring an array of colonial-era, imperial or Mughal architecture. Or perhaps you'll be relishing a guided food walk, marveling at ancient monuments and World Heritage Sites like Qutub Minar, or scaling watchtowers and canopy walkways in an attempt to spot elusive species in the Sundarbans.
A highlight has to be visiting one world's oldest living cities in Varanasi, a near-mythical riverine realm of temples and ghats on the banks of the Ganges, rife with mysterious rites and legend. Here, take a dawn boat trip to witness the amazing spectacle of everyday life on the ghats of this sacred river and city. At dusk, lose yourself in the mystical Ganga Aarti ritual, a daily ceremony of immense splendor, chanting and lanterns.
All excursions are on a private basis, accompanied by an expert private guide and by private transportation means with the exception of the cruise which is on a small-group, shared basis.
Alluring Accommodations
A curated selection of exceptional accommodations are available to you, all providing welcoming home bases from which to explore each destination. For example, in New Delhi, you might choose the opulent heritage of The Imperial, interwoven with colonial grace, or the sleek glass glamor of Le Meridien, and in Kolkata, you may prefer the appeal of the discrete and elegant Glenburn Penthouse in the heart of the historic city, or the grandeur of The Oberoi Grand, which has been an icon on the landscape of Kolkata for more than a century.
Rivaling these fine hotels of India, the Ganges Voyager riverboat, with its choice of cabin categories, will accommodate you in old-fashioned luxury, taking you back in time with the grace and style of the British colonial era.
Combining authentic and iconic hotel stays with fascinating historical city tours and wildlife safaris, traveling by planes, trains and automobiles, rickshaws, rowboats and a luxury riverboat, you and your family or loved one can look forward to an unforgettable adventure across the Indian Subcontinent to some of India's most magical destinations in style.
If you're seeking a tour of contrasts, complete with startlingly different sceneries and activities, along with wide and varied forms of transportation, look no further than this spirited and spiritual Indian itinerary.
Itinerary & Prices
Welcome to the Capital city of India!
Stepping into the streets of this treasure-trove city, you will feel as if you have taken a journey back in time, with remnants of lost empires on almost every corner. From flower markets to sari-clad women, all the nuances of India are on show in Delhi.
On arrival, you'll be met by our representative and travel privately to your luxury accommodation. Settle in, relax in the comfort of your hotel, or get inspired by taking a stroll around the neighborhood.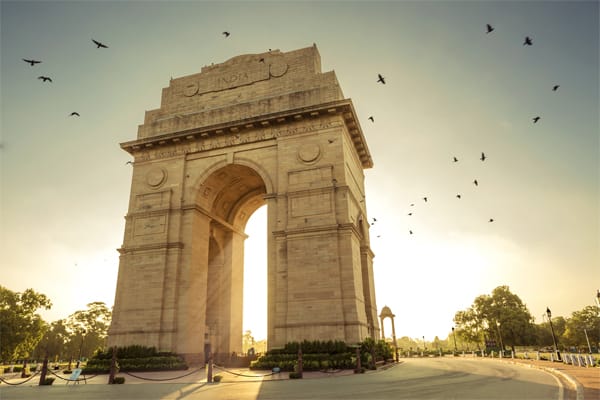 Bustling Old Delhi
Explore the intricate, bustling Old Delhi with a visit to Jama Masjid, one of Asia's largest mosques. Dazzle your senses on a rickshaw ride through the labyrinthine by-lanes of the Chandni Chowk Bazaar (moonlight market) and Asia's largest wholesale spice bazaar.
Later visit the famed Sikh temple "Gurudwara Bangla Sahib", and you can observe the steady flow of devotees walking barefoot on the white marble floors of this spiritual abode. Make a stop at the community kitchen where food for over 10000 people is prepared each day, the greatest service to humanity!
Drive past New Delhi, where imperial architecture rubs up against Mughal ruins to reach Humayun's Tomb, a UNESCO World Heritage site considered to be the architectural forerunner of Agra's Taj Mahal.
Onto the adjacent arboretum of Sundar Nagar Nursery, a 16th-century heritage park spanning some 90 acres, home to 300 types of trees, a lake, botanical garden, and fifteen heritage monuments, six of which are also UNESCO-listed.
(B/L)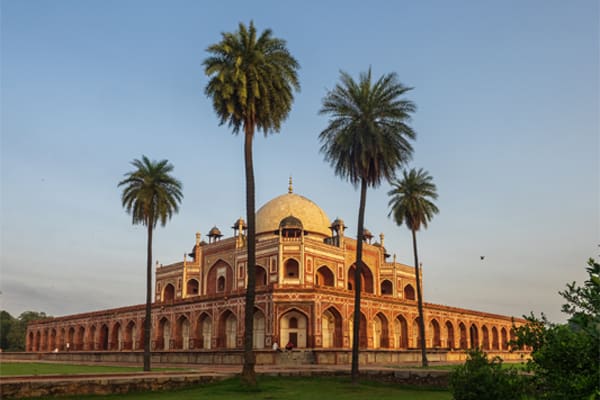 Qutub Minar & Mehrauli Archaeological Park
Today you'll visit one of the most remarkable UNESCO world heritage sites in Delhi: Qutub Minar. Built-in 1193, this towering landmark—literally! It is the world's tallest brick tower—never fails to fascinate visitors.
Later, indulge in a unique experience exploring the hidden gems of the historical first city of Delhi—a beautiful scenic walk of 2-3 hours around the breathtakingly serene Mehrauli Archaeological Park.
This broad stretch of over 200 acres of green pastures is open to flourishing flora and fauna and dotted with medieval architectural marvels such as tombs, mosques, and step-wells built over centuries.
The park provides the perfect panoramic view of the adjacent Qutub Minar.
(B)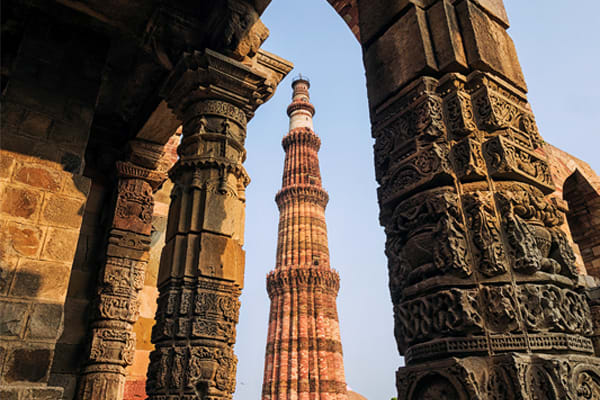 Exploring Lucknow
After breakfast and some free time, you'll be transfered to the airport for your early afternoon flight to Lucknow.
Lucknow, popularly known as the city of Nawabs, was founded by Nawab Asaf-ud-Daula. In the olden times, it served as the capital of the Nawabs of Awadh, and this era bestowed Lucknow with a courteous culture and mouthwatering delicacies.
Upon arrival you will be transferred to your hotel, before heading out to peel off the layers of Lucklow's rich history on a city tour. Visit the famous Asafi Imambara 'Bara Imambara' monument, built in 1784 and known for its incredible Bhulbhulaiya maze, and Rumi Darwaza 'Gate', one of the most impressive architectural structures in all India.
Later visit Hussainabad Picture Gallery, one of India's oldest picture galleries, a popular attraction in Lucknow and must for anyone fond of regal architecture and life-size paintings. The impressive construction which houses this picture gallery is the Baradari, literally meaning 'having twelve doorways'.
In the evening, enjoy a food walk in the old part of the city and try out the best unpretentious and authentic eateries where many recipes actually originated from. This well-researched food walk is led by a food curator who narrates food stories, and will culminate in indulging in one of the best dinners you're sure to have while in India.
(B/D)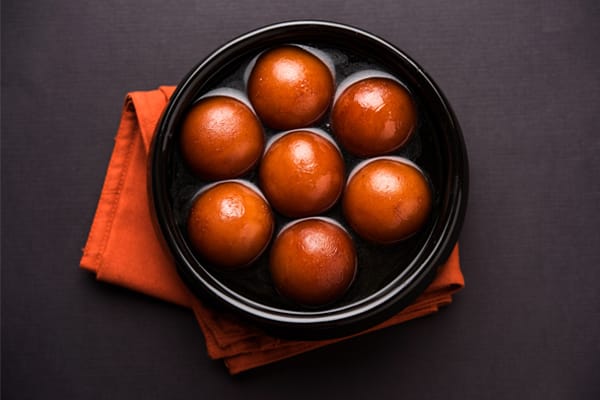 Exploring Lucknow continued
Today we continue the city tour and visit Dilkusha Kothi 'Palace',  which was mostly used as a hunting lodge by the Nawabs and Kings of Awadh, as there were plenty of game-like deer in the surrounding woods.
Onto the British Residency, a famous historical landmark that now lies in ruins and has been declared a protected monument by the Archaeological Survey of India. The British Residency was the place that served as a refuge for approximately 3000 British inhabitants during the time of the uprising of 1857.
The tour ends with a walk through the downtown shopping center of Hazratganj in search of the city's famous Chikankari—handcrafted & hand-embroidered souvenirs to carry back home for friends and family.
(B)
Holy City Of Varanasi
After an early breakfast, you will be transferred to the railway station to catch the morning train to the holy city of Varanasi, which takes around 4.5 hours.
A magical splendor, ocean of humanity, and fervent display of one of the oldest faiths await you at Varanasi, a town whose antecedents go back eons.
(B)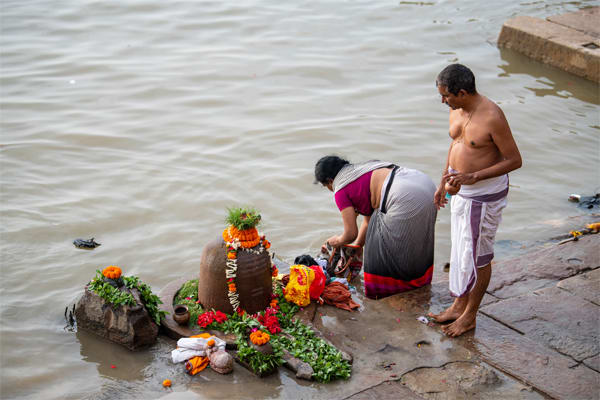 Ghats of Varanasi
As the sun begins to rise, let your cares drift away as you watch the many ghats come to life, with births being celebrated as well as rituals of cremation, as we sail down the Ganges by rowboat.
After the boat ride, witness some mud wrestling, a freestyle type of Indian wrestling and one of the most popular and traditional sports in India.
Visit Shri Kashi Vishwanath Temple (also known as the Golden temple) from the outside, one of the most famous temples dedicated to Lord Shiva. It was constructed in the year 1780 by the Maratha monarch Maharani Ahilyabai Holkar of the Indore.
After returning to the hotel for a late breakfast, you'll have the rest of the morning and early afternoon to relax.
In the evening, lose yourself in the mesmerizing display of lights that is the ancient Aarti ritual, performed every evening to the chants of holy Vedic mantras and musical accompaniment.
(B)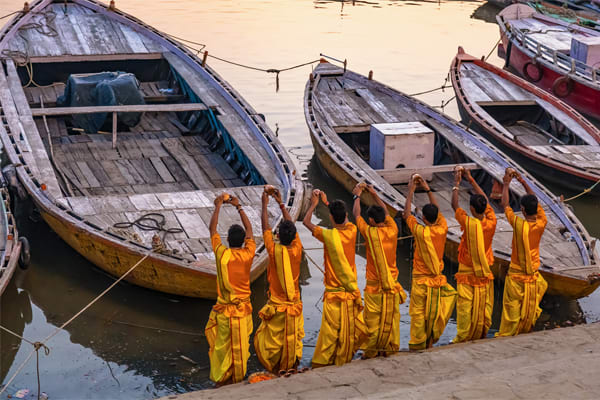 Sarnath
After a morning at your leisure to enjoy the facilities offered by the hotel, visit Sarnath, where Buddha chose to deliver his first sermon. Buddhist monuments and edifices abound, but no visit to Sarnath would be complete without a trip to its museum, home to a treasure trove of Buddhist sculptures, inscriptions, and pottery.
Afterwards, you will be transferred to Varanasi airport to catch your flight to Kolkata.
Kolkata is an amalgamation of traditional and modern, a city of colonial architecture, museums, art galleries, traditional food and temples, and famed for its theatre, films and music. It is the land of Rabindranath Tagore and the sound of Rabindra Sangeet can be heard from every house.
(B)
Kolkata
Enjoy a walk under the iconic Howrah Bridge, constructed over the river Hooghly, one of the most unique bridges in the world as it joins two twin cities in Kolkata and Howrah.
Explore the Mullick Ghat Flower Market by the river. This is not only one of the oldest but is also one of the most vibrant markets in the city. Drive past Victoria Memorial, a massive domed building of white marble and symbol of British rule in India. Continue to Chowringhee, also known as Dalhousie Square, which symbolizes Kolkata's past grandeur with late 19th century buildings. Drive past Raj Bhavan, the old Town Hall, High court, and Writer's building (headquarters of West Bengal government).
Visit Kumartuli (Sculptor's village) where craftsmen are busiest from August to October creating straw frames, adding clay coatings, and painting the divine features for the Durga and Kali festivals. The day comes to an end with a visit to Belur Math. Set attractively amid palms and manicured lawns, this large religious center is the headquarters of the Ramakrishna Mission, inspired by 19th-century Indian sage Ramakrishna Paramahamsa, who preached the unity of all religions.
(B)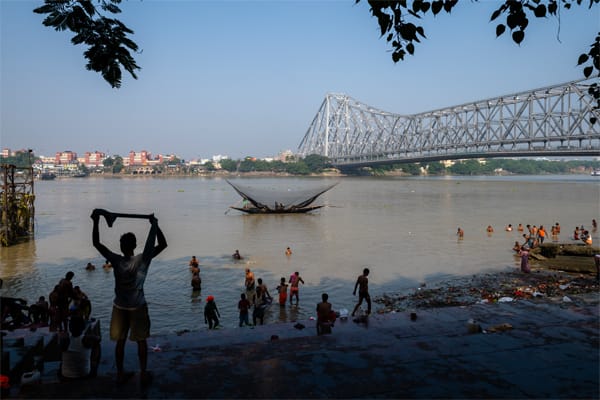 Embark Ganges Voyager
After breakfast in your hotel, you have the morning at your leisure.
Late in the afternoon, you'll embark the Ganges Voyager from Kolkata, the gateway to your journey along with the world's holiest river, the sacred Ganges. You'll be welcomed on board with a refreshing beverage, which will be followed by a safety briefing.
As the ship navigates, you'll be entertained onboard by Baul musicians, whose music represents a long heritage of preaching mysticism through songs in Bengal. Although Bauls constitute only a small fraction of the Bengali population, their influence on the culture of Bengal (both in India & Bangladesh) is considerable. The Baul tradition has been included in the list of Masterpieces of the Oral and Intangible Heritage of Humanity by UNESCO.
Overnight onboard Ganges Voyager.
(B/D)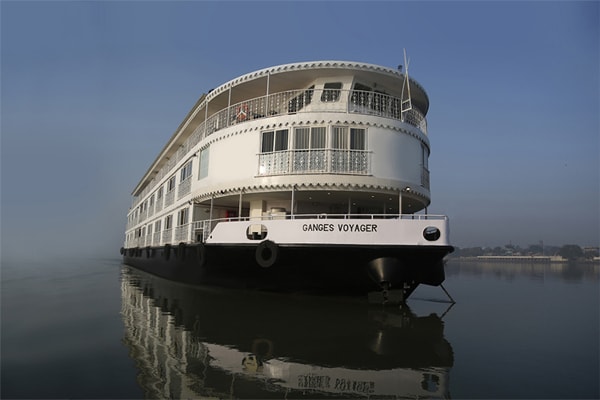 Kolkata – Namkhana
Set sail along the Hooghly River to reach the fishing port of Namkhana, the gateway of the Sundarbans National Park, a World Heritage Site.
We will cruise past the boat-building yard of Nurpur and the historic Diamond Harbour towards the Bay of Bengal. Time permitting, we'll be visit the Namkhana port, or sail forward towards Sundarbans to visit protected areas.
As we navigate, enjoy interaction with the Naturalist on the unique ecosystem of the Sundarbans, the world's largest delta mangrove forest and habitat of the famous Royal Bengal Tiger.
The Highlight of the Day: Full day sailing viewing historic sites and unique landscapes following the river to the Bay of Bengal and learning about the Sundarbans from the Naturalist.
Overnight onboard Ganges Voyager.
(B/L/D)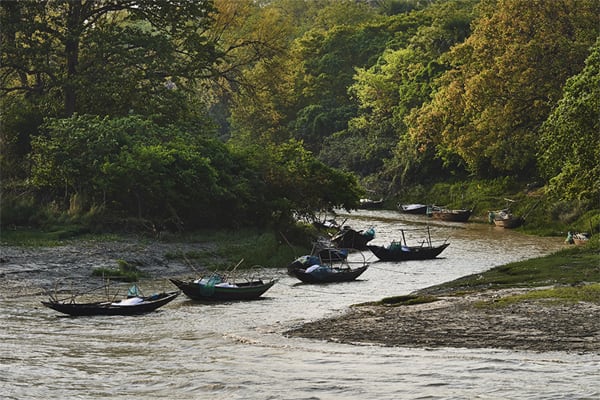 Namkhana – Bony Camp – Bali Island
Anchoring in the Western Sundarbans today is your first foray into this rich and unique mangrove ecosystem, scaling the Bony Camp Watchtower on an excursion to spot endangered crocodiles, terrapins, and many species of migratory birds.
Sailing along the Matla river to the Hero Bhangra Islands, keep a keen eye out for Irrawaddy Dolphins and other marine life.
After lunch we visit the serene Nethidopani Watchtower and experience the spectacular nature of the surroundings. Sail onward to Bali Island, a typical village whose inhabitants are engaged in farming, paddy husking, honey packing, and fishing.
The Highlight of the Day: Bali Village & NGO Interaction – The Bali Nature & Wildlife Conservation Society in collaboration with the Wildlife Protection Society of India (WPSI) helps support the communities living around the Tiger Reserve, and encourages them to view wildlife and their environment as an asset rather than a threat. Enjoy a village walk and interact with the villagers engaged in creating handicrafts, visit a local home, and witness a tribal dance.
Overnight onboard Ganges Voyager.
(B/L/D)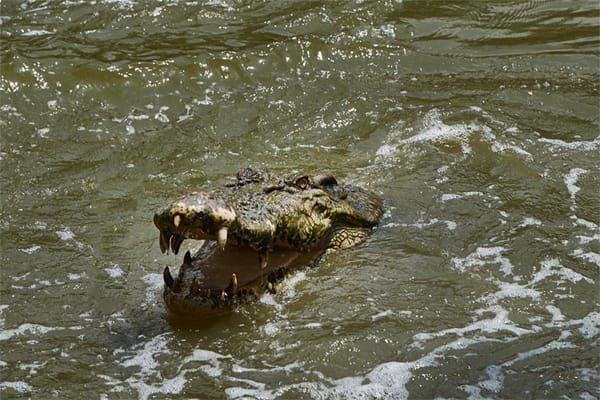 Bali – Sudhanyakhali – Do Banki – Namkhana
With a gorgeous sunrise, you'll scale the Sudhanyakhali Watchtower, the most popular locale to spot the elusive Royal Bengal Tiger; this vast habitat endows invigorating possibilities of crocodiles, wild boars, axis deer, and a wide range of migratory and local birds.
Thereafter you'll take a small country boat through the narrow creeks to climb the Dobanki Watchtower and enjoy a canopy walk at an elevation of 20 feet from the ground and about half a kilometer in length, to reveal the riveting flora and fauna.
Return to the ship for late lunch and sail to Namkhana.
The Highlight of the Day: Interaction with Fishermen at work during the creek ride.
Overnight onboard Ganges Voyager.
(B/L/D)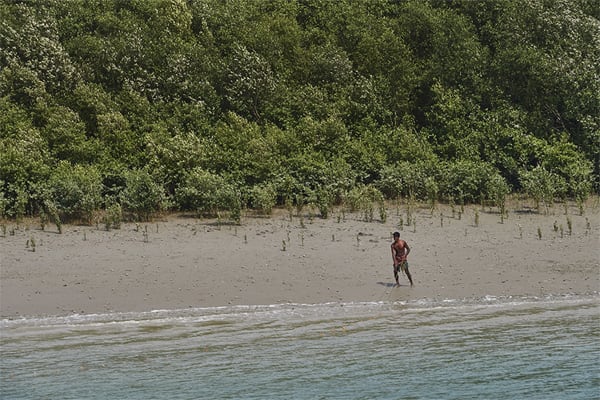 Disembarkation
Early this morning we sail back to Kolkata enjoying breakfast and lunch on board, arriving late in the afternoon.
Disembark and proceed with your onward journey.
(B/L)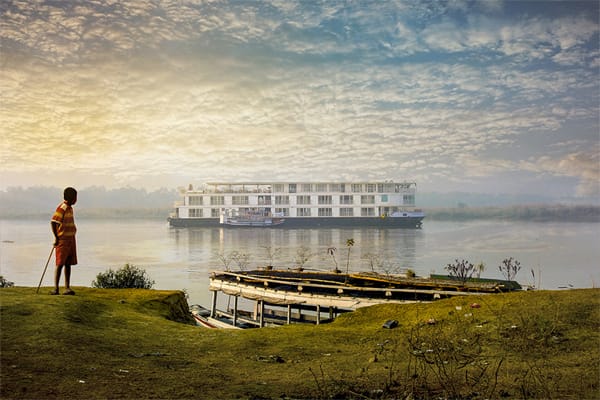 1 / 14
Accommodations
Cruises & Lodges
Ganges Voyager
Stylish voyages of colonial-style elegance and luxury along India's sacred River Ganges and beyond.
Hotel Options
5 Star
The Imperial New Delhi
Delhi
5 Star
The Glenburn Penthouse
Kolkata
4 Star
Radisson Varanasi
Varanasi