Oracle Yacht
Oracle Yacht
A boutique private phinisi offering ethnic ethic chic and cultural immersion across Indonesia.
Exclusive, private cruise based on full occupancy
Overview
The Oracle yacht offers a unique and culturally rich experience for travelers exploring the Indonesian archipelago. Crafted with meticulous attention to detail, this magnificent phinisi embodies the heritage of traditional shipbuilding in Indonesia. Guests are invited to embark on a journey that not only explores the stunning natural beauty of the archipelago but also seeks to provide a holistic sense of well-being through "ethnic ethic chic" cultural immersion.
Indeed, its name "The Oracle" reflects its purpose – to be a medium for guests to look into their souls, find inner truth, and experience a sense of freedom. The expedition experience is designed to awaken the spirit and offer moments of inspiration and self-reflection, all while sailing through the breathtaking waters of Indonesia.
The yacht is part of the Blue Karma Secrets portfolio, renowned as comprising some of the most impressive and chic private villas and resorts in Bali. As the owners' first interpretation of a yacht, the concept follows the same ethos of creating a tranquil haven paired with impeccable attention to detail and a warm, authentic approach to hospitality.
Life On Board
The Oracle features three meticulously designed cabins, with two large master suites above deck and an additional cabin below deck. Each of the master suites offer panoramic windows, en-suite bathrooms, air conditioning, Sonos sound systems, and their own secluded al fresco terrace. The third cabin below deck is perfect for children or additional guests. The yacht's spacious social areas, deck space, and design ensures equal comfort and luxury for all guests, making it an ideal choice for couples, small families, or close-knit groups.
The onboard experience is complemented by a 10-member crew, including a cruise director, captain, chief officer, chefs, and a masseuse. The crew is dedicated to providing world-class service, ensuring that guests have a seamless and unforgettable journey. Dining aboard the Oracle yacht is a delight, as the head chef—whose previous experience includes time spent at the celebrated Hanging Gardens hotel in Ubud—has curated an exceptional menu to suit everyone's unique tastes. Guests can also enjoy a variety of water activities, from snorkeling and diving to kayaking, paddleboarding and wakeboarding.
Destination Delights
The Oracle sails through some of the most enchanting destinations in Indonesia, including Komodo Park, Flores, and Raja Ampat. These uncharted horizons offer diverse landscapes, pristine beaches, and rich marine life. Travelers can embark on thrilling treks, dive into crystal-clear waters, or simply bask in the serenity of these untouched paradises.
Her itineraries includes private voyages to Komodo, starting from Labuan Bajo, which promise an extraordinary blend of nature, wildlife, and relaxation, as well as to breathtaking Raja Ampat, known for its turquoise waters, white sandy beaches, and lush rainforests. Both destinations offer unforgettable experiences in captivating and untouched marine paradises.
Perfect for travelers wanting to discover the beauty of Indonesia's islands while finding inner peace and reflection, the Oracle yacht is a vessel that redefines luxury cruises for body and soul, blending cultural heritage, meticulous craftsmanship, and immersive natural experiences. The Oracle is more than just a yacht; it's a gateway to an unparalleled spiritual journey through the heart of Indonesia's unspoiled treasures.
Accommodations
Social Areas
Bridge
Kitchen
Corridor
Diving
Living Room
Bar
Massage
Front Deck
Rooftop
Sundeck
Suites & Cabins
Welcome to the First Suite Room, nestled in the upper deck. Prepare to be embraced by an opulent ambiance that oozes sophistication, allowing you to fully immerse yourself in the serene embrace of the vast sea. Not only does this exquisite cabin come with an ensuite bathroom and private terrace, but it also boasts modern comforts such as air conditioning, a top-notch sound system, and even a video projector for your entertainment needs.
1 Cabin
Second Suite Room
Step into Second Suite Room on main deck, we have crafted the perfect balance between a communal and intimate atmosphere. With its panoramic windows, this cabin offers not only breathtaking views but also a space for shared experiences that will create lasting memories. One of the highlights of our Second Suite Room is the ensuite bathroom, ensuring utmost convenience and privacy. No need to worry about discomfort or long waits when nature calls! And to make your stay even more enjoyable, it has equipped the cabin with an AC system, guaranteeing a pleasant temperature throughout your journey and comes with a top-notch sound system. Feel free to set the mood with your favorite tunes or enjoy a movie night with your loved ones using the video projector provided. The possibilities for fun and relaxation are endless!
The Luxe Room - your ultimate retreat nestled in the lower deck. This cozy haven effortlessly caters to your ever-changing mood, creating an atmosphere perfect for both solitary relaxation and cherished togetherness. Settle in and let the soothing surroundings wash away your worries. Equipped with an ensuite bathroom, AC, a top-notch sound system, and even a video projector, the Luxe Room leaves no comfort unattended. Whether you seek a luxurious solo getaway or a cozy gathering with loved ones, this room has got you covered.
Technical Information
Deck Plan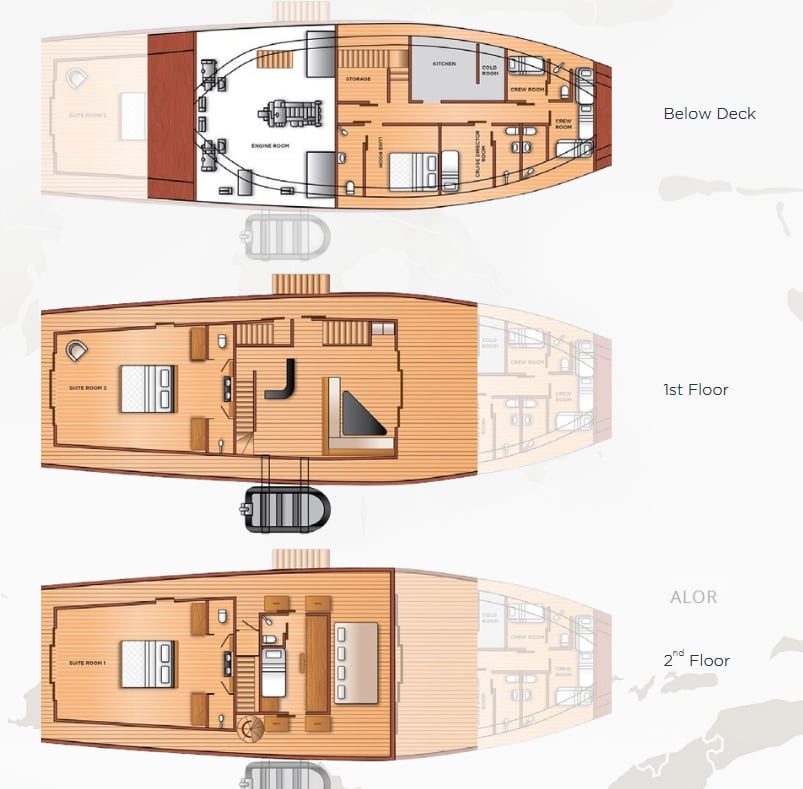 Features
Cabins with balconies

Air conditioning

Massage room

Lecture room

WIFI available

Kosher Meals

Spa

Hot showers

Charging areas for electronic equipment
Equipment
Diving gear

Satellite phone

Diving platform

Nitrox

Snorkeling gear

Wetsuits

Stand up paddleboard

Kayaks / Canoes

Yoga mats

Flash lights

Binoculars

Insect repellent
** Use of certain equipment at additional cost, ask for details