Exclusive, private cruise based on full occupancy
Overview
A former freighter handcrafted from Bornean ironwood and repurposed as a liveaboard, the 82-ft Plataran Ambasi is a Buginese phinisi schooner, based in Labuan Bajo on the Indonesian island of Flores, offering short and sublime 3-day cruises for up to 8 guests around the waters of the incredible Komodo National Park. She is also available for private charters. 
Refurbished over the years, and most recently in 2020, the Plataran Ambasi has undergone regular maintenance, upgrades and enhancements with the comfort and convenience of her guests in mind, while her soul has remained true to her traditional Buginese roots. The seafaring Bugis tribes are the master shipbuilders and seafarers of Indonesia. They handcraft exceptionally strong phinisi schooners, using robust timbers, age-old techniques and a skillset passed down through the generations.
Life On Board
When not exploring the enchanting Komodo islands themselves, the Ambasi has ample attractions of her own. Inside there is an inviting social space including a large dining area with flatscreen TV and coffee station. Outside there is a spacious sundeck with beanbags and chairs, a great place to enjoy the sea breeze and take in the stunning views of the islands passing by during the day, and the stars in the night sky. As the adrenaline of the days' pursuits abides, the Phinisi Ambasi's cozy cabins beckon. Her three luxurious double cabins and one bunk-bedded twin cabin are all ensuite, air-conditioned and charmingly timber-clad, accessorized with delightful traditional Indonesian textiles and decorative motifs.
Excellent meals are served three times a day at a long, indoor communal table that sits all guests comfortably. Here, you can look forward to delicious and fresh local specialties, prepared on board by a local chef, part of the seven-strong professional, friendly, and experienced crew of  Phinisi Ambasi. However should you get peckish, you'll also have all-day access to snacks and soft drinks. Aside from the chef you entourage includes an expert divemaster for those keen to discover Komodo's amazing marine life. All members of the team will strive to give guests an experience to remember. Scuba diving equipment and snorkeling gear is available on board, as well as all essential safety equipment. 
Komodo National Park
Covering around 900 square miles of sea and land, Komodo National Park is the natural habitat of the famous Komodo dragons. It is also home to a wide variety of wildlife, over 150 species of birds, and nutrient rich waters that support one of the world's most biologically diverse marine environments with over 1000 species of fish. The region features a Jurassic landscape of rough hillsides lined with dry savannah and green thorny vegetation, and perfect sandy beaches surrounded by crystal clear blue waters with pristine coral reefs. From giant manta rays, turtles, dolphins, and giant pelagics to tiny pygmy seahorses, nudibranchs, shrimps and frog fishes, Komodo is a magical area for both diving and snorkeling.

The only way to explore the waters and landscapes of the national park is by boat. On your Ambasi cruise, you can visit the beautiful Pink Beach, trek to the panoramic viewpoint on Padar Island, encounter the dragons on Komodo Island or Rinca Island, and witness the sight of thousands of flying foxes commuting from Kalong Island, at sunset to feed on the mainland overnight. This unforgettable voyage is perfect for singles, couples, families and groups of friends. For a wonderful liveaboard sailing experience look no further than the Plataran Phinisi Ambasi.
Itineraries & Prices
Embarkation, Rinca Island
AM: Upon arrival, you will be picked by the Plataran staff from the airport and transfered to the boat. As you arrive on the boat, you will be warmly welcomed by the staff and served a welcome drink. The boat will then depart for Rinca Island, a journey that will take approximately 3 hours.
PM: Once we arrive, everyone will go off the boat and head to ranger station. From there you'll begin your thrilling trek to see the legendary Komodo dragons, safely guided by the ranger of the island. You may adjust your time trekking with the ranger as you need.
If time allows we'll make a stop at Kambing Island for our first session of snorkeling in the national park.
This evening, we'll return to the boat and sail to Kalong Island. Famed for its mangrove forest and fanged inhabitants, this small island has become known as the "house" of a thousand bats. If you are lucky enough, you will witness the breathtaking spectacle of thousands of bats flying out from their nest looking for food.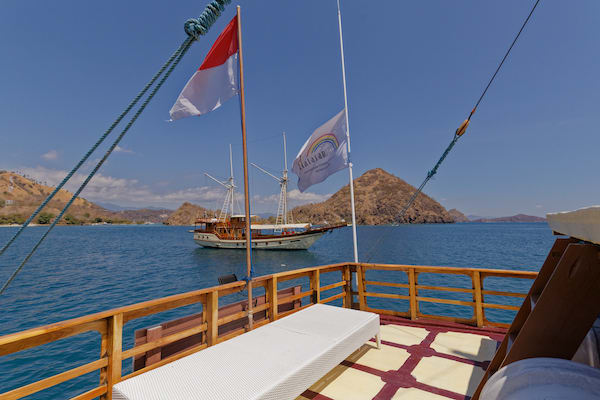 Padar, Komodo & Pink Beach
AM: This morning we arrive at the incredible Padar Island, the third largest island in the national park, where you'll ascend to its peak for one of the best panoramic views imaginable. Once roamed by no less than three species of Komodo dragon, today the island is sadly dragon-free due to historic hunting of the dragons themselves and their prey.
Fortunately the trekking to be had is no less spectacular, and it won't be long before you are in search of dragons as our next stop is Komodo Island itself. Home of the namesake legendary Komodo Dragons, the island is also a haven for deer, wild boar and many bird species.
PM: Afterwards you'll don your mask for more snorkeling and relaxing at the otherworldly World Heritage Site of Pantai Merah, the island's spectacular pink beach.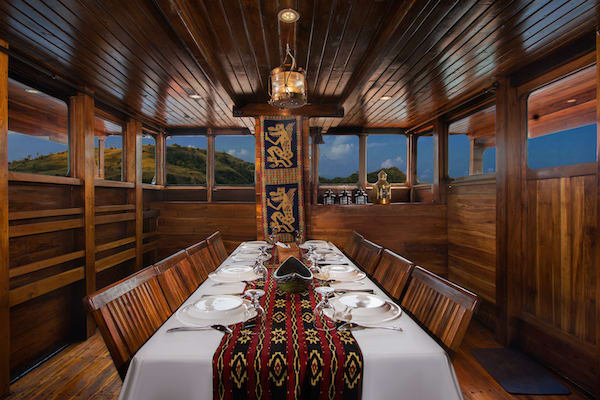 Location
Komodo National Park
Bidadari, Disembarkation
AM: This morning, after breakfast, you'll get the chance to go snorkeling at some of the most breathtaking sub-aquatic spots. First stop is the beautiful small island of Kanawa with its amazing corals. Later, the Phinisi Ambasi will bring you to another blissful site of the Komodo sea – the idyllic Bidadari Island.
Bidadari's white sands and turquoise waters are located to the north west part of Labuan Bajo, and are home to untold colorful fish and corals. Enjoy snorkeling or just relax on the beach before we sail back to Labuan Bajo in the afternoon and drop you at the airport or your hotel.
** Please note this itinerary is subject to change at any time due to, but not limited to; local conditions, weather, strong currents or winds, and any unforeseen reason that may endanger the safety of passengers or crew.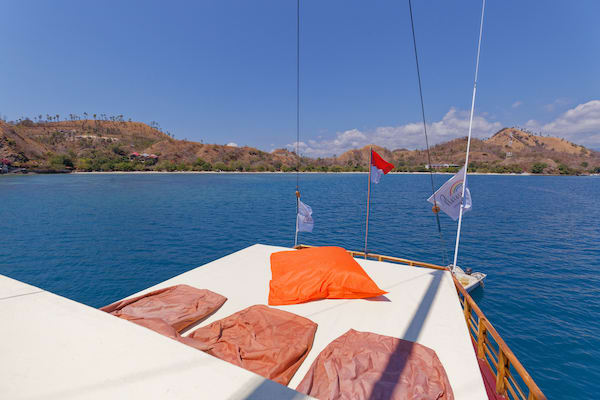 1 / 3
Accommodations
Social Areas
Shaded Deck
Sun Deck
Indoor Dining
Stern
Bridge
Dinner
Suites & Cabins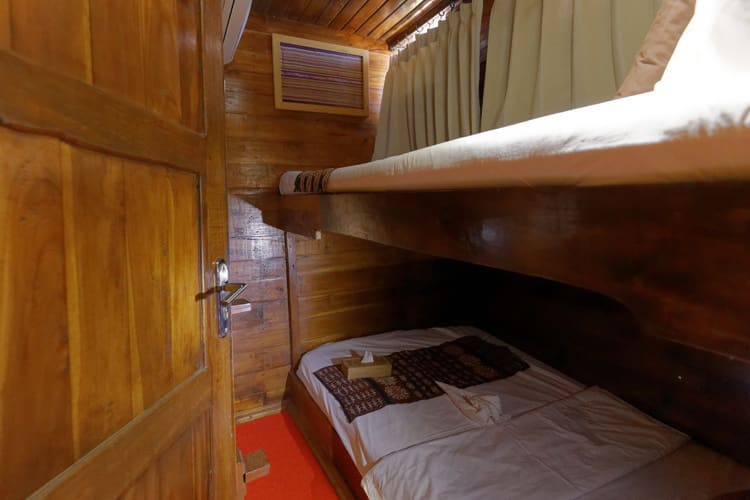 The Ambasi's bunk bed cabin has air-conditioning and an en-suite bathroom that features a hot water shower, complimentary toiletries and a hair dryer. Timber-clad and tastefully adorned with traditional Indonesian textiles and decorative motifs, the cabin provides a homely haven ideal for traveling friends or children.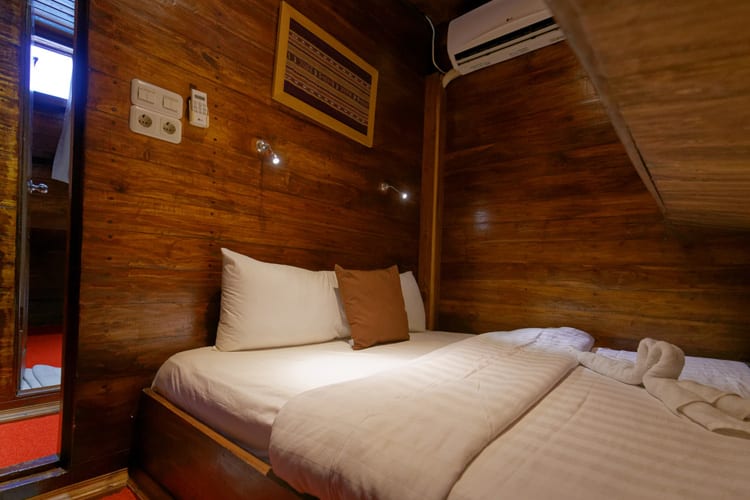 Boasting all of the same amenities and with similar décor, each of the three luxurious double cabins on board provide an equally cozy and comfortable refuge for couples seeking rest and relaxation after a long day's adventure.