Ylang
Ylang
This French-colonial-styled, 3-sail, junk offers sophisticated wellness cruises around Lan Ha Bay.
Exclusive, private cruise based on full occupancy
Overview
Launched in 2019, the three-sail Ylang offers cruises around Lan Ha Bay ‒ a secluded part of Vietnam's Halong Bay. The vessel features a splendid Vietnamese design with French-Colonial accents and, with a maximum of only 20 guests, she is the only ship in the region to offer a distinct wellness theme during her voyages into this less-visited area.
Your Suite
Ylang has only 10 spacious all-suite cabins on board, all of which have private balconies. Spread over two decks, each room has large, floor-to-ceiling, panoramic doors. Six of these cabins are classified as Signature Suites; each is a 431-square-foot room including a 59-square-foot balcony with a table and two sun chairs. There is a separate living area, while in the sleeping area, the bed is oriented towards the window.
Bathrooms are fitted with walk-in showers and soaking tubs, each positioned next to a window overlooking the Bay. Decor throughout is elegantly inspired; the dark wood panels are adorned with pink and silver mosaics of cherry blossoms representing Vietnamese poetry.
The four Regency Suites are the largest accommodations aboard, each with 549 square feet of living space, accompanied by generously sized balconies that range from 86 to 108 square feet. Each showcases a uniquely individual décor and furniture, colonial motifs and color schemes representing Vietnamese culture.
Facilities On Board
The facilities aboard Ylang include a heated jacuzzi-pool perched under the shadows of the ship's triple sails on the uppermost Terrace Deck, a cozy indoor library lounge and the distinctively Indochinese-styled restaurant with adjacent bar evoking the grand days of old Indochina.
All of the cabins aboard Ylang include air-conditioning, a mini-bar, safe, Wi-Fi internet access, a Bluetooth speaker, toiletries, bathrobes, a hair dryer, slippers, a sun hat, tea and coffee-making facilities, and a luggage rack.
Wining & Dining On Board
Traditional Vietnamese delights are paired with Western favorites to create a wide range of dishes created from healthy ingredients. Lunch and dinner is always served in the dining room, which evokes the ambiance of a bygone era, complete with paddle ceiling fans and colonial-style rattan furniture.
If you wish, you can have breakfast in the privacy of your suite. Adjacent to the dining room is the bar, which offers up a wide array of cocktails, wines, spirits and beers, complemented by 180-degree views.
Experiences On Shore And Aboard The Ship
On shore experiences include leisure cycling and hiking on Cat Ba island, a visit to a local floating fishing village and activities such as swimming and kayaking. On board you can enjoy cooking workshops and movie nights or visit the expansive Ylang Spa with its three treatment rooms and a wellness studio that offers classes in meditation, yoga and other mindfulness activities. Daily Tai Chi lessons are held on the ship's terrace deck at sunrise.
Dedicated to well-being and serenity, the three-day/ two-night Ylang Cruise offers individuals and couples a deep insight into Lan Ha Bay's natural beauty while providing a holistic wellness experience.
Itineraries & Prices
Embarkation
AM: After meeting at welcome lounge at the Tuan Chau Marina, we take a quick speedboat transfer to your luxurious floating home before starting our unique journey of exploring one of the wonders of nature – Lan Ha Bay and its main island of Cat Ba.
PM: The first highlight of the cruise is lunch, which is served in Ylang's nearly 360-degree light-flooded, elegant restaurant. Enjoy a fine menu of tasty local, international or vegetarian dishes freshly prepared by our culinary team. Relax on the terrace deck or on your private balcony and soak in the enchanting aura which emanates from the surreal seascape. While we cruise along in the early afternoon, there is time to enjoy the ship's vast wellness and spa offerings. Choose your favourite treatment from an extensive spa menu, or take a plunge in the pool with infinity-like vistas.
As we reach the shore of a small lagoon on Cat Ba Island, we hop on bicycles (e-cart transfers are also available) for a leisure pedaling along small paved roads towards the Viet Hai village. Little has changed in Viet Hai since the ancestors of the 80 households settled here centuries ago. Situated in a valley within the Cat Ba National Park and surrounded on all sides by think forest and mountains, the locals are isolated from the island's other villages and towns. The only access is via sea. The community is self-sufficient, as the residents provide for themselves by cultivating vegetables and fruits in the next door fields, growing rice of cause in the valley, and go fishing out in the bay. This is truly unique and authentic opportunity to meet local inhabitants and experience their local daily life. We have a glimpse of local households, see how they make medicine organically from a tree bark and we can also try various homemade liquors.
Back on board, we are sailing a little bit to find an exclusive and undisturbed parking spot for the overnight mooring in the midst of southern Lan Ha Bay. Join an optional tea tasting lesson in the restaurant to learn about Vietnam's traditional herbal teas and gain insight into their health benefits. Alternatively, get pampered with a spa treatment or take a sauna session in Ylang's fantastic spa facilities. We can also provide you with a foot massage in the privacy of your suite. For dinner, you can choose assorted dishes from the delectable multiple course menu. After dining, we offer in the wellness studio a guided "singing bowl meditation". This is an ancient Tibetan ritual which intends to invoke a deep state of relaxation – it alleviates stress and promotes a better night of sleep. You can also opt for one of the best ways to spend the evening by just taking a seat under the stars on the terrace deck or on your balcony to embrace the serenity of this surreal landscape. Or if you would like to fully immerse yourself in relaxation, our spa is open until late.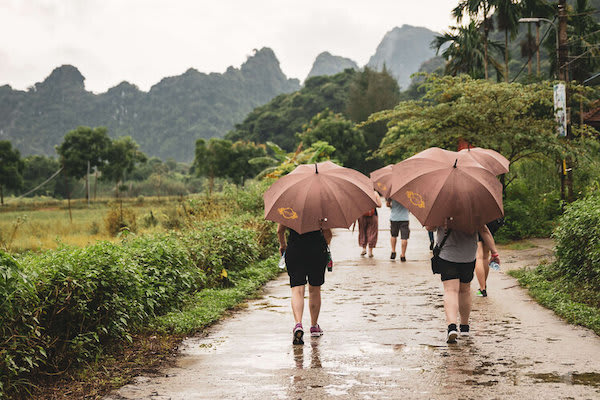 Location
Tuan Chau - Viet Hai
Ben Beo, Cat Ba National Park & Lan Ha Bay Mooring Point
AM: Wake up early and have a coffee, tea or a pastry prepared in the restaurant before joining our Tai Chi session on the terrace deck. A great experience to ease your mind and muscles with the first rays of the sun touching the water. Afterwards you can re-energize from our wide selection of healthy or hearty breakfast offerings. Meanwhile, Ylang sails towards the very southern tip of Cat Ba Island. Here, we take our tender and visit one of a last remaining real authentic floating fishing villages, not far outside of the town of Ben Beo on the main island. This fishing village is home to approx. 300 families living in floating houses and making their living from fishing and aquaculture, much like their ancestors did. Get a close view of how the villagers live and work on the water in this unique community. We continue towards Ben Beo Pier, go ashore and travel a short distance along scenic island roads into the Cat Ba National Park. We like invite you for a leisurely and mindful walk (taking the same path both ways) through this lush, jungle-like forest to get a somewhat a feeling of this tropical island. Cat Ba National Park is designated as a biosphere reserve and hosts over 1,500 plant species, 78 avian, 20 reptilian and 32 mammalian species including deer, macaques and civets. Guests who would like to skip the light trekking, we bring back to the ship to enjoy Ylang's facilities in the meantime.
PM: Once all back on board lunch is served, and the luxury Ylang resumes sailing northeast through the stony maze of Lan Ha Bay. Eventually we reach a secluded spot in the bay which will be the basis for our afternoon activities. Ylang will anchor here and we offer our guests an afternoon of "at-your-own-choice". Our tender is available to commute between a wonderful natural island beach for relaxing or swimming. Kayaks are available as well to explore the calm area on your own. A snacks and drink station is set up on the beach if you get thirsty or need a bite to eat. Guests who like to stay on the ship, or those prefer to return from the beach, can enjoy from a treatment from our spa menu, or use the steam bath or sauna as complimentary available wellness facilities. Enjoy this afternoon the fullest as the clock is not ticking and take back home long-lasting memories from Lan Ha Bay.
As the sun sets the ship is sailing further north to find is overnight mooring for the last night. Enjoy your last multi-course dinner in the ambient restaurant. We offering another guided "Singing Bowl Meditation" tonight to join optional, or simply unwind on your private balcony while taking in the tranquility of Lan Ha Bay.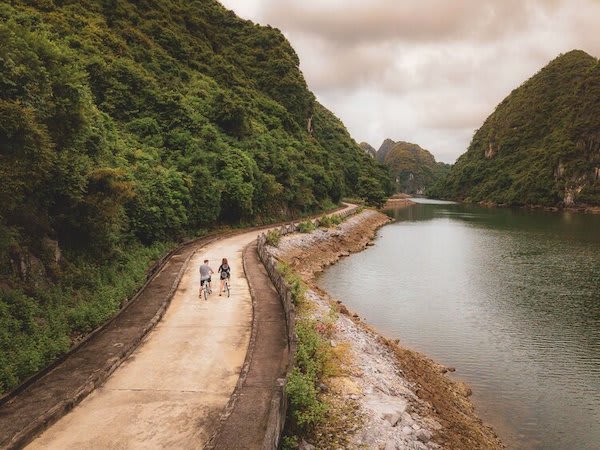 Disembarkation
AM: Wake up early and join our Tai Chi session on the terrace deck to ease your mind and muscles with the first rays of the sun touching the water. A traditional Vietnamese coffee, tea and breakfast pastries await in the dining room to start the day. It is time for Heritage Line Ylang to lift her anchors and cruise to a place called "Frog Lake", a secluded area which is perfect for our energetic morning excursion. Go for a refreshing swim in the bay or explore this captivating marine landscape via kayak. The cliffs stretch vertically out of the water and you feel a sense of freedom while paddling through this labyrinth of jade-green water, rocks and vivid tree-topped islets.
Back on board, we serve a hearty breakfast while cruising back to our off-shore embarkation spot, from where we transfer you back to the welcome lounge at the pier by your speed boat. Savour the last moments of this unique journey while relaxing on comfy sun beds on the terrace deck.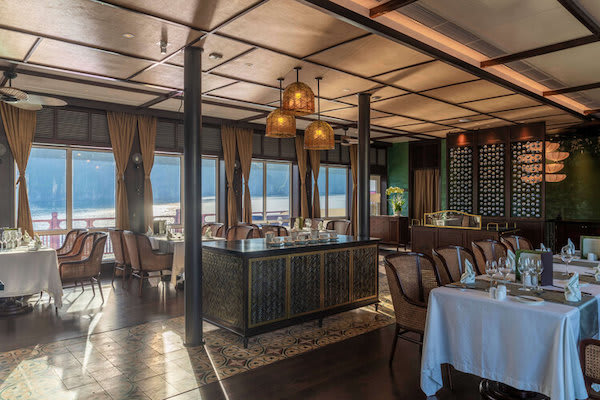 1 / 3
Accommodations
Social Areas
Bar
Library Lounge
Lounge
Restaurant
Restaurant
Spa
Terrace
Al Fresco Dining
Suites & Cabins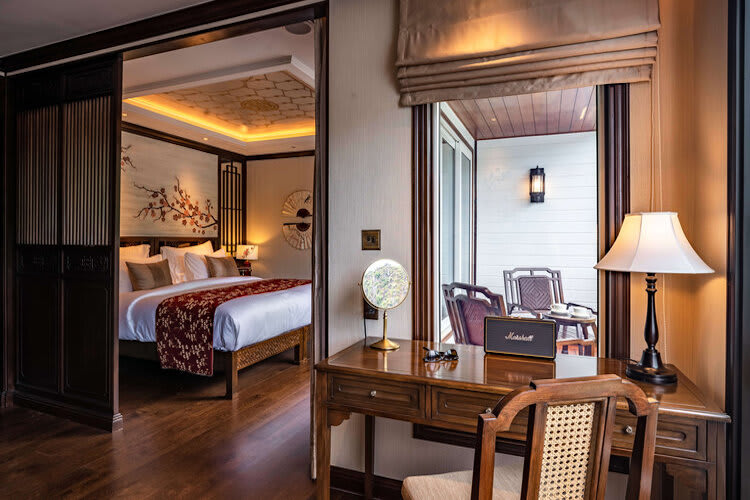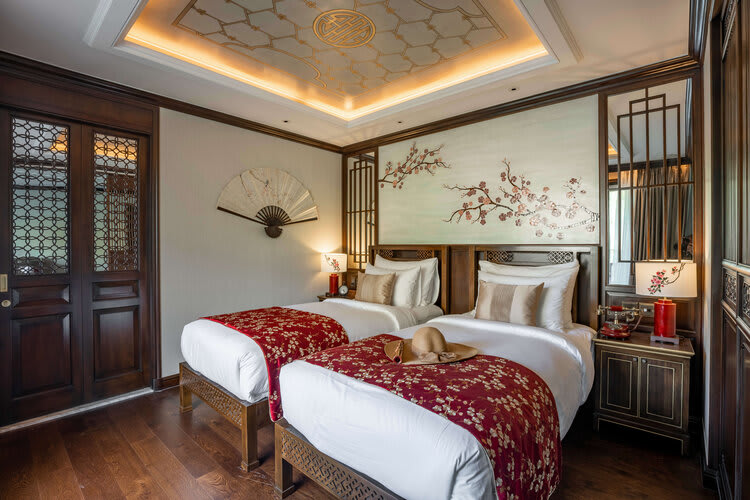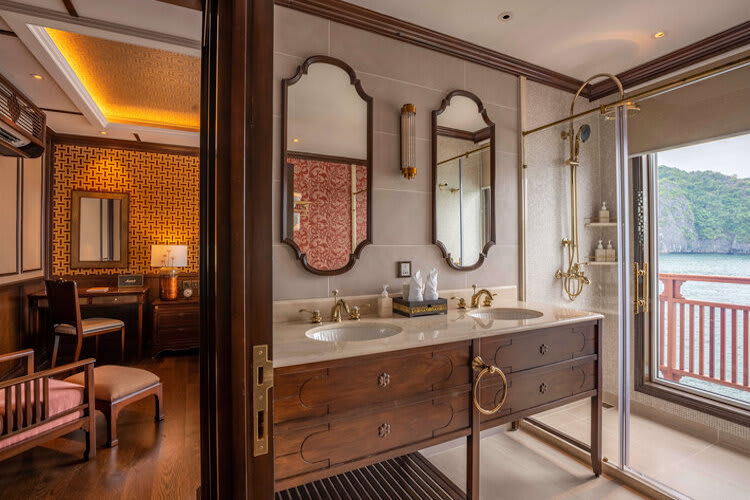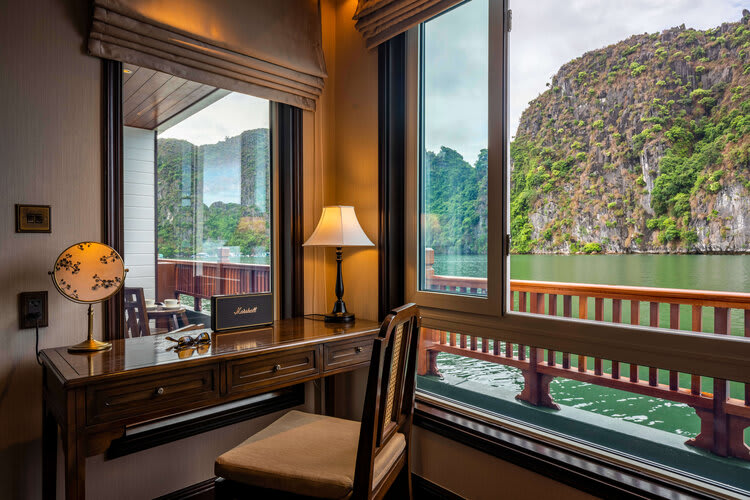 These elegant suites come with a separate lounge area with a sofa and a table. Some of these suites are interconnected to accommodate friends traveling together. Guests can enjoy the modern bathrooms featuring a walk-in shower and bathtub overlooking the bay.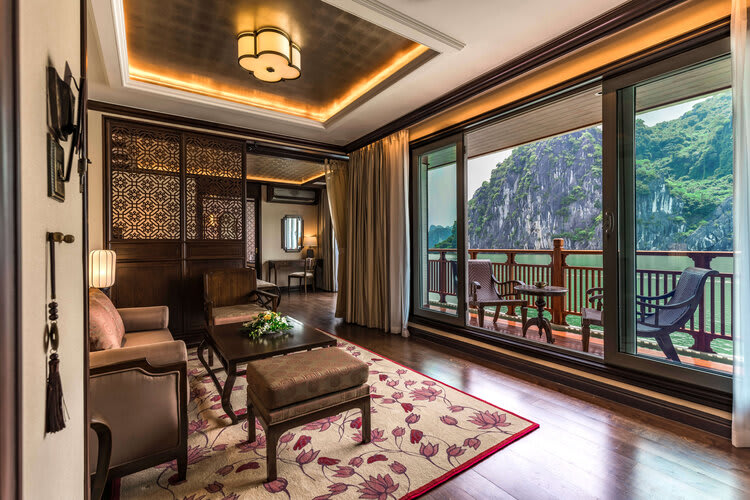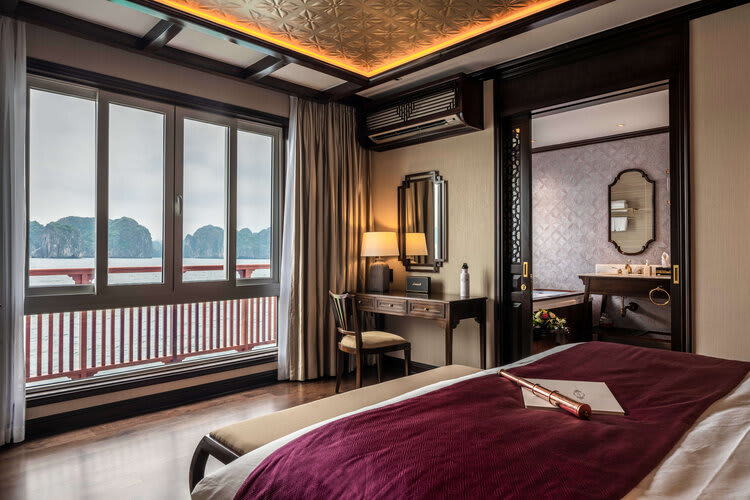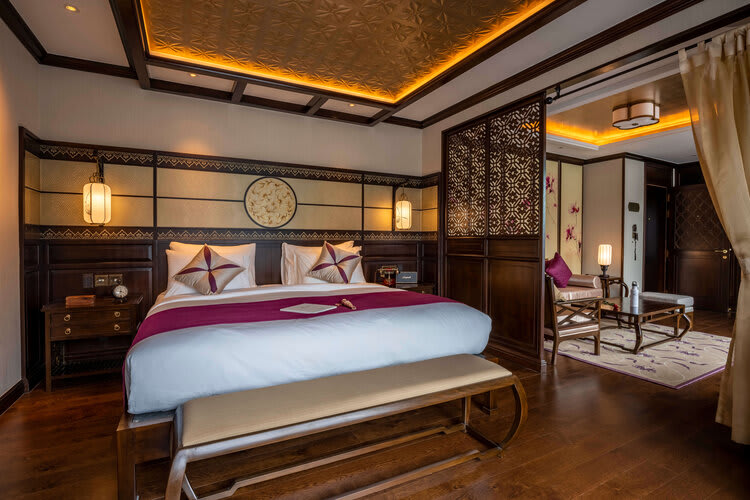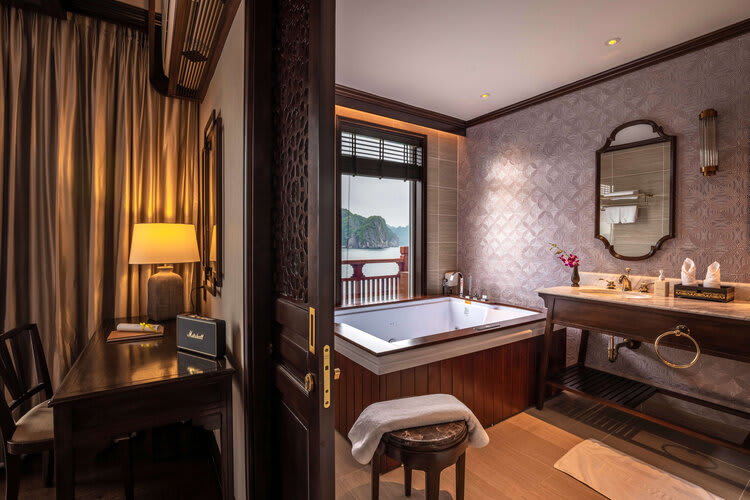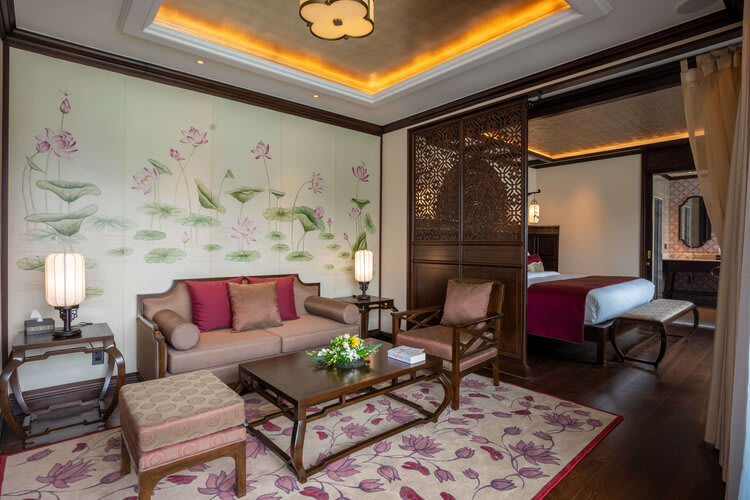 The suite is generously extensive, with a lounge area and a balcony for relaxing. The luxurious bathroom is equipped with the finest amenities, hot water, a walk-in shower, and a jacuzzi overlooking the bay. Both suites are designed with extravagance to bring a luxurious feel.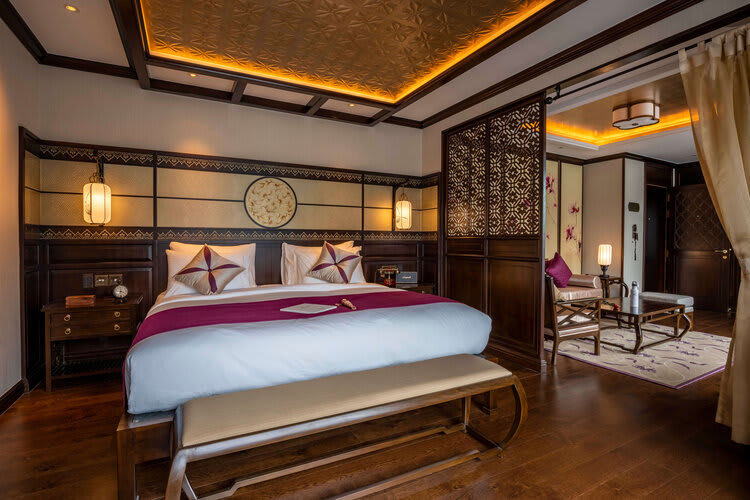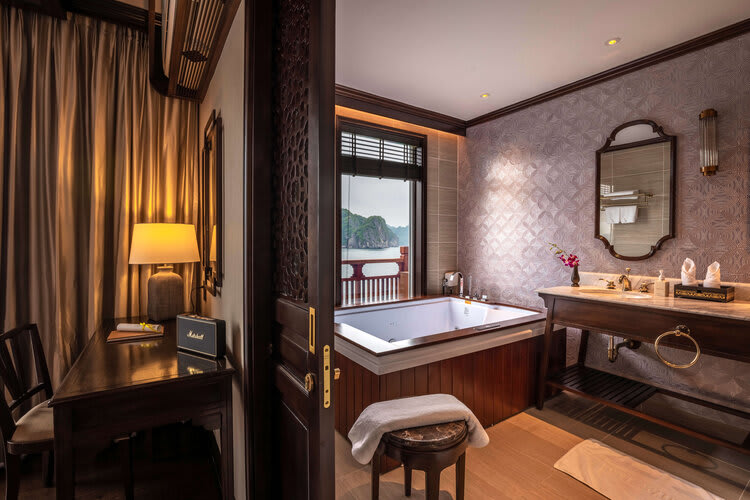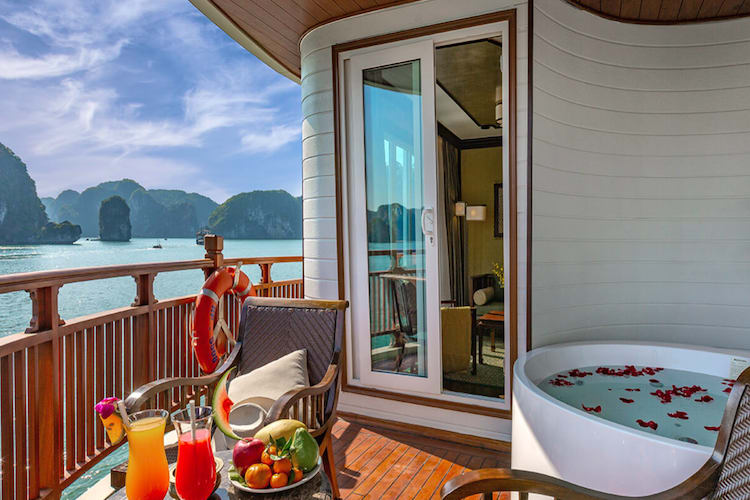 2 Cabins
Premium Regency Suite
Glory Daisy & Royal Bamboo are the most premium accommodations on board and sit in a prime location at the bow of the ship. Both are also individually designed and include a separate bedroom and sofa lounge area which grants access to the front-facing private balcony with outdoor Jacuzzi. The elegant bathrooms are outfitted with walk-in showers and free-standing bathtubs with splendid views of the bay.