Itinerary & Prices
Welcome to Buenos Aires
Welcome to Argentina! For most travelers, Buenos Aires is the entry point to Argentina… and what an entrance it is: this vibrant city feels almost European! Its cosmopolitan population of Italian, Spanish, French, and many other nationalities, combined with stunning architecture, cultural activities, and attractive neighborhoods with small shops, cafés, and international restaurants, make the atmosphere relaxed and welcoming.
Upon arrival, our local representative will meet you at the airport and take you to your hotel. After settling into your accommodation in the trendy neighborhood of Palermo, the rest of your afternoon and evening is free for you to spend at your leisure. We recommend exploring the area near your hotel where you'll be able to soak up the atmosphere of this thrilling city stopping off at one of the nearby boutique cafés or lively wine bars. Having found somewhere for dinner and experienced one of South America's top restaurant scenes, explore Buenos Aires' nightlife at one of the local wine bars in Palermo, add an exclusive wine tasting to your itinerary or, take a leisurely stroll back to your hotel.
Tip: Porteños eat dinner late; usually restaurants will open their doors around 20:00.
Meals (x)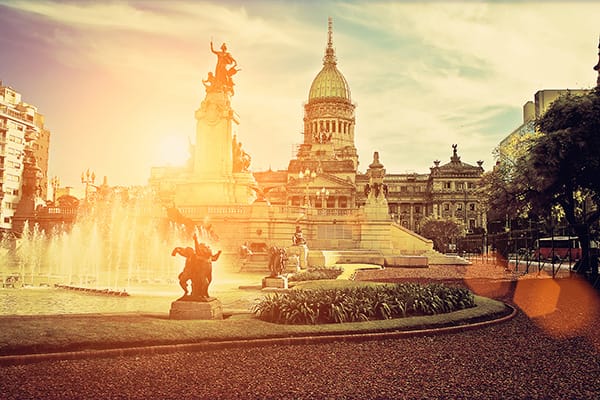 Highlights of Buenos Aires
After breakfast, you are collected from your hotel for your city tour of Buenos Aires, discovering the history and modern life of this world-renowned city.
The tour provides an in-depth introduction to its architecture, the culture of its people, its anecdotes and secrets. Put simply, Buenos Aires is exceptional, dynamic, sophisticated, and overwhelming. An exquisite combination of a European atmosphere and the charm of Latin American cities. You will begin at the famous Plaza de Mayo, before venturing out to the old tango districts of Buenos Aires: Monserrat, San Telmo, and La Boca. You will then move on to the busiest areas – Puerto Madero, Retiro, and Plaza San Martin – and then, districts with wonderful green spaces and old residences: Palermo and Recoleta.
In the evening, you will enjoy a completely unique dining experience that cleverly blends exquisite food and wine, local culture, and social integration. Individuals, couples, families, and groups from all over the world are mixed around two 14 person banquet tables, which are led and entertained by two guides, and our friendly international team. Empanada making, juicy fillet stakes, boutique wines, 'alfajor' making, and sharing 'mate' between new friends. There is no better place to be!
Meals (B, D)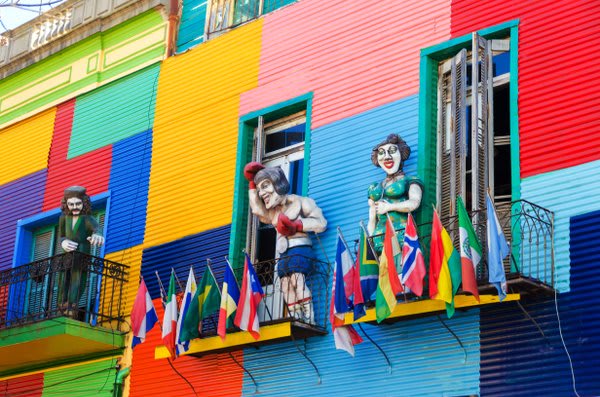 Travel to Mendoza's Wine Country
In the morning, you will be transferred to the airport for your flight to Salta.
After touching down at Mendoza's Airport your private transfer will be waiting for you. Leaving the city of Mendoza behind you, you'll begin your journey to your accommodation in the village of Chacras de Coria, situated in the countryside on the outskirts of Mendoza. Along the way, you'll be able to enjoy views of the snow-capped Andes, and the green fields of Mendoza's Province as you pass rows upon rows of vineyards.
After arriving at your accommodation, the rest of the day is free for you to relax. Take the time to unwind at your hotel where you can enjoy all services including the outdoor swimming pool and gardens. We recommend having a long lunch or dinner at one of Chacras de Coria's excellent restaurants. This whole province is built around the enjoyment of wine, so be sure to have a good look at the wine list and discuss your bottle with your waiter; this is the place to let your inner sommelier run free! Alternatively take a taxi to the bustling city of Mendoza with its wide, leafy avenues and lively plazas. Interestingly, Mendoza is a desert town, so make sure to take plenty of suncream with you – temperatures can be very high! If you're traveling in March you'll have the bonus of being in Mendoza during its Harvest Festival when the wine-centric city overflows with Malbec and Bonarda. Have a stroll through the city, stop off in one of the many squares to read up on the grapes and vines of Mendoza, and enjoy a leisurely lunch or dinner at one of the city's many restaurants. The city comes into its own at night when the bars, restaurants, and cafes along Avenue Aristides fill up.
Meals (B)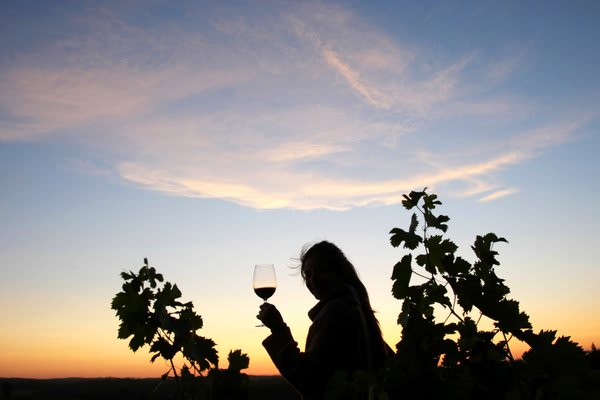 Location
Buenos Aires to Mendoza
Touring the Mendoza vineyards
You will be able to discover Argentina's most famous wine region on this full-day wine tasting tour of Luján de Cuyo, and visit three of the region's most prestigious wineries: Achaval Ferrer, Casarena, and Dominio del Plata. At each location, the guide will explain the process of elaboration, characteristics of the wines, guide you around the facilities, and encourage you to sample some great wine!
You will uncover the secrets of Argentina's winemaking heritage, stroll the vineyards and sample fine Malbecs, before experiencing a delicious 5-course lunch. This small-group tour is limited to eight people for an intimate wine tasting experience. This group will be exclusively served in each winery. Delight in the scenic views of vineyards against the Andes as you chat with fellow wine-lovers along the way. Get ready to immerse yourself in the land of Malbec.
Meals (B, L)
Arriving to Iguazu
At the designated time, your private transfer will take you to the airport for your flight to Iguazu.
Upon arriving in Iguazu, our local representative will be waiting for you to take you to your hotel. The rest of your day is free to spend at leisure. If your accommodation is located on the outskirts of the town, you can relax and enjoy the facilities of your accommodation. Alternatively, you can take a taxi to the center of town where you can walk down the main street of Puerto Iguazu, enjoying some of the local shops and cafes.
Meals (B)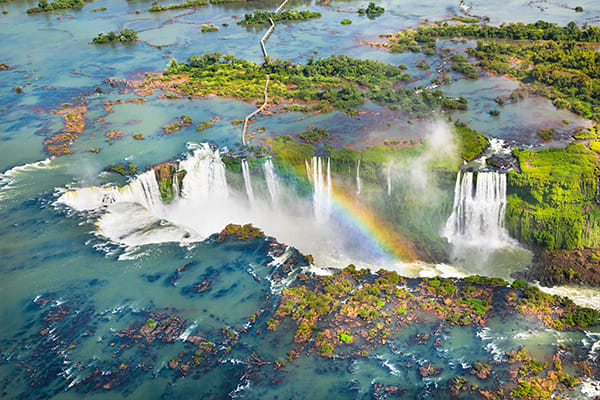 Location
Mendoza to Iguazu
Visit the Argentinean Falls
After breakfast this morning, you will begin your exclusive tour of the Argentinean side of Iguazu Falls. You'll head towards the Iguazu National Park where you'll climb aboard a small train at the entrance of the National Park – your first stop will be the ominously named Devil's Throat (Garganta del Diablo) which stands at over 262ft, making it the biggest waterfall of Iguazu! Having soaked up the enormity of the Devil's Throat, your guide will take you along the wooden walkways and trails of both the upper and lower circuit. With over 270 separate waterfalls and the copious verdant jungle of Iguazu, exploring this Natural World Wonder of the World is one of the most unforgettable experiences.
The various trails that take you above and around the waterfalls are built a few feet above the jungle floor. These raised platforms not only protect the natural habitat of the jungle wildlife but will also take you to secluded viewpoints offering unimaginable views across the whole National Park. If you're looking for a bit of adventure while visiting Iguazu, we highly recommend booking the optional (not included) Great Adventure rafting tour that takes you right under the rainbows and mist of Iguazu's waterfalls. Make sure to pack a change of clothes or swimwear and a watertight bag for your valuables because you will get wet!
After a full day exploring Argentina's side of Iguazu Falls, you'll head back to the visitors' center and from there, your transfer will take you to your hotel in Iguazu where the rest of your evening is free to spend at your leisure.
Meals (B)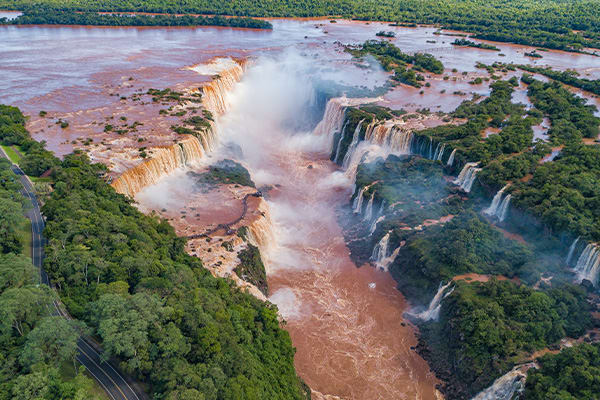 Brazilian Falls
Dive straight into the action this morning! Your private guide will take you to begin your exclusive tour of the Brazilian side of the Falls (make sure you bring your passport). Bordering Argentina, Brazil, and Paraguay, the Brazilian side of Iguazu offers a panoramic view of the Falls. On the Brazilian side, you'll have an up-close and more direct view of the towering Devil's Throat Waterfall. After the excursion, your private transfer will take you to the airport for your flight back to Buenos Aires.
Because Argentina is so big, this package takes you back to Buenos Aires for a night, before your flight back home. We will pick you up from the airport and take you to your hotel in the trendy neighborhood of Palermo.
You may wish to use the rest of today to stroll around the beautiful streets of Recoleta or to the modern waterfront of Puerto Madero Waterfront. If you want to take in a bit more culture, we recommend visiting the famous and beautiful Teatro Colon or the National Museum of Fine Arts (MALBA). You may also wish to visit the World Tango Museum, which is located above the legendary Café, the oldest café in town. This stunning cafe has been the meeting place for famous and influential Porteños for more than 100 years. The interior will transport you back to the Golden Age of the 1900s in Buenos Aires.
Meals (B)
Location
Iguazu to Buenos Aires
Return Home
Enjoy your final breakfast at the hotel in Buenos Aires, because it's time to hit the road again as you make your way to your next destination, or return home.
Buenos Aires has 2 airports: Ezeiza and Jorge Newbery-Aeroparque. Many of the domestic flights leave from Jorge Newbery-Aeroparque airport which is located within the city. Travel safely to your next destination as you leave with unforgettable memories that will last a lifetime.
Meals (B)
1 / 8
Accommodations
Hotel Options
4 Star
Own Grand Palermo Soho
Buenos Aires
4 Star
Amerian Portal
Puerto Iguazú
5 Star
Legado Mitico
Buenos Aires
5 Star
Loi Suites Iguazu
Puerto Iguazú