Itinerary & Prices
Welcome to Argentina!
Welcome to Argentina! For most travelers, Buenos Aires is the entry point to Argentina… and what an entrance it is: this vibrant city feels almost European! Its cosmopolitan population of Italian, Spanish, French, and many other nationalities, combined with stunning architecture, cultural activities, and attractive neighborhoods with small shops, cafés, and international restaurants, make the atmosphere relaxed and welcoming.
Upon arrival, our local representative will meet you at the airport and take you to your hotel. After settling into your accommodation in the trendy neighborhood of Palermo, the rest of your afternoon and evening is free for you to spend at your leisure. We recommend exploring the area near your hotel where you'll be able to soak up the atmosphere of this thrilling city stopping off at one of the nearby boutique cafés or lively wine bars. Having found somewhere for dinner and experienced one of South America's top restaurant scenes, explore Buenos Aires' nightlife at one of the local wine bars in Palermo, add an exclusive wine tasting to your itinerary or, take a leisurely stroll back to your hotel.
Tip: Porteños eat dinner late; usually restaurants will open their doors around 20:00.
Meals (x)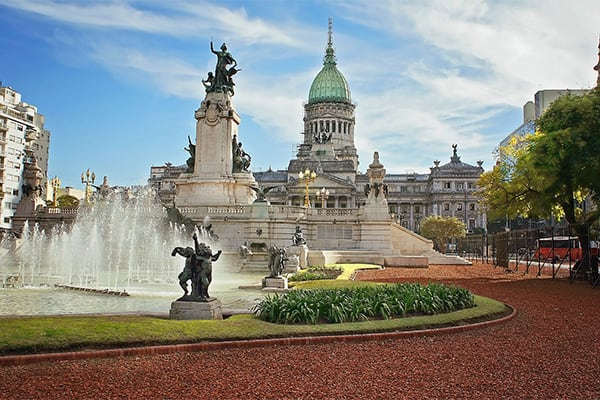 Tango & Highlights of Buenos Aires
After breakfast, you are collected from your hotel for your city tour of Buenos Aires, discovering the history and modern life of this world-renowned city.
The tour provides an in-depth introduction to its architecture, the culture of its people, its anecdotes and secrets. Put simply, Buenos Aires is exceptional, dynamic, sophisticated, and overwhelming. An exquisite combination of a European atmosphere and the charm of Latin American cities. You will begin at the famous Plaza de Mayo, before venturing out to the old tango districts of Buenos Aires: Monserrat, San Telmo, and La Boca. You will then move on to the busiest areas – Puerto Madero, Retiro, and Plaza San Martin – and then, districts with wonderful green spaces and old residences: Palermo and Recoleta.
In the evening, you'll experience the best of tango while enjoying the finest Argentine cuisine and fabulous Malbec wines. The tango show is one of the most authentic in Buenos Aires, and you'll come to appreciate the passionate and intense nature of Argentina's beloved and beautiful art form.
Meals (B, D)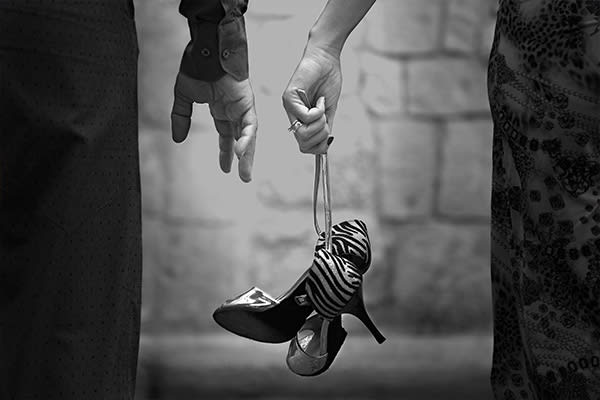 Arrival in Peninsula Valdes
In the morning, your transfer will take you to the domestic airport for your flight to Trelew.
Today you will arrive in one of the best places in the world for whale watching. After touching down at Trelew airport, most travelers go to Puerto Madryn and visit Peninsula Valdes from there. You will set out on a 2-hour journey straight for the Peninsula Valdes Protected Natural Area.
From here you will visit the Lobería de Punta Pirámides, where you can see the reproductive colony of sea lions next to the panoramic views from the spectacular viewpoint. Leaving here we head to Punta Cantor to observe the external coast of the peninsula and the incredible geographical accident that is Caleta Valdes. You will cross the different paths to better observe the colony of sea elephants and interpret the geological formations of the coast. Then you will be dropped off at your lodge in the Peninsula.
You'll be staying at Rincon Chico, a comfortable, family-run estancia hotel on the coast, surrounded by the beauty and wildlife of the region. Film crews from National Geographic have stayed here as this area is one of the richest marine areas on earth! It harbors populations of southern right whales, elephant seals, sea lions, orcas, penguins, and numerous species of birds and marine life. You'll receive a warm welcome and (if you arrive early), after settling in you can walk along the coastal trails of the estancia. There are just over 9 miles of private beaches that stretch out along the coast, where you'll be able to see all kinds of marine wildlife and birds. In the evening you can enjoy dinner at the estancia (included) and on a clear evening, finish up by taking a gaze at the endless stars of the night sky.
Note: For this day to be operational, we suggest arriving before 9 am at Trelew airport.
Meals (B, D)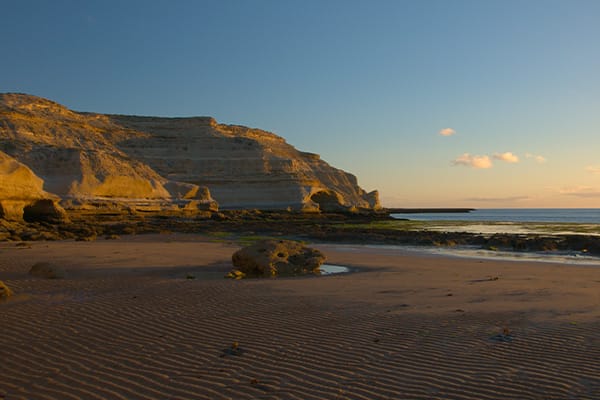 Location
Buenos Aires to Peninsula Valdes
Time to explore Peninsula Valdes
Today (June to December) you can take a whale-watching boat trip into Puerto Piramides Bay. There are 4 excursions per day, so you can book a whale watching tour locally. Typically tourists from Puerto Madryn take a morning excursion and continue along the coast afterward, so we recommend taking an earlier option, or an afternoon zodiac excursion, as you'll get the best views in this smaller scale boat. This sheltered bay protects the female southern right whales, allowing them to raise their calves safely. During the breeding season, there are dozens of whales swimming around the bay! These huge creatures are just incredible, and they come very close to the boat, which will give you a real sense of their immense size when they jump out of the water! From December to March you can also view sea lions, cormorants, and dolphins.
Either after or before your whale watching boat trip you can take advantage of the activities included at your lodge. Please ask your local host about the options available.
Meals (B, L, D)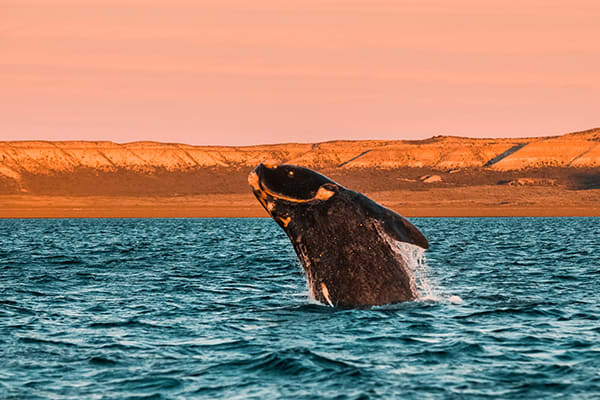 Location
Peninsula Valdes
Relaxing in Valdes
Today is free for your to choose your adventures once more. Ask your local host about options available, and enjoy your final full day at Rincon Chico.
Meals (B, L, D)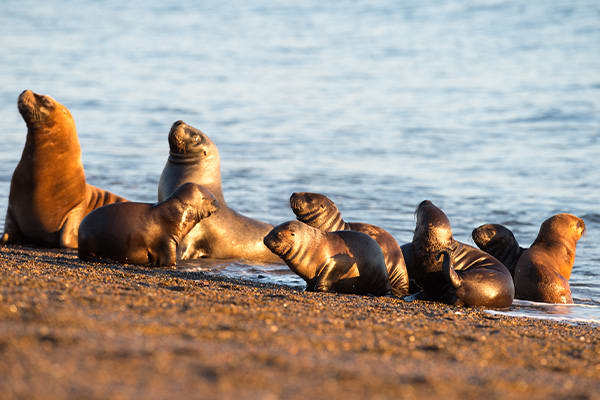 Location
Peninsula Valdes
Travel to El Calafate
In the morning, your private transfer will take you to Trelew airport for your flight to Calafate.
If you are lucky enough to land in El Calafate on a sunny day, you will have unforgettable views of the mountains and lakes right before you land. Your lodge accommodation includes airport transfers. You will be met at the airport and taken to the lodge.
The rest of the day is free for you to spend at leisure or enjoy some of the activities available at your ranch. In the evening just relax, enjoy dinner and get a good night's rest as tomorrow you'll be visiting the Perito Moreno Glacier!
Meals (B, L, D)
Location
Peninsula Valdes to Calafate
Visit the Perito Moreno Glacier
After breakfast, you'll be picked up from your hotel and driven, as part of a small group, into the Patagonia Glacier National Park to the spectacular Perito Moreno Glacier. The views along the way are so beautiful you will find it hard to tear your eyes away from the dramatic landscape. Everything here is on a massive scale; with vast swathes of empty grassland and huge mountains – any sign of human inhabitancy looks tiny in comparison.
After about 50 miles you'll start to catch glimpses of the Perito Moreno ice wall as the road twists and turns its way through the Patagonia National Park. Stopping at a good vantage point you'll be able to soak up this incredible glacier from afar, before heading down to view it up close. The network of wooden walkways in the park allows you to get very close to the glacier wall. You will be able to see and hear huge chunks of ice breaking off and plunging into the icy waters below! After admiring this magnificent glacier from up-close, your guide will take you back to your accommodation in El Calafate where the rest of the afternoon and evening is free to spend at leisure. Optionally, you can add the mini-trekking hike on the glacier's surface to today's itinerary for a unique and once-in-a-lifetime experience! (Please check with your travel specialist).
Meals (B)
Free Day in Calafate
Today is free for your to choose your adventure. Ask your local host about options available.
The hotel has a guide who coordinates all of the outdoor experiences for you. Choose from trekking, mountain biking, bird watching, four-wheel-drive outings, horseback riding tours, and more.
Meals (B, L)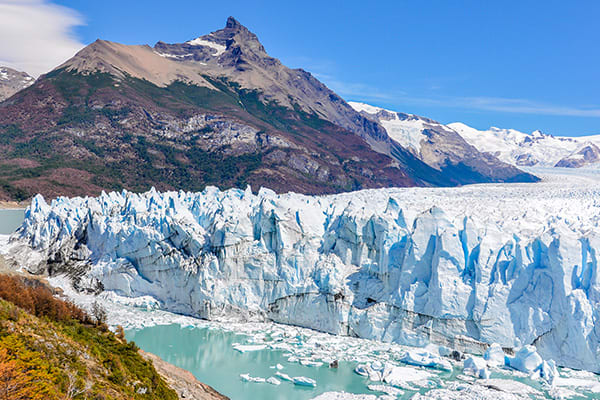 Leaving Patagonia behind
At the scheduled time we will pick you up at your hotel, and transfer you to the airport for your flight back to Buenos Aires. Upon arrival in Buenos Aires, we will wait for you to take you to your accommodation. You have the rest of the day to make the most of your time as you enjoy the city on your own!
Meals (B)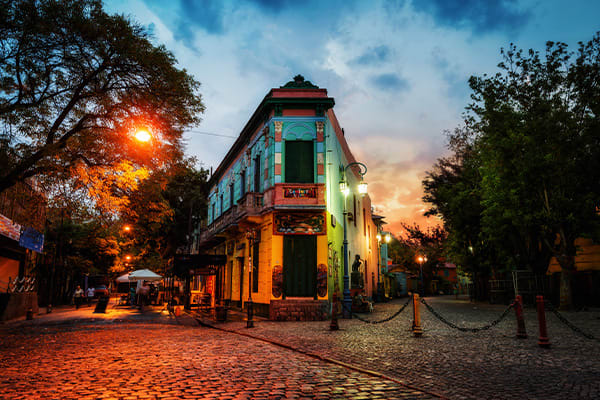 Location
Calafate to Buenos Aires
Return Home
Enjoy your final breakfast at the hotel in Buenos Aires, because it's time to hit the road again as you make your way to your next destination, or return home.
Buenos Aires has 2 airports: Ezeiza and Jorge Newbery-Aeroparque. Many of the domestic flights leave from Jorge Newbery-Aeroparque airport which is located within the city. Travel safely to your next destination as you leave with unforgettable memories that will last a lifetime.
Meals (B)
1 / 10
Accommodations
Hotel Options
5 Star
Legado Mitico
Buenos Aires
Boutique
Rincon del Socorro
Iberá Wetlands