Itinerary & Prices
Welocome to Argentina!
Welcome to Argentina! For most travelers, Buenos Aires is the entry point to Argentina… and what an entrance it is: this vibrant city feels almost European! Its cosmopolitan population of Italian, Spanish, French, and many other nationalities, combined with stunning architecture, cultural activities, and attractive neighborhoods with small shops, cafés, and international restaurants, make the atmosphere relaxed and welcoming.
Upon arrival, our local representative will meet you at the airport and take you to your hotel. After settling into your accommodation in the trendy neighborhood of Palermo, the rest of your afternoon and evening is free for you to spend at your leisure. We recommend exploring the area near your hotel where you'll be able to soak up the atmosphere of this thrilling city stopping off at one of the nearby boutique cafés or lively wine bars. Having found somewhere for dinner and experienced one of South America's top restaurant scenes, explore Buenos Aires' nightlife at one of the local wine bars in Palermo, add an exclusive wine tasting to your itinerary or, take a leisurely stroll back to your hotel.
Tip: Porteños eat dinner late; usually restaurants will open their doors around 20:00.
Meals (x)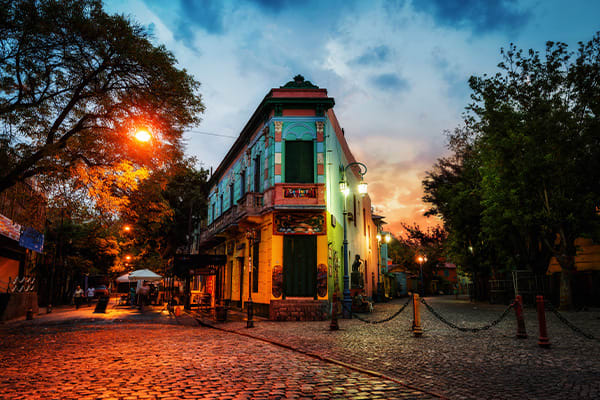 Highlights of Buenos Aires
Buenos Aires is most enjoyable when it is explored on foot and the transportation is best by bus. Today you will get an overflow of tradition and culture that your family can truly experience just by walking past the small shops and restaurants lined along the footpaths. During the tour, you will experience these sensations accompanied by local insights from your very own private guide.
Your guide will meet you at your hotel or the Recoleta Cemetery. You will then take a bus or subway to the remarkable San Telmo neighborhood where you will visit the Comic Strip Walk – sure to peak your children´s excitement! The Paseo de la Historieta is dedicated to Argentine graphic humor and features sculptures of some of the country´s most loved comic strip characters. The most popular attraction on this trail is the sculpture of Mafalda at the corner of Defense and Chile. You will also have the opportunity to taste Buenos Aires´s famous Italian artisanal ice cream as well as the "choripan", a traditional dish of sausage from the grill wrapped in bread.
You will then take a bus from San Telmo to La Boca Neighborhood. La Boca is alive with music, brimming with laughter and pulsating with tango beats. The high-energy area retains a strong European flavor due to the influence of early settlers who originated from the Italian city of Genova. You will then walk through Caminito ("little walkway"), which is a street museum and a traditional alley in La Boca. This lane has multiple thriving street peddlers selling art, buskers playing music, and stalls offering trinkets of every variety.
Afterward, your family will take another bus to Recoleta and visit the Recoleta Cultural Center. Built in 1732, it was originally the convent of the Recoleta monks. It later served as a hospital, military barracks, refuge for the homeless, and an elderly people´s home, until it was finally transformed into a cultural center at the end of the 1970s. Recoleta Cultural Center contains mixed showrooms with outdoor corridors that make travel enjoyable and fluid, with samples of art that are renewed periodically. The center also communicates with Buenos Aires Design, a shopping center specialized in design, decor, and art shops, and internationally renowned restaurants, including the Hard Rock Cafe. The Recoleta Cultural Center always has something to offer for kids.
Meals (B)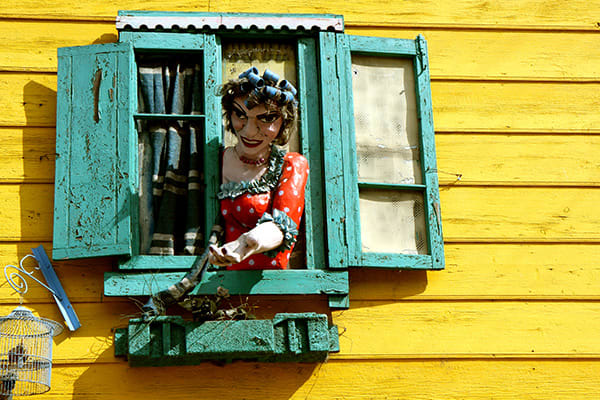 Driving to Peninsula Valdes
Today at the arranged time, you will be taken to the airport for your flight to Trelew.
Today you arrive in one of the best places in the world for whale watching. After touching down at Trelew airport, most travelers go to Puerto Madryn and visit Peninsula Valdes from there. However, because we know this is going to be a highlight of your trip, we have arranged a rental car, so you can stay in Peninsula Valdes, allowing you to experience the peninsula at your own pace and see wildlife without too many tourists around. We recommend that you leave Trelew with a full tank, although there is a gas station in Puerto Piramides. The road goes through the dry, desert-like scrubland of the Patagonian plains. After about 4 hours you arrive at the Peninsula Valdes National Reserve, where you pay your entrance fee (USD 30 per person).
You'll be staying at Océano Patagonia, which is situated on the beach in Puerto Pirámides, Península Valdés' only village. It is home to a variety of restaurants and pubs, a small grocery store, tour companies, and beaches all within walking distance. Océano Patagonia has been built with the highest quality finishings and with the environment in mind, with condo-style suites, equipped kitchenette and breakfast served in each room. This eco-hotel works towards reducing the impact on the unique and cherished eco-system that surrounds it.
Note: Peninsula Valdes Park entrance fee is not included.
Meals (B)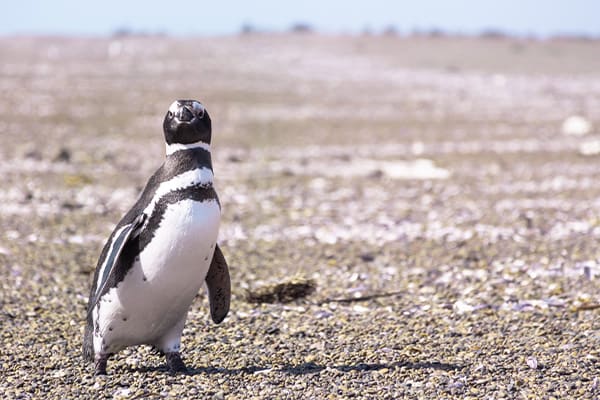 Location
Buenos Aires to Peninsula Valdes
Time to explore Peninsula Valdes
Today (June to December) you can take a whale-watching boat trip into Puerto Piramides Bay. There are 4 excursions per day, so you can book a whale watching tour locally. Typically tourists from Puerto Madryn take a morning excursion and continue along the coast afterward, so we recommend taking an earlier option, or an afternoon zodiac excursion, as you'll get the best views in this smaller scale boat. This sheltered bay protects the female southern right whales, allowing them to raise their calves safely. During the breeding season, there are dozens of whales swimming around the bay! These huge creatures are just incredible, and they come very close to the boat, which will give you a real sense of their immense size when they jump out of the water! From December to March you can also view sea lions, cormorants, and dolphins.
Either after or before your whale watching boat trip you can take advantage of the activities included at your lodge. Please ask your local host about the options available.
Meals (B, L, D)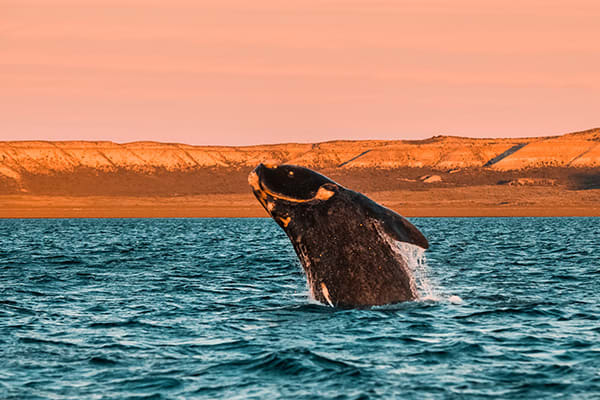 Location
Peninsula Valdes
Travel to the Glaciers
It's time to hit the road again as you make your way to your next destination where you can enjoy exploring the beauty and diversity of Argentina even further! Begin the day by driving back to Trelew Airport where you´ll drop off your car rental, in preparation for your flight to El Calafate.
If you are lucky enough to land in El Calafate on a clear, sunny day, you will have unforgettable views of the mountains and lakes from the plane before you land. We will take you from the tiny airport to your hotel in town. El Calafate is a nice little town in an otherwise desolate area, with one main street. Most of the restaurants and shops are centered here, and a few streets lead off of it. Get your bearings by strolling around town, perhaps picking out one of the local restaurants for lunch or dinner. It is often cold and windy here, so the lamb racks in the windows of restaurants, the lit fireplaces, and the view of other travelers sipping from their wine glasses will be sure to tempt you inside. If you have a full afternoon available and feel like some fresh air and a walk, then head down to the bottom end of town to the Laguna Nimez Nature Reserve. You have to pay a small entrance fee but there is a beautiful circuit taking you through shrublands and wetlands and down to the lake's edge. You'll see all sorts of unusual birdlife down there, and if you aren't a seasoned bird watcher, you can always borrow a bird guidebook from the nature reserve office to help spot the different species of bird. In the evening take your time to just relax, enjoy dinner and get a good night's sleep as tomorrow you'll be visiting the Perito Moreno Glacier!
Meals (B)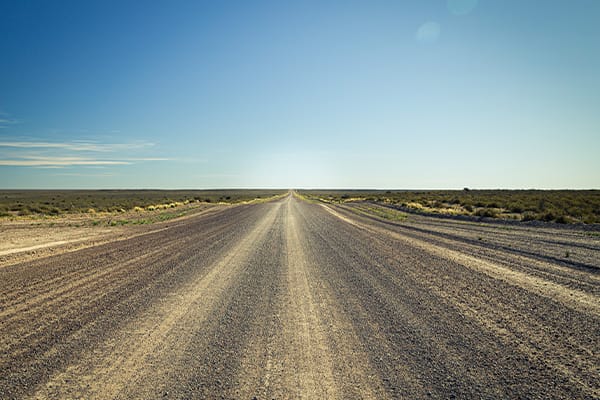 Location
Peninsula Valdes to Calafate
Minitrekking over the Perito Moreno Glacier
This full-day group tour, taking you mini-trekking across the jaw-dropping Perito Moreno Glacier, is a trip to remember. You'll have plenty of time to explore the glacier at your own pace and soak up the breathtaking surroundings.
First, you'll travel from El Calafate to the eastern side of the Magellan Peninsula, scattered with gorgeous viewpoints of Perito Moreno. You'll then follow the scenic walking tracks skirting the glacier, stopping for photos as you watch huge ice blocks crash into the lake, creating thunderous noise and huge waves. Next, you'll hop on a boat to cross the Rico Branch, sailing past the huge glacier on a 20-minute ride. When you reach the other side, you'll take a walk through the deep green forest on the opposite shore, right along the edge of the Perito Moreno. Along the way, you'll find caves at the base of the glacier, complete with small internal deep lagoons.
Next comes the real highlight – a 2-hour trek on top of the glacier with an expert guide. It truly is the experience of a lifetime and a special highlight of your trip. Afterward, you'll return through the forest and stop for lunch (not included) before heading back towards El Calafate. Pick-up and drop-off will commence at designated hotels and meeting points.
Note: For people between 10 and 65 years old. This excursion is not recommended for pregnant women.
Meals (B)
Road-trip into Chile
Today is a very early start as your transfer and guide pick you up around 5.30 am to begin your journey from El Calafate into southern Chile, to the Torres del Paine National Park. The park consists of mountains, glaciers, lakes, and rivers and was proclaimed a World Biosphere Reserve by UNESCO in 1978. Many travelers have dubbed it South America's most beautiful National Park, and it is the most popular hiking destination on the continent. The trip from El Calafate to Torres del Paine National Park takes about 5 hours. Even though it's early, try and stay awake as your group transfer takes you through the desolate Patagonian steppe, until you arrive at the border post. All passengers have to go through immigration control so please remember to bring your passport!
After stretching off your legs, you'll continue through beautiful southern Chile where you'll be treated to mind-blowing views around every bend. Arriving at the Torres del Paine (meaning Blue Towers in the local Tehuelche language), you'll soon experience a few hikes along scenic trails to magnificent viewpoints. As it is a full day of traveling from El Calafate to Torres del Paine, upon arrival you can check into your hotel and then taste the rich warm, homely flavors of Chile's Patagonian cuisine at dinner.
Tip: It is advisable to bring some US dollars as there is no way to get Chilean pesos between the border and the park. Weather conditions can be harsh but also beautiful; make sure to take appropriate clothing for either.
Meals (B, D)
Location
Calafate to Torres del Paine
Hiking day in Torres del Paine
Today is left free for you to choose your adventure. Of course, we highly recommend getting out into the fresh air and hiking, but it's entirely up to you. You can choose to be accompanied by a guide, or study the map and hit the trail on your own. Whatever you choose, you can't go wrong! The Torres del Paine National Park is quite simply stunning and the location of your accommodation means that you'll be able to enjoy views of the park's famous tower-like mountains from the get-go.
If you're up for the challenge, one of our favorite and most rewarding hikes is to the base of the towers. This 11.2-mile hike running alongside the Ascencio River passes through dense forest and winds up through a rough moraine until you arrive at the foot of the famous Towers. You can then descend along the same trail to the starting point at Laguna Amarga. Alternatively, you can go on a shorter 2.5-mile hike to the Cuernos (Horns) of Torres del Paine which is an easy-going and relatively flat half-day hike. The Horns Viewpoint trail is an eye-catching introduction to the National Park with the huge horns' of the Paine accompanying you during the whole hike. You'll also be able to stop off at Salto Grande Waterfall during the hike, taking a moment to admire its glacial blue waters which drop down a 50 ft. tall chute! The waters fall into a pool below which runs into Lake Pehoe.
Tip for the day: Set off well equipped for rain or shine. The weather changes quickly in the mountains so you'll want to be prepared.
Meals (B)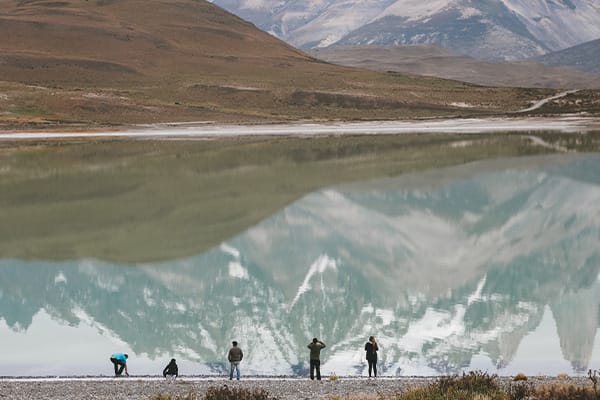 Location
Torres del Paine
Drive back to Calafate
The morning is free for you to continue exploring Torres del Paine before you drive back to Calafate (be mindful of border crossing procedures – have your passport and documents ready).
After arriving in Calafate and setting into your accommodation, you will drop off your car rental.
Meals (B)
Location
Torres del Paine to Calafate
Arrival in Iguazu
At the designated time, your private transfer will take you to the airport for your flight to Iguazu.
Upon arriving in Iguazu, our local representative will be waiting for you to take you to your hotel. The rest of your day is free to spend at leisure. If your accommodation is located on the outskirts of the town, you can relax and enjoy the facilities of your accommodation. Alternatively, you can take a taxi to the center of town where you can walk down the main street of Puerto Iguazu, enjoying some of the local shops and cafes.
Meals (B)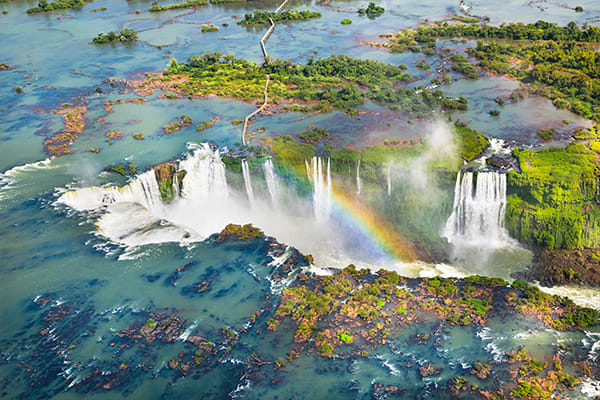 Location
Calafate to Iguazu
Visit the Argentinean Falls
After breakfast this morning, you will begin your exclusive tour of the Argentinean side of Iguazu Falls. You'll head towards the Iguazu National Park where you'll climb aboard a small train at the entrance of the National Park – your first stop will be the ominously named Devil's Throat (Garganta del Diablo) which stands at over 262ft, making it the biggest waterfall of Iguazu! Having soaked up the enormity of the Devil's Throat, your guide will take you along the wooden walkways and trails of both the upper and lower circuit. With over 270 separate waterfalls and the copious verdant jungle of Iguazu, exploring this Natural World Wonder of the World is one of the most unforgettable experiences.
The various trails that take you above and around the waterfalls are built a few feet above the jungle floor. These raised platforms not only protect the natural habitat of the jungle wildlife but will also take you to secluded viewpoints offering unimaginable views across the whole National Park. If you're looking for a bit of adventure while visiting Iguazu, we highly recommend booking the optional (not included) Great Adventure rafting tour that takes you right under the rainbows and mist of Iguazu's waterfalls. Make sure to pack a change of clothes or swimwear and a watertight bag for your valuables because you will get wet!
After a full day exploring Argentina's side of Iguazu Falls, you'll head back to the visitors' center and from there, your transfer will take you to your hotel in Iguazu where the rest of your evening is free to spend at your leisure.
Meals (B)
Brazilian Falls
You'll be picked up from your hotel in Puerto Iguazu and transferred to the Visitor Center in the National Park. On arriving at the Visitors Center, you will board the panoramic buses to begin the tour of the park, before descending to the walking paths.
From the first balcony, you´ll encounter 950 meters of stunning views over the Iguazu River, before crossing over to the Brazilian side (make sure you bring your passport). The walkway entering the river next to the Floriano fall will give you a refreshing reception and a gorgeous panoramic view of the lower Iguazu River and the Devil´s Gorge Canyon. The elevator and stairs lead to the shopping and restaurant area upstairs. The afternoon is free for you to spend at your leisure.
Meals (B)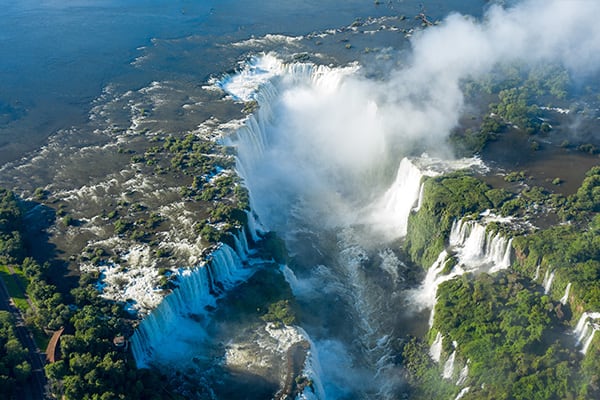 Welcome to the jungle!
Enjoy a late tropical breakfast at your hotel before taking a refreshing dip in the pool, or take a 1.2 mile (2km) walk to the Triple Border, the meeting point between Argentina, Brazil, and Paraguay. After lunch (not included), your transfer will take you to the Yacutinga meeting point for 14:15 hs.
As soon as you board the bus with the other passengers, your jungle adventure starts! This afternoon you will travel through the Misiones countryside, with its distinctive red earth and Yerba Mate plantations, before entering the rainforest. The onboard guide will point out wildlife along the way, occasionally stopping for you to get out and take a closer look!
Upon arrival at the comfortable Yacutinga Eco-Lodge, after settling into your room, you'll meet in the lodge's beautiful lounge area for an introductory chat about your surroundings, and all the things you can see and do in the rainforest. You'll learn about the lodge's many conservation projects in the forest, and take a stroll around the beautiful grounds, before finishing off the day with a relaxing swim in the pool. In the evening dinner will be waiting for you in the ecolodge's excellent restaurant which serves up traditional meals prepared with locally sourced ingredients. Tonight you'll fall asleep to the sounds of the rainforest around you, preparing you for a full day out in the jungle tomorrow.
Note: Please check the minimum age requirements for Yacutinga Lodge (which vary depending on seasonality).
Meals (B, D)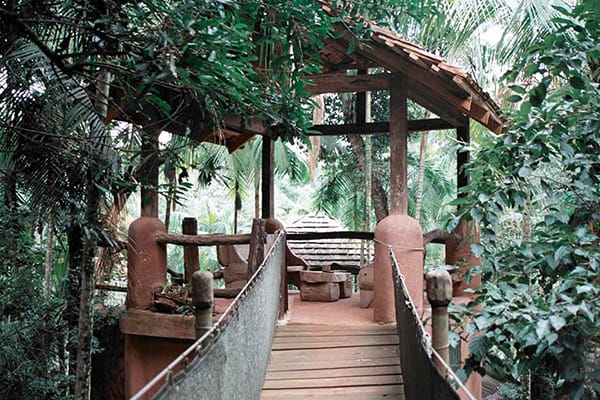 Location
Yacutinga Eco-Lodge
Yacutinga Experience
To make the most of your day, get up early with the rest of the jungle's inhabitants. After breakfast, you'll head out onto the river in a kayak and spend the morning paddling through the verdant waterways of the jungle. You'll see all sorts of wildlife, such as monkeys, snakes, sloths, and tropical birds. Your guides will be on hand to explain the animal's particular habits and habitats and tell you all about life in the jungle. Paddling through the waterways is the perfect opportunity to take photos of the wildlife as you silently float by without disturbing them as they go about their daily business.
After lunch back at the lodge, the afternoon is free for you to enjoy the garden and swimming pool or to walk along with one of the many nature trails by yourself. We recommend having your afternoon at leisure so that following dinner you can join the guided twilight nature walk to see the rainforest's nocturnal wildlife (bring a flashlight!). In the dark, your senses are heightened and you'll be able to hear the sounds of the rainforest more clearly. Your guides are experts at knowing where to look and identifying the different sounds around you, so they'll help you spot wildlife amongst the trees as you go.
Meals (B, L, D)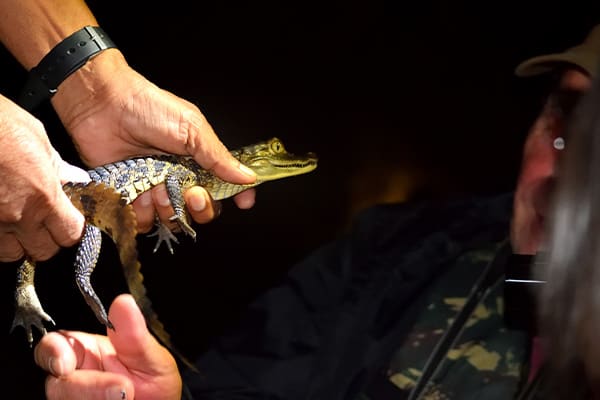 Location
Yacutinga Eco-Lodge
Brunch and back to the city
After an early breakfast today you'll be able to enjoy the morning at the lodge, swimming, relaxing in the gardens, taking a walk through the grounds or nearby forest trails. You'll then sit down for brunch in the lodge restaurant where you can say your goodbyes to the ecolodge team and a transfer will take you back to the meeting point in Puerto Iguazu.
Being dropped off in Iguazu, you will be transferred to the airport for your flight to Buenos Aires. Upon your arrival, we will take you to your hotel where the rest of the evening is at your leisure.
Meals (B)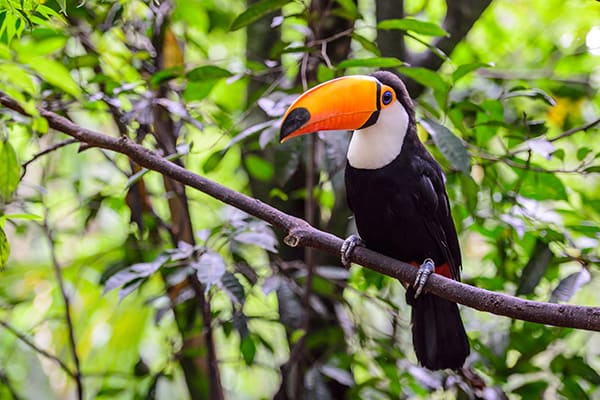 Location
Yacutinga Eco-Lodge to Buenos Aires
Return Home
Enjoy your final breakfast at the hotel in Buenos Aires, because it's time to hit the road again as you make your way to your next destination, or return home.
Buenos Aires has 2 airports: Ezeiza and Jorge Newbery-Aeroparque. Many of the domestic flights leave from Jorge Newbery-Aeroparque airport which is located within the city. Travel safely to your next destination as you leave with unforgettable memories that will last a lifetime.
Meals (B)
1 / 16
Accommodations
Hotel Options
4 Star
Own Grand Palermo Soho
Buenos Aires
5 Star
Loi Suites Iguazu
Puerto Iguazú
5 Star
Loi Suites Recoleta
Buenos Aires