Overview
Discover incredible landscapes and fascinating wildlife on this 8-day Bolivia Lakes & Pampas tour, ideal for families of all sizes and all ages. Visit villages and islands on the highest navigable lake in the world, stay at a unique rainforest eco-lodge and roam through grassy pampas, and explore the surreal salt flats of Uyuni for an unforgettable Bolivian adventure.
Lake Titicaca
After overnighting in the charming lofty heights of La Paz, your tour begins in earnest in the famous Lake Titicaca region of Bolivia. Situated on the border with Peru, Lake Titicaca is the highest of the large freshwater lakes in the world, surrounded with culture, history, and a natural beauty all its own.
Your first taste of what the area offers is your very own pilgrimage to the lakeside city of Copacabana and its ancient temple of the Dark Virgin. From there, you will explore two of the lake's most famous islands – La Isla de la Luna (Moon Island) and La Isla Del Sol (Sun Island) – both with deep historical and religious connections to the Incas.
While on Sun Island, enjoy a scenic walk accompanied by llamas as you make your way up to your hotel for the night. The La Posada del Inca Eco-Lodge at the top of the island is a rustic retreat offering sweeping views out over the lake and to the snow-capped Andes in the distance.
Pampas Jungle Tour
After a relaxing stay on Sun Island, you'll be transported back to La Paz before heading out on your Bolivia pampas jungle tour.
Rurrenabaque, a small town on the Alto Beni River, is often referred to as the gateway to the rainforest and pampas of Bolivia. Here you can become familiar with the resident wildlife, including sloths, anteaters, and various birds.
At Santa Rosa, you'll take a short boat trip to your riverside eco-lodge accommodations from where you can go sport fishing for piranha and join a night exploration to spot the resident black caimans. Join jungle explorations, go on a search for Anacondas, and maybe even swim with the legendary pink dolphins.
Explore the Bolivian Pampas with your guides and get to know the landscape and the wildlife that live within. Listen to the chorus of howler monkeys and roam the expansive grassland plain found here, stopping to take spectacular photos along the way.
Uyuni Salt Lake Tour
Still one more spectacular landscape awaits you in Bolivia, Uyuni Salt Lake. Tour this once prehistoric lake which has dried to become the largest salt flats in the world, a near desert-like domain of blinding-white saline scenery, dotted with cacti-studded islands and balletic pink flamingos. Wander through this unique locale and learn about its history before ending your and catching your flight home.
Itinerary & Prices
Welcome to La Paz!
After arriving at La Paz Airport you'll be warmly greeted by your awaiting bilingual guide and private transportation for the half-hour journey downtown to your chosen hotel. Along the way, your guide will provide their passionate insight into this breathtaking Bolivian city, the highest de facto capital city in the world at 3,650 m (11,975 ft) above sea level.
Meals (X)
La Paz, Titicaca Lake & Moon Island
Enjoy your morning breakfast in La Paz, before beginning your overland journey to the lakeside city of Copacabana. Along the way, you'll travel through the Strait of Tiquina, which includes an unusual barge crossing. Before you embark your hydrofoil cruise of Lake Titicaca from Copacabana, you'll get the chance to see the city's most important pilgrimage site, the ancient temple of the Dark Virgin. Locals have celebrated the Dark Virgin's miracles and magic for over four hundred years. If you're visiting in February, you can partake in the local festival.
Titicaca lake, often called the "highest navigable lake" in the world, is the largest in Bolivia and it marks part of the border between Bolivia and Peru. Here, you'll explore two islands with deep historical and religious roots to the Incan people. First, you'll visit La Isla de la Luna (Moon Island) where you'll find "Iñak Uyu", also known as the Temple of the Virgins of the Sun.
From Moon Island, you'll take another boat to La Isla Del Sol (Sun Island), whose main attraction is the Pilcocaina Sun Temple, said to be the very birthplace of the Incan Empire itself. To get to your hotel for the evening, where you'll also have dinner, you'll take a memorable walk along Inca roads accompanied by llamas, aptly known as the "Llama Trek".
Meals (B, L, D)
Sun Island & La Paz
Sun Island is the best place to watch the sun rise, which you'll do as you enjoy breakfast at the hotel. You can explore the island as much as you like until noon, when your guides will take you to the Inca Grand Stairs and the Sacred Fountain. If you dare, you can see if the fountain does provide eternal youth as legend suggests.
After exploring the ruins, you'll have lunch at the Uma Kollu Archelogical Restaurant. This spot has some excellent views of the lake, which you can take in as you dine. Nearby is a small market, where you can buy one-of-a-kind souvenirs and handcrafted items.
Later in the day, you'll take a boat over to Cocotoni Bay and spend some time experiencing its authentic pastoral life. From there you'll be taken back to La Paz, where you can indulge in the city's gastronomic delights and nightlife.
Meals (B, L)
Location
Hydrofoil to La Paz
La Paz, Rurrenabaque & Las Pampas
On day four, after breakfast in La Paz, you'll take a short plane trip (about 45 minutes) to reach Rurrenabaque, a small town at the base of the Alto Beni River and the gateway to the rainforests and pampas of northern Bolivia. The country has some of the world's best national parks, and today you'll get to explore some of its wildest realms and resident wildlife as you head up to Santa Rosa by car.
Along the way, keep an eye out for sloths, anteaters, and many of Bolivia's local birds. Guides can also point these creatures out during your trip. Santa Rosa is located next to several lakes, some of which have "flotels" or floating hotels, but you'll be taking a 15-minute boat trip to your riverside ecolodge accommodation on the banks of the Yucama River. Here, you'll enjoy a regional lunch, complete with traditional Bolivian dishes made from local ingredients.
After lunch, you'll take a tour of the Yucama River. While you're on the water, you can partake in sport fishing, where you might be able to catch some piranha and other delicacies. You may even spot some other Bolivian wildlife, including caiman, capybara, and turtles. At the end of the day, you'll enjoy dinner at your overnight ecolodge, then return to the river for some night exploration. Nighttime is the best time to see caiman, particularly because you can spot the reflections from their eyes.
Meals (B, L, D)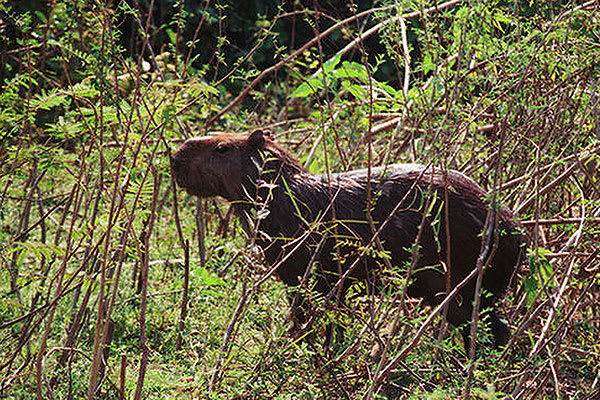 Location
"Las Tortugas" Ecolodge
Las Pampas
Because the area offers so many natural activities, you can't experience them all in one day. Today, you have the option of getting up early to experience the dawn chorus of howler monkeys and bird song. If so, you have to wake up at 5:30 to head into the grassland plains of the Bolivian pampas. Otherwise, breakfast is served at 7:30 at the hotel.
Today you'll once again head along the Yucama River, stopping at spots where you can explore the jungle, swim, and see lots of birds and animals. If you're lucky, you might be able to see the legendary pink dolphins (and swim with them!). Otherwise, you're sure to find capybara, caiman, turtles, and other wildlife.
For lunch, you'll return to the lodge, then you'll head out on a walking trail. Guides will take you deep within the pampas so that you can get as close to Bolivia's creatures as possible. Today is an excellent day for some photo opportunities. As you head back to the hotel for dinner, you're sure to get a gorgeous view of the sunset on the Bolivian savannah.
After dinner, guides will take you on an intrepid nighttime walk, since many of the local animals aren't active until after sunset. Once you've had your fill of the jungle, and the adrenaline subsides, you'll return to the lodge to spend the night.
Meals (B, L, D)
Rurrenabaque & Return to La Paz
Day six marks the last day at the lodge, and your last voyage along the Yucama River. While you might have seen some incredible wildlife, today you're going to try and find one of Bolivia's most dangerous animals – the anaconda. Guides will show you where these snakes like to hunt and hang out, and you might get to see one up close. Some of these snakes can reach an impressive size, so be sure to have your camera ready.
After the anaconda expedition, you'll return to the hotel for another delicious traditional lunch. From there, you'll head back to Rurrenabaque, which is about a three-hour drive. In the city, you'll catch your return flight to La Paz.
Once you reach La Paz, you can check into your hotel and spend the evening exploring the city. Be sure to visit the Cathedral or the main Plaza Murillo, where all of the government buildings and offices are. Since dinner is not provided, you're free to find a delicious restaurant of your choice to sate your appetite. Fortunately, there are plenty of options in La Paz.
Meals (B, L)
Location
Near Yacuma River
La Paz & Uyuni
After breakfast you'll be transfered to La Paz Airport for your short flight to Uyuni, where you'll embark upon an unforgettable full-day excursion to the Uyuni Salt Flats and Incahuasi Island. Uyuni, located on the Bolivian Andean Altiplano, is the largest salt flat on Earth covering an astonishing 10,500 sq km, and offers some of the most stunning scenery imaginable that can't be seen anywhere else. The sound of silence makes the heart beat faster, and the pentagonal canvas of crystalline salt, dotted with cacti and balletic flamingos set against a pure sky will make for one of the most memorable moments of your lifetime.
You'll enjoy a picnic lunch at the island oasis of Incahuasi, surrounded by its astonishing algae and fossil formations. It is covered in thousands of giant columnar cacti, some more than a hundred years old and over 12 meters tall. The landscape against the background of the salt pans extending to the horizon makes it an ideal place for photography hunters. Your guide will help you taking surrealistic photos due to the optical effect of the Salt Flats before returning to your hotel.
Meals (B, BL, D)
Farewell to Bolivia
This morning, after breakfast, you'll be transferred from your hotel to Uyuni airport for your flight back to La Paz and international connection.
Meals (B)
Location
Departure flight from La Paz
1 / 8
Accommodations
Hotel Options
Boutique
Posada del Inca Eco Lodge
Lake Titicaca
Boutique
Las Tortugas Ecolodge
Bolivia Amazon
4 Star
Luna Salada
Salar de Uyuni