Overview
Alexa is one of Indonesia's most romantic luxury sailing boats, with one cabin only, just for you and your loved one. Offering privacy and undeniable style, the Alexa provides an exclusive way to explore some of Indonesia's most spectacular regions on a customized journey, tailored to your desires.
Your Cabin
The 102-ft Alexa has just one exquisite Master Suite with a king-size bed, double wardrobe, an en-suite bathroom with a shower, and a private balcony on the aft deck. Large, wraparound windows afford ever-changing 270-degree views of majestic landscapes and seascapes. The interior décor combines beautifully aged teak with stainless steel, tinted glass and the highest quality fabrics and furniture, Indonesian antiques, silk rugs and contemporary art. Although primarily designed for a romantic getaway the boat can cater to families of up to four people. An adjoining room to the master suite can be set up with twin beds, ideal for younger children.
Dining Experiences
The food is delectable; prepared daily by your private chef, who devises menus according to your wishes, with a focus on fresh, healthy cuisine sourced from Indonesian farmers, as well as freshly caught fish, all of which is paired with premium wines. For a special treat, deluxe private picnics, candle-lit dinners, and seafood barbeques can be arranged for you in glorious settings on remote uninhabited islands; the beach decorated with fire lanterns and white cushions, antique rugs, and a bonfire, where you can sit for hours in each other's company with not another soul in sight.
On Board Experience
Alexa's captain has been sailing his ship since she was first built in his home village, and he has stayed with her ever since. The expert crew of seven also includes a cruise director, chef, massage therapist and a PADI and SSI diving instructor with over 10 years of experience. On board, a large daybed is ideal for lounging in the shade, with cushioned seating on the bow for catching the breeze. The Upper Deck features a dining area and an additional daybed, ideal for sunbathing, starlit slumber, or an open-air cinema experience. There is also an indoor lounge, library & TV room. The on-board spa therapist can set up a massage table on deck or on a private stretch of beach for the ultimate relaxation. Facilities include air-conditioning, portable docking stations, paddleboards and fishing gear, as well as snorkeling and diving equipment.
Activities
Each day, if you wish, can be organized to include time exploring remote islands, discovering local cultures and learning more about the wildlife above and below the water. The cruise director can arrange the most wonderful expeditions to pearl farms and turtle beaches. You can visit local villages, trek through glorious scenery, chase glistening waterfalls and relax on idyllic beaches. Indonesia is blessed with some of the top diving sites in the world, and the Alexa cruise comes with its own fully licensed PADI Dive Center. Activities can also be catered towards families with younger children.
The Alexa Cruise is the perfect choice for a romantic escape or an incredible honeymoon, allowing you to visit those lesser-traveled islands in complete comfort.
Accommodations
Social Areas
Salon
Entertainment
Relax
Reading Corner
Private Balcony
Deck
Kitchen
Dining
Designs
Deck Beds
Bow
Bedroom
Suites & Cabins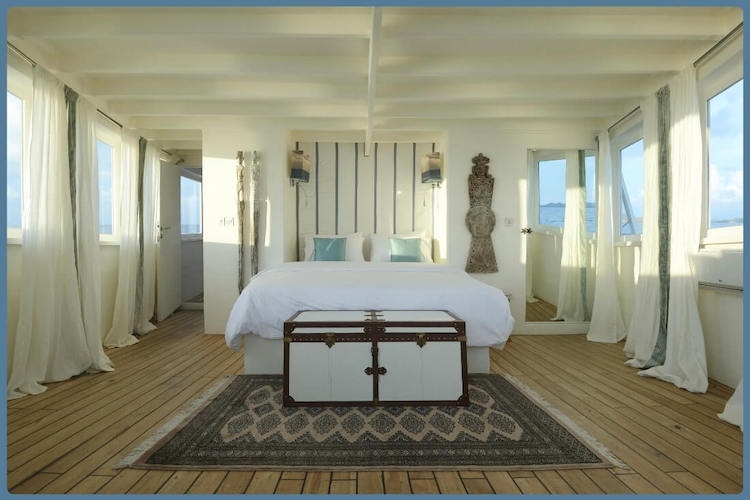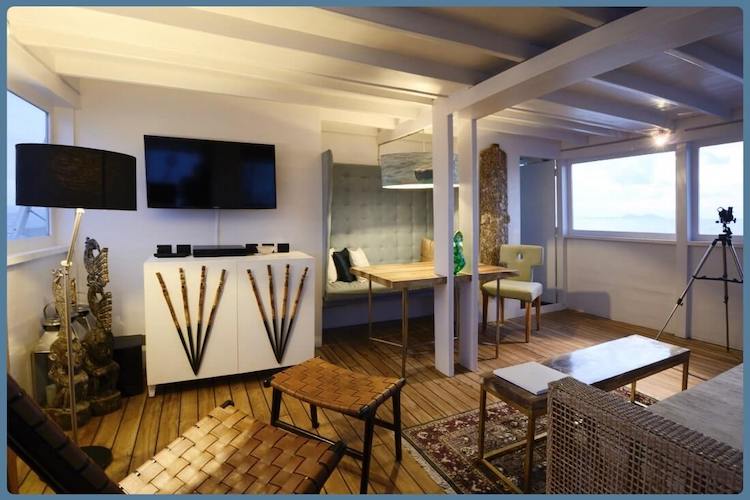 This spacious suite features a large wraparound window offering a majestic view of the landscape and seascapes. The suite comes with a balcony and an interior furnished with the highest quality fabrics and furniture. The room can be interconnected with the adjoining room.