Overview
Everything you need and want in a family vacation can be found in this 10-day Galapagos & Cajas National Park tour. Explore the unique landscapes and cultural offerings of mainland Ecuador, then join a thrilling cruise through the Galapagos Islands for a truly unforgettable experience.
Colonial City of Cuenca and Cajas National Park Tour
Departing from Guayaquil, you will be transported via air-conditioned vehicle to the colonial city of Cuenca. The ride itself offers spectacular scenery and an introduction to the diverse beauty to be found throughout the Ecuadorian mainland.
Once in Cuenca, the striking architecture of this UNESCO World Heritage Site will captivate your attention. A walking tour is a perfect way to learn more about these amazing historic buildings and also show you the all-around beauty of this unique city.
Enjoy excursions from here, such as a tour of Ecuador's most famous archeological site, the Ingapirca Fortress, and the amazing engineering feat of the zigzag railroad known as The Devil's Nose.
Crafts abound in this region of the world, and you'll get a glimpse of how the local crafters go about their artistic work in the nearby towns of Chordeleg and Gualaceo. Learn the ancient way of making textiles, still practiced today. Visit workshops for making musical instruments and traditional jewelry.
A highlight of your tour is a trip to Cajas National Park, which encompasses a variety of unique landscapes, including cloud forests, grasslands, and rocky lunar-type landscapes. More than 200 lakes are scattered out across the park, and wild llamas roam freely. You'll also likely spot toucans and the majestic Andean Condors flying overhead. Cajas National Park tours are, by far, one of the best ways to see the overall diversity of wildlife and landscapes found here in Ecuador.
After your park visit, you'll return to Guayaquil and have a chance to tour this friendly, coastal city.
Galapagos National Park Tour
From Guayaquil, a short flight takes you into the heart of the Galapagos Islands, where you will board the M/V Galapagos Legend for your four-night island cruise. This ship offers you a choice of four different cabin types, including the Standard Interior, Standard Plus, Junior Suite, Balcony Suite, and Legend Balcony Suite options. Social spaces abound for you to enjoy also, including a sundeck, Jacuzzi, sauna, jogging track, pool, and lounge. There's always something to do onboard, from games to karaoke at night.
You'll begin your adventure with a stop at the Museum of Natural History and Interpretation Center for an overview of the islands and where they come from. Thereafter each day will give you a greater insight into these remarkable isles, with daily island visits bringing excitement, adventure and more opportunities to see their breathtaking biodiversity despite their remote location.
On each island, you'll explore in different ways, including hiking, swimming, snorkeling, kayaking, or observing from the deck of the ship. Walk through volcanic formations and lava tunnels, hike to see the flamingo population, and maybe even catch a glimpse of the elusive penguins or sea lions. See how many exotic birds you can spot, including the Waved Albatross, Red-billed Tropicbird, and Blue-Footed Booby.
No trip to the Galapagos is complete without a visit to the Charles Darwin Research Station to learn about the outstanding and crucial conservation work they do in conjunction with the Galapagos National Park, and you'll get the chance to learn about this, including the giant tortoise breeding program, and so much more.
Itinerary & Prices
From Guayaquil to Cuenca
Today we leave the coastal city of Guayaquil and begin our journey to Cuenca in a private air-conditioned vehicle. The journey takes around 3 hours and we head east and inland to the beautiful colonial city of Cuenca.
Cuenca is a UNESCO listed World Heritage Site and it boasts some of the most striking architecture in South America, to the extent that it is nicknamed the "Athens of Ecuador". Another quirky fact about Cuenca is that the famous Panama Hat is not actually from Panama, it is an Ecuadorian hat, but more specifically, a hat made originally in Cuenca.
The journey itself from Guayaquil is a fascinating one, taking in as it does the Cajas National Park and the banana and cacao plantations of the valleys and mountains on the way.
From the coastal area of Guayaquil, we witness the gradual and then dramatic change of scenery as we ascend to the more mountainous areas and the foothills of the mighty Andes. Due to the unique geography of this part of the world, you can witness drastic changes in flora and the surrounding land in a relatively short distance.
For clients who would prefer the shorter flight option to the car journey, please ask your specialist.
Meals (x)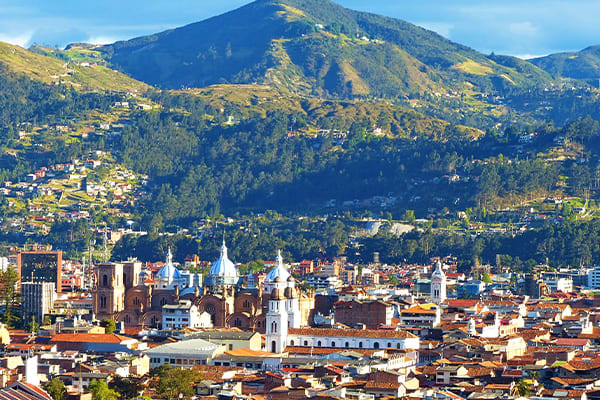 Cuenca and Surrounding Ruins
Today, we wake early to experience numerous interesting excursions in the vicinity of Cuenca.
Ingapirca Fortress:
Home to what is arguably the most famous archeological site in Ecuador, Ingapirca. Thought to be an observatory and fortress, this location is where the emperor and his entourage would rest during trips to the northern segment of the empire. The site was constructed from perfectly carved stone, joined seamlessly without the use or mortar.
The Devils Nose:
The biggest complication faced by the construction of the Trans-Andean railroad was the Devil's Nose, a mountain with almost perpendicular walls. To overcome this obstacle, a zigzag railroad was built that climbs more than 500 meters in less than 12 km with steep ascents and descents. It today remains an impressive piece of engineering. From the Pistishi viewpoint, we will have a spectacular view of this feat, and the surrounding countryside.
A walking tour of Cuenca:
Cuenca is considered by many to be the most beautiful city in Ecuador. One of the first things to notice when entering Cuenca is the magnificent skyline marked by brilliant church domes. Cuenca's winding rivers, graceful ironwork balconies, and beautiful gardens are part of the pleasant atmosphere of this historic city, declared a Cultural Heritage site by UNESCO in December 1999.
Meals (B, L)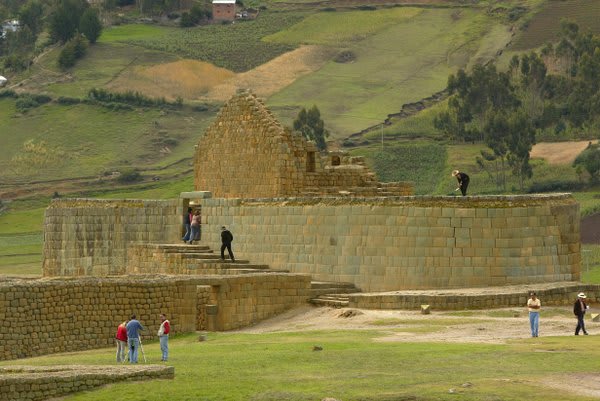 The Craftsman's Trail
One of the most interesting things in South America, and particularly in the Andean region is the abundance of fantastic local craftsmen. Many regions have whole styles of textiles and leatherwear unique to their culture and Ecuador truly is a country of artisans. Two such places are the towns of Gualaceo and Chordeleg, and these near neighbors are located just 45 minutes east of Cuenca. In these traditional settlements set in beautiful Andean landscapes, we will meet families who are still making textiles the way the "Cañaris" (the pre-Inca inhabitants) did more than 500 years ago.
Among the other workshops, we visit are a traditional jewelry workshop, a musical instrument workshop where regional variations on the guitar are a specialty. Guitars are a specialty of this area, so much so that the area is known as the 'Guitar Trail'. We also make a visit to a 'Chola Cuencana' who stills makes her straw hats in the traditional manner, following centuries of knowledge that have passed from generation to generation. Along the way, we will have the opportunity to visit an orchid farm that houses more than 2,000 species of orchids, and also stop by a market selling fruit, traditional food, and artisanal goods.
Meals (B, L)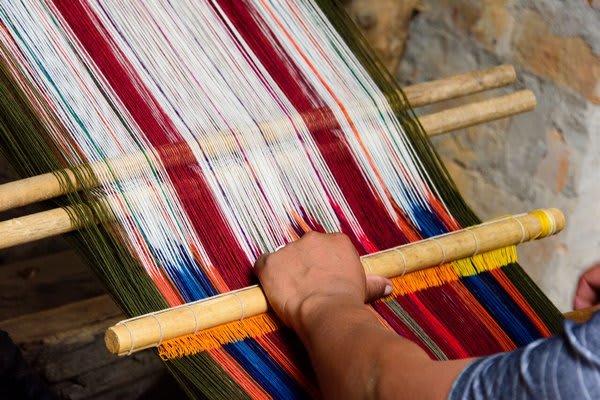 Riches of Cajas National Park
Today, we will visit El Cajas, a 70,000 ha. National Park that contains everything from cloud forest to rocky lunar landscapes. However, it is the lakes (more than 200 of them) scattered among jagged peaks for which the reserve is best known. Most of El Cajas lies above 3,000 meters, and the preeminent terrain is grassland, but a little higher up and we reach the frosty microclimate mountaintops.
Above 4,000 meters (12,000 feet) the ice and frost are a deterrent to most vegetation, but the tiny, and hardy, Quina tree clings to life here, making it the tree that can survive at the highest altitude in the world.  Keep a lookout for these 200-year-old specimens tucked up against hillsides in pockets of primary forest, clothed in a green palette of mosses and ferns and fighting each other for sunlight.
En El Cajas there is a good chance of seeing the wild llamas that were reintroduced to the park in the late 1990s. The park's other animal inhabitants, such as the spectacled bear, puma, and tigrillo, are more elusive, but not impossible to spot if you are lucky. The long list of birds that can be seen here includes hummingbirds, toucans, and magnificent Andean condors that circle ominously above.
Meals (B, L)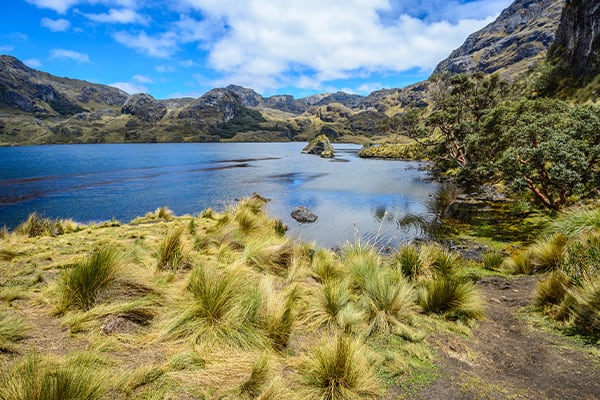 Location
Cuenca to Guayaquil
Ecuador's Beating Heart
Guayaquil is a coastal city and as a port acts as the commercially most important city in Ecuador. Quite distinct from the formal elegance of Quito, Guayaquil has a far more tropical feel, and the people are famed for their friendly nature. The city is built around the huge, slow-moving, River Guayas, and offers a fascinating insight into modern South America with a tinge of the past that made it so great.
On this day tour, we will visit several of the city's highlights, such as the Malecon 2000 Boardwalk, a turn of the millennium project which offers a fascinating walk through Guayaquil and an opportunity to see the city in all its glory. After watching boats slowly passing by on the river, we take a tour of Guayaquil's most important and impressive structures such as the Crystal Palace, the Moorish Tower, and the Governor's Office Building. We will also pay a visit to Santa Ana Hill, the picturesque neighborhood where the city began, get a glimpse of what life was like in Guayaquil a century ago, and enjoy the comical antics of the dozens of tame, slow-moving iguanas that live in Seminario Park.
Meals (B)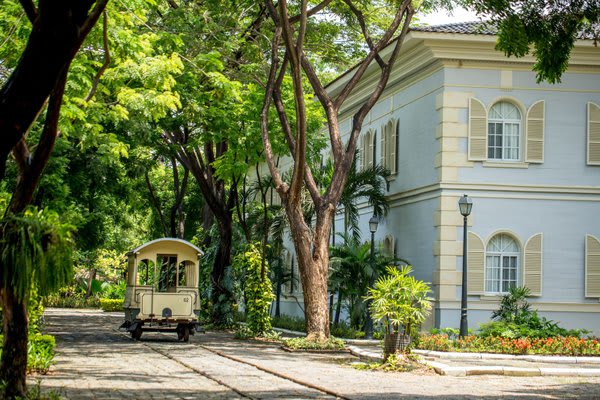 Departing Guayaquil & Cruise Embarkation
AM: After breakfast, at the scheduled time, you will be picked up from your hotel and privately transferred to Guayaquil airport, ready to board your departure flight to the Galapagos Islands!
Passengers are picked up at the airport by our naturalist guides and taken on a ten-minute bus drive to the pier to board the M/V Galapagos Legend.
PM: Dry landing in Puerto Baquerizo Moreno, capital of the Galapagos Islands. Passengers visit the Interpretation Center, an excellent place to learn about Natural History in the Galapagos. The Museum of Natural History displays information on the volcanic origins of the islands, their remoteness from the continent, ocean currents, climate, and the arrival of different species. Human history is also showcased, narrating the most significant events related to the discovery and colonization of the islands.
Meals: (B, L, D)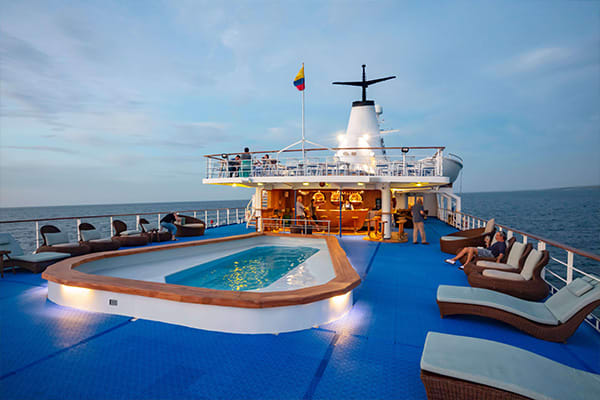 Location
Guayaquil to San Cristobal, Galapagos
Gardner Bay, Osborn Islet & Suarez Point
AM: We start this morning with a wet landing on a beautiful white coral sand beach guarded by a colony of sea lions. There are no trails, so we stay along the shore where we can spot Galapagos hawks, American Oystercatchers, Galapagos Ground Doves, Hood mockingbirds, Yellow Warblers, lava lizards, marine iguanas, and three species of Darwin's finches: a subspecies (Geospiza fuliginosa) of the Large Cactus Finch, which is similar to the large ground finch, the Small Ground Finch (Geospiza fuliginosa) and the Warbler Finch (Certhidea Olivacea), another endemic subspecies. Swimming and snorkeling offer a great variety of Galapagos marine wildlife: king angelfish, Creole fish, damselfish, parrotfish, manta rays, and white-tipped reef sharks.
PM: An island of geological interest, we explore volcanic formations and riveting wildlife: large sea lion colonies and seabirds including Española mockingbird, Nazca Boobies, and the spectacular Red-billed Tropicbird. You will also encounter marine iguanas, lava lizards, and the colorful Sally Lightfoot Crabs. A somewhat lengthy hike will bring you among Nazca and Blue-footed Boobies, right up to nesting grounds that sometimes overlap the trail. Other birding favorites include Galapagos Dove, Galapagos Hawk, Swallow-tailed Gulls, and the world's largest colony of Waved Albatross, an unequivocal highlight during mating season (May-December). Admire the island's dramatic backdrop, featuring the famous Soplador, a seaward blowhole that shoots water some 23 m. (75 ft.) in the air.
Meals: (B, L, D)
Post Office Bay, Cormorant Point, Devil's Crown & Champion Islet
AM: Located on the north side of Floreana, Post Office Bay is named after Captain James Colnett installed a wooden barrel in 1793, which served as an informal post office for sailors passing through, who would take letters with them to their destinations. Today, our visitors continue the tradition by placing unstamped postcards inside the barrel that should reach their destinations for free. It can take weeks, months, even years to arrive! This island is best known for its endemic vegetation. We may encounter Darwin's finches, Yellow Warblers, and lava lizards! There are also great snorkeling spots here with Green Pacific Sea Turtles and playful sea lions.
PM: From a wet landing, on an olivine green sand beach, we hike from the black mangrove beds to a brackish lagoon, which usually holds one of the largest flamingo populations in the Galapagos. This island features some endemic plants such as Scalesia villosa, white and black mangrove, and holy stick. The trail continues to a beautiful white-sand beach, one of the most important nesting sites of Green Pacific Sea Turtles. It is important to avoid walking in the water due to the Sting Rays that may be hiding in the sand, which can be dangerous if accidentally stepped on. From the beach one can spot sea turtles, Blue-footed Boobies plunging into the water, and small reef sharks floating along the shoreline in search of food. This coral-sand beach marks the end of our trail, and we head back to the olivine beach we landed on to swim or snorkel amongst sea turtles, reef fish, sea lions, and, on a good day, white-tipped reef sharks. A small colony of penguins resides on Floreana and can sometimes be observed as well.
Meals: (B, L, D)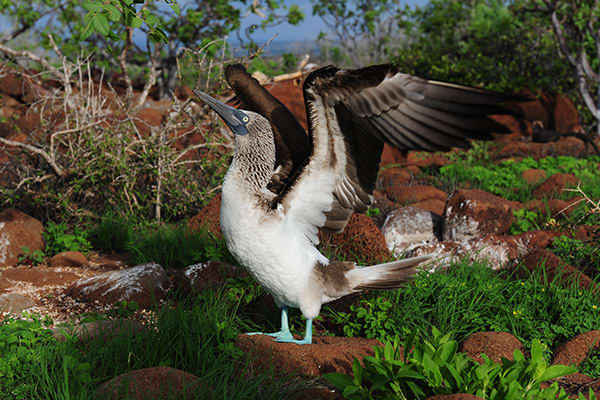 Charles Darwin Station, Highlands Tortoise Reserve & Ballena Bay/Eden Islet
AM: We visit where the Galapagos giant tortoise breeding program takes place, as part of our efforts to preserve the fragile Galapagos environment. Admire a prickly-pear cactus forest and a variety of Darwin's finches and other land birds. The Darwin Station also works providing environmental education to communities and schools within the islands, and tourists visiting the Galapagos Islands. You will also have some free time to visit the town and shop for souvenirs.
This is a stunning opportunity to observe giant tortoises in their natural habitat. Lava tunnel formations are the result of the many eruptions that have occurred throughout history. In the Scalesia forest Vermilion Flycatchers, Short-eared Owls, and several finch species can be spotted.
PM: Ballena (Whale) Bay is a beautiful green sand cove at the base of Dragon Hill on the west coast of Santa Cruz Island. The beach contains plenty of olivine crystals of volcanic origin. The crystals were formed when the magma was still underground. The content is magnesium, iron, and silica. A small population of tortoises from Pinzón Island lived at the site but were taken by whalers or previous inhabitants. Opportunity to see marine iguanas and sea birds followed by snorkeling.
Meals: (B, L, D)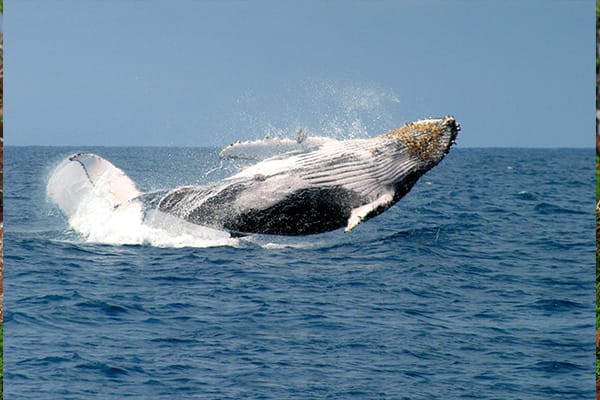 Disembarkation
AM: The rocky cliff of Carrion Point offers a great opportunity to explore more the various marine biodiversity of the islands. Go snorkeling among a variety of colorful fish, stingrays, and if lucky, there could be a chance to see the magnificent White tipped shark.
After your visit, you will be transferred to Baltra airport for your return flight to Guayaquil or Quito.
Meals: (B)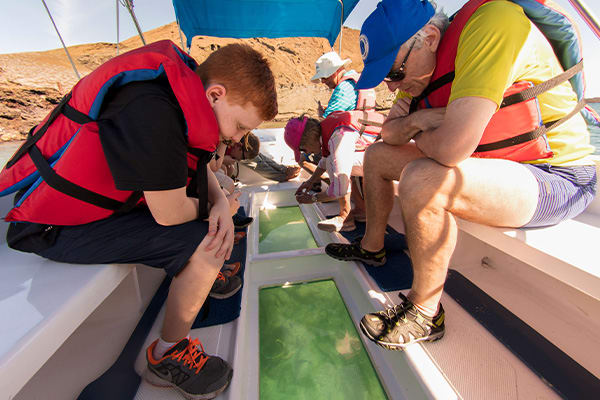 Location
Santa Cruz - Return Home
1 / 10
Accommodations
Cruises & Lodges
Galapagos Legend
An expedition vessel beyond expectations, from vast exteriors to abundant amenities including a pool.
Hotel Options
5 Star
Wyndham Guayaquil
Guayaquil