Overview
Nature expeditions in Peru don't come better than this as you immerse yourself in the mystery of the Amazon rainforest on the ultimate 7-day Amazon safari tour. Enjoy a thrilling treetop stay and sail the mighty Amazon River as you experience the bewildering biodiversity and stunning scenery that this unique ecosystem has to offer.
A Treehouse Adventure
Your Peruvian nature expedition begins the minute you arrive in Iquitos, one of the larger cities in the Amazon, and transported to your accommodations in the rainforest canopy. The Treehouse Lodge literally puts you in the trees for a one-of-a-kind experience. Built with sustainability in mind, this eco-friendly accommodation sits amidst 345 acres of pristine jungle reserve.
You'll stay in one of the 12 treehouse suites available, all soaring between 25 and 75 feet above the ground. Waking up (and going to sleep) to the sounds of the chirruping canopy is truly special, and meandering along the wooden pathways and steel cable bridges between your treehouse lodgings and the social areas is thrilling and a great opportunity to spot the wildlife all around you.
Gather in the communal lodge, with its massive beams of ironwood encased in mosquito netting, to enjoy spectacular meals. The first level of the lodge contains the dining area, and the upper level has a comfortable lounge where you can spend time relaxing in between activities. You can choose which adventures to indulge in, selecting from jungle walks, dolphin watching, piranha fishing, and visits to nearby communities to learn about local traditions and culture.
Amazon River Cruise
After two nights in your treehouse, it's time to head to your next nature-infused adventure, an Amazon safari tour on water aboard your luxurious floating accommodations for the next four nights, the Delfin I.
During your cruise, you'll spend the majority of your onboard time up on the covered observation deck with its inviting lounge and bar enjoying panoramic views of the rainforest, or dining on exotic five-star cuisine in the vessel's intimate dining room. This boutique Amazon riverboat holds just eight passengers and offers exceptional service and some of the most stunning suites on the river, not least the luxurious lower deck Deluxe Suites which each have their own private terrace and plunge pool.
One reason this nature expedition is so unique is because of your journey into the Pacaya-Samiria National Reserve, one of the best-preserved and protected areas of the Amazon. Here you will experience some of the most extreme biodiversity on the planet. As you navigate deep into this remote realm, your bilingual naturalist guides will share their extensive knowledge of the area. See how many birds you can identify and observe various other creatures of the Amazon, like slow-moving sloths and various species of monkey.
Exceptional photo opportunities abound throughout, so be sure to always have your camera ready as you join various excursions, including a walk on the suspended Canopy Walkway, a thrilling kayak adventure, and a visit to a hidden lagoon. You'll also have the chance to visit a secluded Amazonian village, which rarely sees visitors, and learn about shamanism.
Immersing yourself in this incredible natural habitat is an experience you won't soon forget, even after you return to Iquitos for your flight home.
Itinerary & Prices
Arrival to the Treehouse Lodge
Following your arrival at Iquitos airport, you will be privately transferred to the Treehouse Lodge to begin your tree-top stay in the rainforest canopy.
Set amongst 345 acres of pristine jungle reserve, up to 67 ft off the ground, the Treehouse Lodge in Peru offers guests an unrivaled rainforest canopy experience. Built with sustainability in mind, the lodge is very eco-friendly, having been built by hand, with no heavy equipment, by onsite tree experts. Every effort was made to preserve every tree and plant on the property, leaving the most minimal footprint possible. They have also recently added a solar power system that operates all of the electrical needs of the lodge including lighting, fans, kitchen, refrigeration, freezing, and communication, meaning that only on very overcast days is the generator required. Lunch and dinner will be served at the lodge.
Meals: (L, D)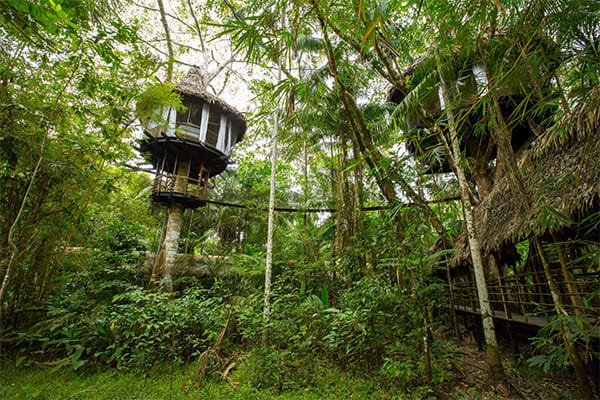 Your Choice of Adventure
Today, you will begin with breakfast before enjoying your first full day in the Peruvian Amazon rainforest.
Your daily activities can be tailored to your tastes. Choose from a wide range of activities, each lasting 2-3 hours, that include daytime and nocturnal jungle walks, piranha fishing in traditional dugout canoes, dolphin-watching, and visits to the local Jibaro and Kukama communities, to name but a few.
You may be fortunate enough to see up to 5 different species of monkeys, pink and grey dolphins, sloths, toucans, macaws, parrots, parakeets, and with some luck, even a jaguar. Lunch and dinner are also included during your stay and will be timed around your chosen daily activities.
Meals: (B, L, D)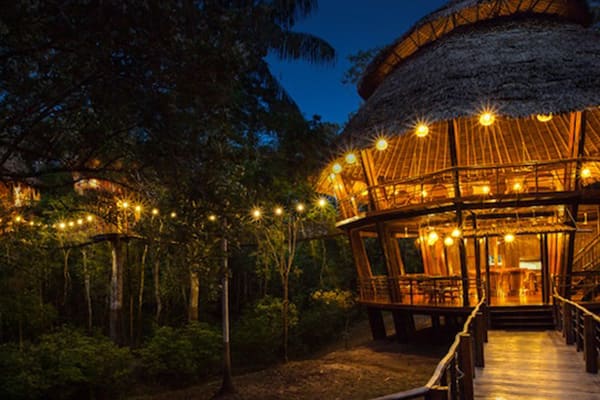 From the Trees to The River
AM: Start your day with breakfast and enjoy your final day high up in the trees. After lunch, at the scheduled time you will be privately transferred from the lodge to your cruise disembarkation port in Nauta.
PM: At 15:00 we will board the beautiful vessel. Aboard Delfin, you will be served by our qualified staff who will introduce you to your exquisite and cozy suite, specially equipped with all the amenities for an experienced traveler like yourself. Orthopedic beds, pure cotton sheets, pillows of 100% pure natural latex, cotton bathrobes, air conditioning, and a private bathroom with Spanish-style hot water showers are all framed with a spacious private terrace we are sure you will enjoy to the fullest.
While the Delfin begins its initial navigation, you will enjoy the most fantastic panoramic views from the elegantly outfitted observation area located on our third deck. Your naturalist guide will give you an overview of your journey's schedule, activities, route, highlights, wildlife, and vegetation to keep your eye out for, geographical and historical background, and other useful details.
We head down into the Marañon River to a location known as Pahuachiro. This lovely spot is an ideal place to spend some time in search of birds and playful monkeys. As your naturalist guide spots various creatures for you, The landscape adorned by the usual colors of the sun's reflections is a great photo opportunity as you witness your first Amazon Rainforest Sunset. Nauta Caño Creek is known for squirrel and silver back tamarillo monkeys, birds, dolphins, and even sloths! We will skim the riverbanks for small caimans and spiders, as well as insects of all colors, shapes, and sizes.
Meals: (B, L, D)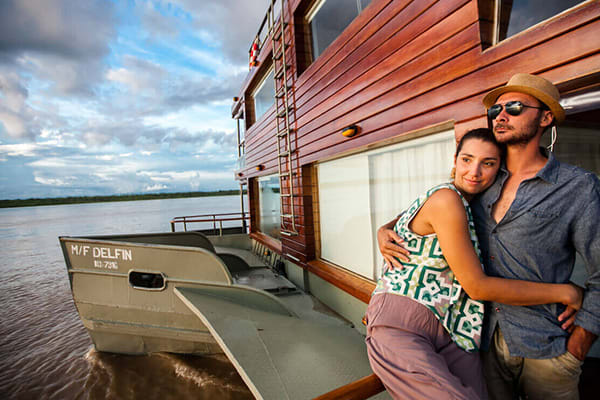 Location
Treehouse Lodge to Delfin I
Las Palmas, Yanayacu Pucate, Amazon Natural Park & Yachay
AM: On your first morning with us, we recommend getting up early to appreciate one of the most important zones of the Pacaya Samiria National Reserve, Las Palmas. Never does nature seem more bountiful than in the tropics, and early rising is always rewarding since wildlife is most abundant and active with the rising of the sun. The early morning hours are the best time of day to watch birds, observe their special displays, and listen to their songs. We will jump on the skiffs and head to this area with large trees and old palm trees as well, these components favor the presence of several parrot species. This particular spot also has a great number of other birds of different species. We will look for the famous hoatzins nesting a few feet above the water, and perhaps a sloth or two of the three-toed kind.
You will start cruising through the Yanayacu and Pucate Rivers, peeking into different creeks and lagoons. This is one of the best-preserved and protected zones of the Pacaya Samiria National Reserve. Your guide will use his expert eye to pinpoint all the biodiversity of this region. If you want to interact directly with the waters of the Amazon, go out on one of our kayaks or paddleboards. You will even have the opportunity to see the famous pink dolphins!
PM: This very unique opportunity, you will get to the only Canopy Walkway in the Amazon Natural Park, an experience unequaled in the rainforest! At a height of over 25 meters (85 feet) and extending for 500 meters (one-third of a mile), the Canopy Walkway provides a view of the rainforest from the treetops, the best vantage point for observing Amazon wildlife and vegetation. The Canopy Walkway is accessible to all and requires no special skills or equipment. The suspended walkway is spread between 14 of the area's largest rainforest trees and is one of the longest canopy walkways in the world.
The village of Yachay is a flyspeck that receives few outside visitors, and even fewer come to seek out the Shaman, Carola. Carola is known far and wide in the rainforest, leading a normal village life with her wood carver husband, while at the same time acting as spiritual caretaker and healer to hundreds of jungle dwellers spread over many roadless miles. Her prestige and position are beyond reproach. The role of the shaman is often misunderstood in the west, associated with black magic, and spells. While these things all have their place, the actual practitioners are as varied as in any profession. Carola is known as a "White" shaman, a healer, and a spiritual guide.
Meals: (B, L, D)
Location
Delfin I Amazon Cruise
Yanayaquillo & Piranha Caño
AM: You will start cruising through the creeks of Yanayaquillo, peeking into different creeks and lagoons. This is one of the best-preserved and protected zones of the Pacaya Samiria National Reserve. Your guide will use his expert eye to pinpoint all the biodiversity of this region. This is also a popular dolphin feeding spot so we won't be the only one enjoying our happy meal here. We will also try piranha fishing.
PM: We head down into the Marañon River to a location known as Piraña Caño. We had the option to explore the creek either by kayak or by skiff, and they were both fantastic choices! This lovely creek which leads to a lagoon is an ideal place to spend some time in search of birds and playful monkeys. As your naturalist guide spots various creatures for you, also try to pinpoint some yourself now that you've been in the jungle for a few days and have trained your eye a bit! Kayakers will endure the feeling of paddling down the river with only the noises of the forest as your companion. As for the skiff riders, the encounters with wildlife are abundant. The landscape adorned by the usual colors of the sun's reflections by whichever mode of transportation is stunning. So sit back and enjoy the beauty of the Amazon forest!
Meals: (B, L, D)
Location
Delfin I Amazon Cruise
Puerto Miguel & Yarapa River
AM: On board our skiffs, you will visit the community of Puerto Miguel to meet local villagers who have called Amazonia their home for generations. You may step into a typical schoolhouse where the children will be very happy to have visitors, and then stop by an area to see the women of this community who have the most amazing arts & craft market.
PM: Along the Yarapa River, you will get to explore this tributary intimately. Listen closely to the sounds from within the mysterious jungle. We travel downriver to this wide creek that leads to an attractive hidden lagoon. As we absorb the beauty of the landscape, we will have the chance to reflect on the wildlife. Hawks, terns, herons, and monkeys which are part of our everyday excursions are readily close by; in this area, we will notice many more inhabitants of the Amazon, the rivereños. People being an important part of this complex bio-network only reinforce the fact that we are part of their lives and how our presence here and now could make a difference to the future of this magical land of the Incas. Look out for specific types of Monkeys like the pygmy marmoset, squirrel monkey, and our first Monk Saki. This medium-sized monkey with thick fur and bushy tail looks more like he is dressed for the Arctic than the Amazon.
Meals: (B, L, D)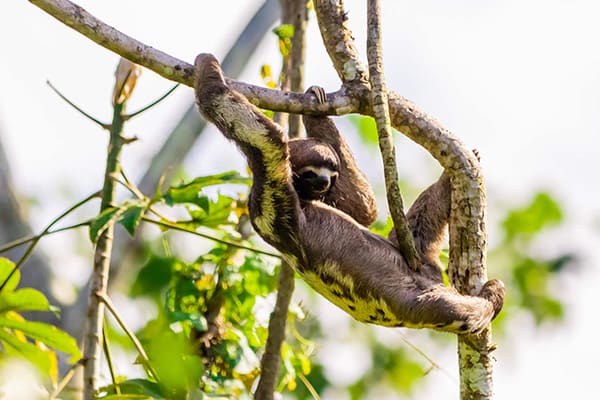 Location
Delfin I Amazon Cruise
Disembarkation
AM: With heavy hearts, at 8:00 the staff will wish you farewell as you begin your departure. At the port of Nauta, our ground crew will be waiting to take you by our private vehicle back to the city of Iquitos, about 95 kilometers journey by paved road.
On our way from Nauta back to Iquitos airport, you will visit the Rescue & Rehabilitation Center of River Mammals (ACOBIA). Here you will have the chance to meet baby manatees and learn about these wonderful and docile creatures and why they are on the endangered species list. There are also some other animals cared for by the center that have been rescued from capture. We welcome you to donate to this ambitious organization and education center as you wish. Our land personnel will wait for you at the airport and give you your boarding passes and help you check-in.
Our staff will be on hand to help you with your luggage and check-in. The return flight will take you directly to the city of Lima, the capital of Peru. At the security gate, your guide and Delfin crew will say goodbye. We truly hope that you enjoyed your stay and Amazon travel experience with us!
Meals: (B)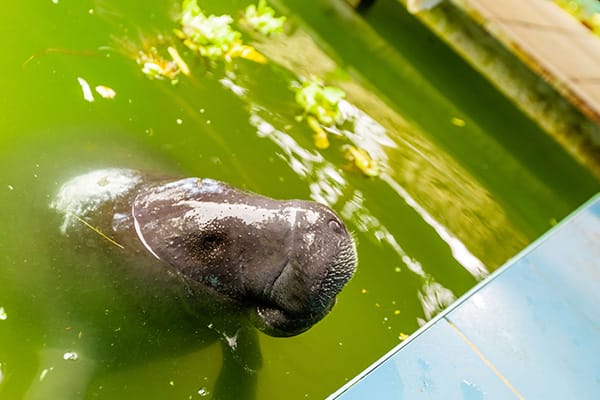 1 / 7