Overview
Relax and unwind with this 7-day Papallacta Hot Springs & Galápagos tour, perfect for honeymooners or anyone looking for a relaxing getaway. It all starts with a stay at a secluded resort spa in the cloud forest, then whisks you away to the "Enchanted Isles" for an unforgettable cruise experience.
Papallacta Hot Springs Relaxation and Romance
From Quito, you'll be chauffeured to the resort spa of Termas of Papallacta, located in the beautiful Andean highlands. Your romantic boutique accommodations will be surrounded by incredible nature and inviting spa facilities to choose from during your stay.
Soak in the hot springs, then take a dip in the plunge pools, or treat yourselves to a massage or other spa service on offer. When not relaxing, you can head into the cloud forest and hike past romantic waterfalls or trek through ancient glacial valleys to a natural hot spring located between two volcanoes.
Papallacta is the absolute perfect place to get away, relax, and restore your energy before heading on to your next adventure.
Galápagos Islands Cruise
From Quito, you'll take a short flight to the famous Galápagos Islands and board the Endemic, your floating accommodations for the next four nights. Settle into your spacious Golden Suite, complete with hot water showers and private balconies before exploring the rest of the ship.
Comfortable social areas onboard include a sky deck, sun terrace, whirlpool, indoor and outdoor lounge, and dining area. Luxurious comfort awaits you everywhere you go on this uncrowded, sleek twin-hull catamaran.
Over the next five days, you'll experience the best these enchanted islands have to offer, providing you with glimpses as to why they are so unique. Daily island visits introduce you to various geological formations, volcanic landscapes and lava tunnels, cliff views, gorgeous white sand beaches, and undisturbed nature you can only find here.
Wildlife spotting is a highlight of any Galápagos Islands trip, so be on the lookout for sea lions, land and marine iguanas, flamingos, blue-footed boobies, and exotic birds such as the Vermillion Flycatcher, Waved Albatross, and Red-Billed Tropicbird.
You'll have plenty of chances to immerse yourself in the gorgeous turquoise waters as well along the way, including in sheltered bays, lagoons, and offshore sites. Go swimming, snorkeling, or kayaking and see turtles, rays, colorful reef fish, and even sharks for a true island adventure.
Hike the various islands to learn about endemic plant life and see the nesting spots of various birds and other animals, or lounge on one of the beaches instead.
A visit to the famous Charles Darwin Research Station and giant tortoise breeding station winds down your island adventure, after which you will return to Balta for your flight back to the mainland.
Itinerary & Prices
Quito to Papallacta
Welcome to Ecuador! Today, you will be picked up from Quito airport before heading east to the "Termas of Papallacta", a spa & resort located in a unique natural environment in the Andean highlands which offers complete relaxation and rest. 
Boasting comfortable cabins, private thermal pools, and ecological trails, this is the perfect setting to unplug and relax in nature. Enjoy the facilities of the unique property at your leisure.
Meals (x)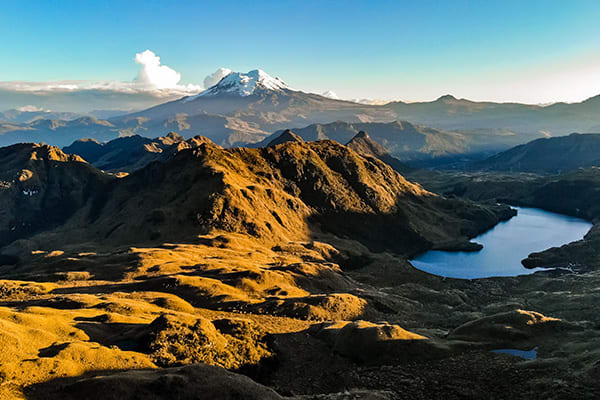 A Hike through The Cloud Forest
Choose from different hikes in the Andean Forest, where you can learn about the fauna, flora, and its importance to the surrounding ecosystem. The two options for excursions vary in difficulty to ensure that there is something for everyone.
La Chorrera Path: Viewing the waterfalls.  We take you on a gentle hike through a complex of stunning natural waterfalls that cover both sides of the path and cascade down from the crags as the river from the Peine peaks makes its descent from the Cayambe Coca Ecological Reserve.
River Path: On this tour, we cross the wetlands and the high primary forest, while trekking on an ancient glacial valley where prehistoric plants and wet forest vegetation can be found.  Upon arrival at our final destination, we take a relaxing bath in the natural hot springs between two volcanoes, the Volcano Cayambe and Volcano Antisana. Papallacta's thermal waters contain sulfates, sodium, calcium, chloride and are said to be anti-allergenic, anti-inflammatory, diuretic, and anti-rheumatic.
The afternoon is spent enjoying the facilities of the spa and the natural plunge pools, all surrounded by the peace and magic of nature.
Meals (B)
Departing Quito & Cruise Embarkation
AM: After breakfast, at the scheduled time, you will be picked up from your hotel and privately transferred to Quito airport, ready to board your departure flight to the Galapagos Islands!
Upon arrival, reception, and assistance at the airport, transfer from Baltra Airport to the M/C Endemic. We will embark at 11:30 AM from Baltra Port.
PM: In the afternoon, visit Dragon Hill will take place, which is located in the north-western part of Santa Cruz island. Here you will have the opportunity to walk into the island and view the land iguana. Be among these magnificent reptiles, that just a few decades ago were on the brink of extinction.
Moreover, at Dragon Hill, you will see a flamingos' lagoon, pintail ducks, and other endemic birds including flycatchers and warblers. After a short trek, an amazing view awaits us up the hill. Offshore snorkeling before returning to the yacht.
Meals: (B, L, D)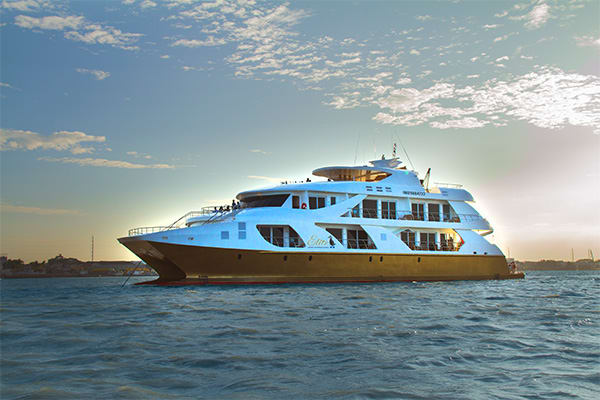 Location
Quito to Endemic Galapagos Cruise
Kicker Rock, Witch Hill & Lobos Island
AM: In the morning, the first spot to be visited is Kicker Rock, an impressive geological formation due to erosion. This is a nesting place of sea birds. Additionally, curious sea lions and marine life can be found, such as fish, turtles, sharks, rays, representing the main attraction for snorkeling. This is a nice spot to take pictures.
The next attraction to see is Witch Hill, a tuff cone hill located southwest of San Cristobal. This name comes from the Spanish name of the bird known in English as Vermilion Flycatcher. A zodiac ride will take passengers into amazing rock formations along the island shore. A white sand beach and crystal-clear waters are part of this enchanted location. Fantastic opportunity for snorkeling.
PM: In the afternoon, you will be taken to Lobos Island, where a small population of blue-footed boobies, frigates, marine iguanas, and great frigate birds nesting can be observed. Snorkeling with sea lions in this calm bay is also part of the excursion.
Meals: (B, L, D)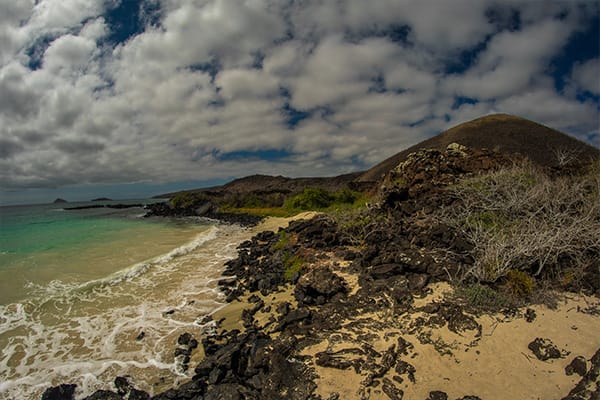 Location
Endemic Galapagos Cruise
Gardner Bay / Osborn, Gardner Islets & Suarez Point
Española Island will be explored today. You will have the chance to observe endemic wildlife such as the Hood-Mockingbird. This is the southernmost island in the Galapagos archipelago, and home to several wildlife species, including masked and blue-footed boobies. Spectacular views from the top of a cliff.
AM: In the morning, after breakfast, the first attraction to be seen is Gardner Bay that provides an excellent beach for swimming. Around the small islets nearby, snorkelers will find lots of fish and sometimes turtles and sharks. The bay is also frequented by colonies of sea lions who like to swim with you. Or visit the Osborn and Gardner islets that are amazing for underwater discovery. Snorkeling is a highlight on this visitor point.
PM: After lunch, Point Suarez will be visited, which represents one of the most outstanding wildlife areas of the archipelago, with a long list of species found along its cliffs and sand or pebble beach.
Meals: (B, L, D)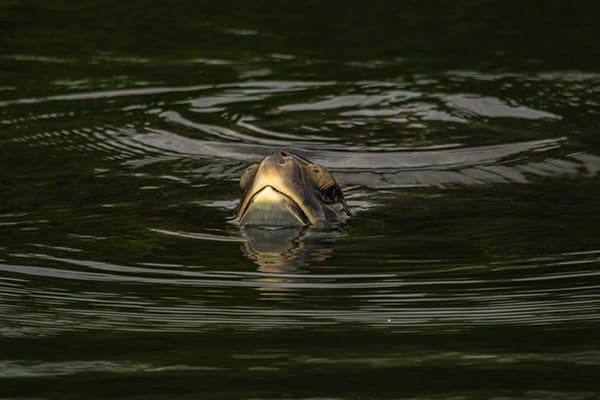 Location
Endemic Galapagos Cruise
Santa Fe Island & Santa Cruz Island
AM: In the morning, after breakfast, Santa Fe island will be visited, which is one of the most entertaining destinations for shore excursions in the Galapagos Islands. It has two trail choices for visitors, one of which takes you to the tallest Opuntia cactus in the Galapagos. While the other trail takes you into the highlands where land iguanas can be seen. After a long walk, the opportunity to swim in calm waters or snorkel with playful sea lions will be pretty tempting.
PM: In the afternoon, you'll visit the Fausto Llerena Breeding Center and Charles Darwin Research Station. This place has an information center, a museum, a library, and a tortoise breeding station. In the tortoise breeding station, you can encounter tortoises of different subspecies, which are prepared for reintroduction to their natural habitats.
Meals: (B, L, D)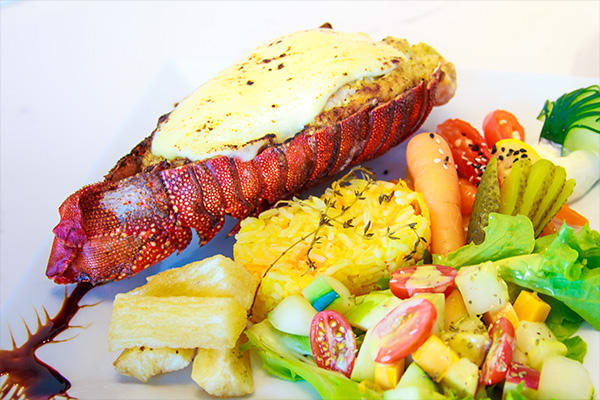 Location
Endemic Galapagos Cruise
Disembarkation
AM: On your final morning in Galapagos is something special – a visit to Plaza Sur (South Plaza Island). This low, rocky island is populated by cacti and a healthy population of gargantuan land iguanas. The island is also home to the sesuvium plant, which is bright red at certain times of the year. This gives the site an otherworldly look and makes it one of the most picturesque sites in the islands. As you hike, look for boobies diving for fish offshore!
After this last visit, you will be transferred to Baltra airport for your return flight to mainland Ecuador. Assistance will be provided until we bid farewell at the airport.
Meals: (B)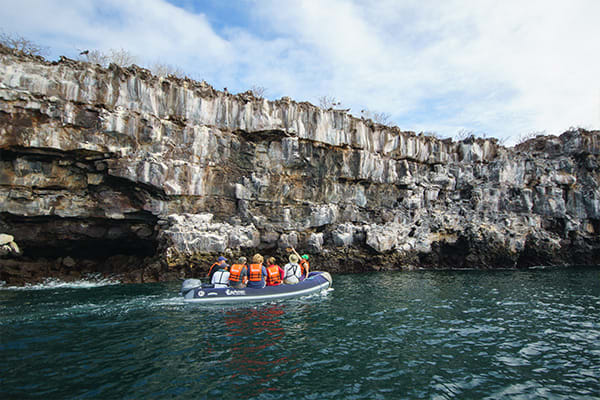 1 / 7
Accommodations
Cruises & Lodges
Endemic
A sleek and stylish catamaran setting a new standard for luxury in the Galapagos Islands.
Hotel Options
Boutique
Termas de Papallacta
Papallacta