Overview
With accommodation for 10-12 guests, the Jakaré liveaboard is a classic two-masted wooden Phinisi yacht that combines the tradition of handcrafted Indonesian boatbuilding with Western comfort. For divers and non-divers alike, she offers family and eco-friendly voyages of discovery, adventure and scuba diving through the spectacular islands and incredible dive sites of eastern Indonesia. 
Life on board
On board the Jakaré, you'll find plenty of social areas designed for rest and relaxation, including a rooftop sun deck furnished with beanbags, and a yoga area. Within the main deck is a naturally-ventilated dining area where delicious Indonesian and international cuisine is served, while a pair of large sofas provide a delightful spot for an afternoon nap enhanced by the cool breezes blowing in through the open deck.
The dedicated dive platform and briefing area is located on the front deck, and below the main bridge, staircases will take you down to the five, comfortable air-conditioned cabins, each with a private bathroom. 
The menus are adapted and optimized for each cruise in accordance with your needs and dietary requirements.  The chef combines healthy local and international cuisine (mainly French, Italian and Indian inspired), including vegetarian dishes. Spirits, cocktails, beers and wines are available at reasonable prices.
Crew and activities
The friendly experienced crew will take care of all your needs ― from dining to diving to adventures on land. All are experts in their respective fields and include guides and a qualified dive instructor. Each cruise is tailor-made according to your wishes together with the wishes and desires of the other guests.
In addition to diving, activities include snorkeling, kayaking, stand-up paddling, trekking, exploring pristine beaches and villages, meeting the sea gypsies, bird watching and wildlife encounters. The Jakaré operates as a full-licensed dive center, and the full team, headed by a highly qualified dive instructor, will be at your service so that you can enjoy, in complete safety, the most beautiful diving spots of Indonesia.
Dive cruises usually offer three dives per day, plus the occasional night dive. The diving equipment includes two high pressure Bauer compressors, Aqualung diving equipment, 30 x 12-liter aluminum tanks and 8-liters kids' tanks. Nitrox is available. Yoga cruises are available on request with a teacher certified in the practice of Hatha yoga and Yin yoga. The crew are kid-friendly and have numerous ideas for fun, safe adventures.  
Destinations
In common with the spice traders of centuries gone by, the Jakaré sails in harmony with Indonesia's trade winds and monsoon seasons to ensure the smoothest ocean experiences and the best diving and snorkeling opportunities. Depending on the time of year, you could discover the best dive sites of Komodo National Park, visit the pink sand beaches and trek the savannah hills to see the famous Komodo dragons.
Alternatively you could explore the jungles, see the birds of paradise and the unrivaled dive spots of Raja Ampat, or the many incredible dive areas in between, including the Togian islands off central Sulawesi, Halmahera Island in Maluku (the Moluccas) and the Banda Sea, as well as the marine national park of Wakatobi in southeastern Sulawesi.
Perfect for small groups, families with children, couples and even solo travelers, the Jakaré liveaboard is an ideal choice for exploring or diving in Indonesia.
Accommodations
Social Areas
Dining
Lounge
Sundeck
Upper Deck
Outdoors
Bow
Suites & Cabins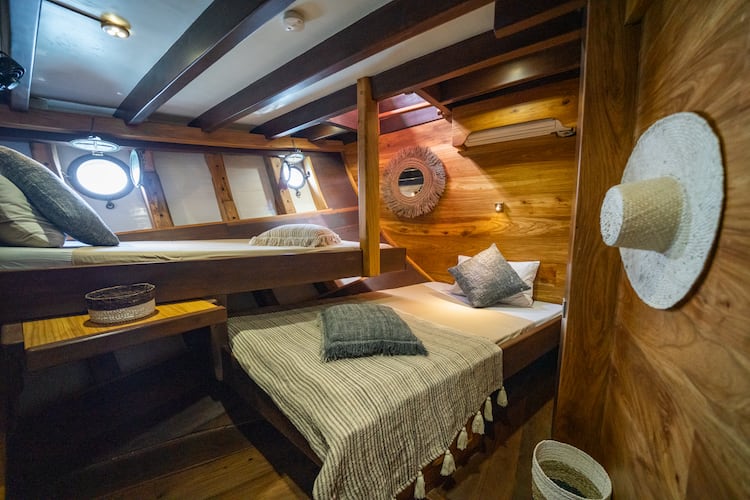 2 Cabins
Standard Front Cabin
Banggai 1 & 2: each cabin includes a large single bed of 120 cm and a single bed of 85 cm. Each cabin has an ensuite bathroom, air conditioning and some handy storage space.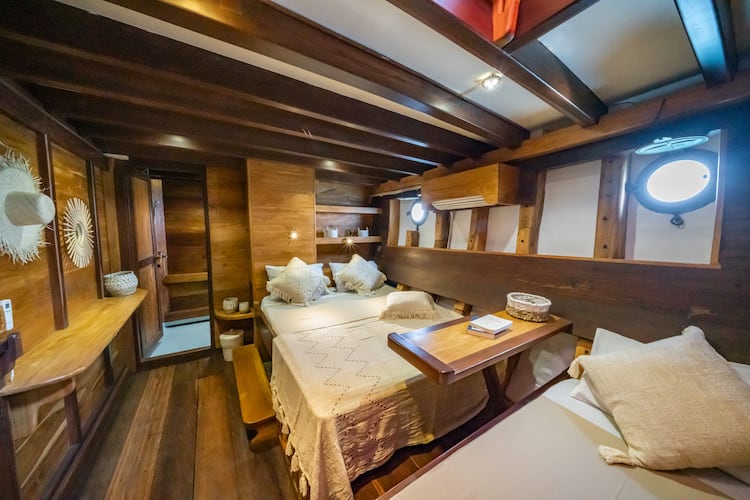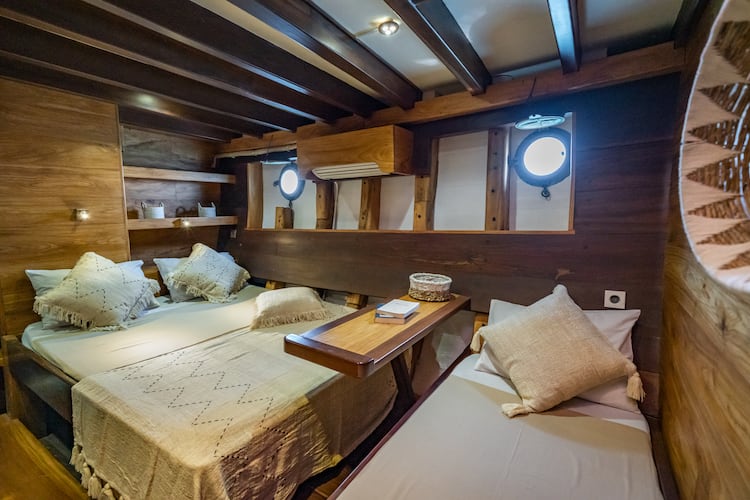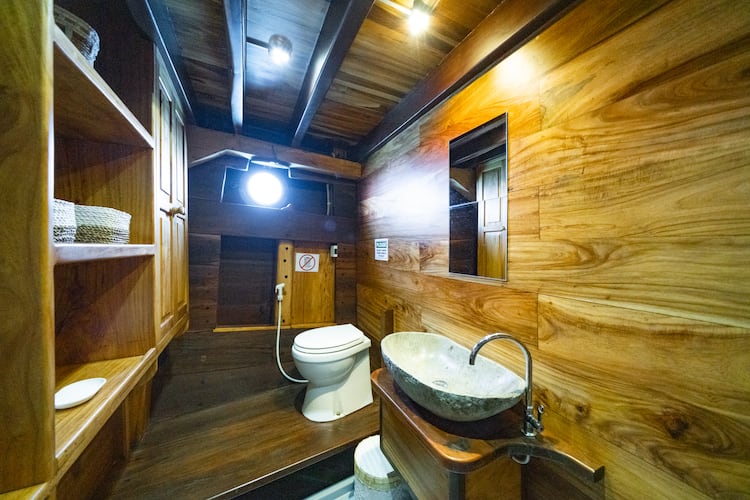 2 Cabins
Premium Central Cabin
Lotus 1 & 2: each cabin with a double bed of 140 cm and a single bed of 80 cm. Each cabin has an ensuite bathroom, air conditioning and some handy storage space.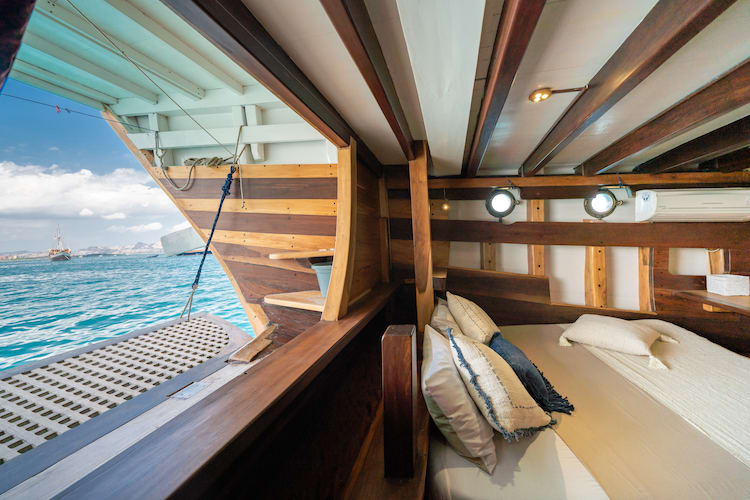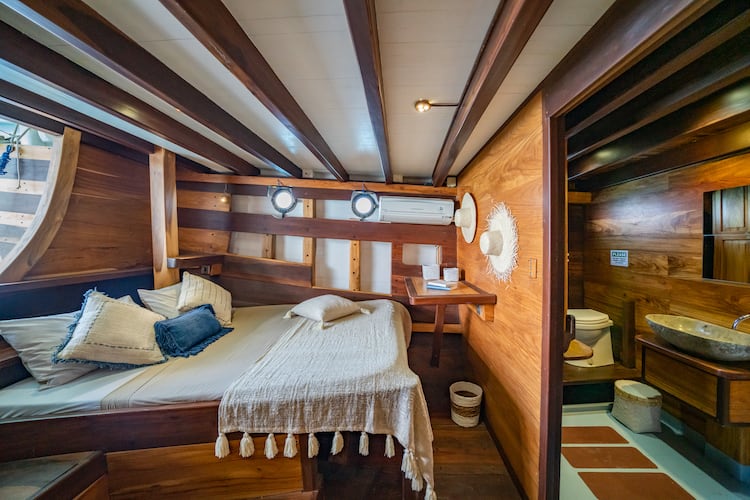 1 Cabin
Premium Aft Cabin
Dewi Sri: with its double bed of 150cm and its unique and beautiful wooden deck giving direct access to the turquoise waters. Again this most special of cabins also boasts an ensuite bathroom, air conditioning and ample storage space.
Technical Information
Deck Plan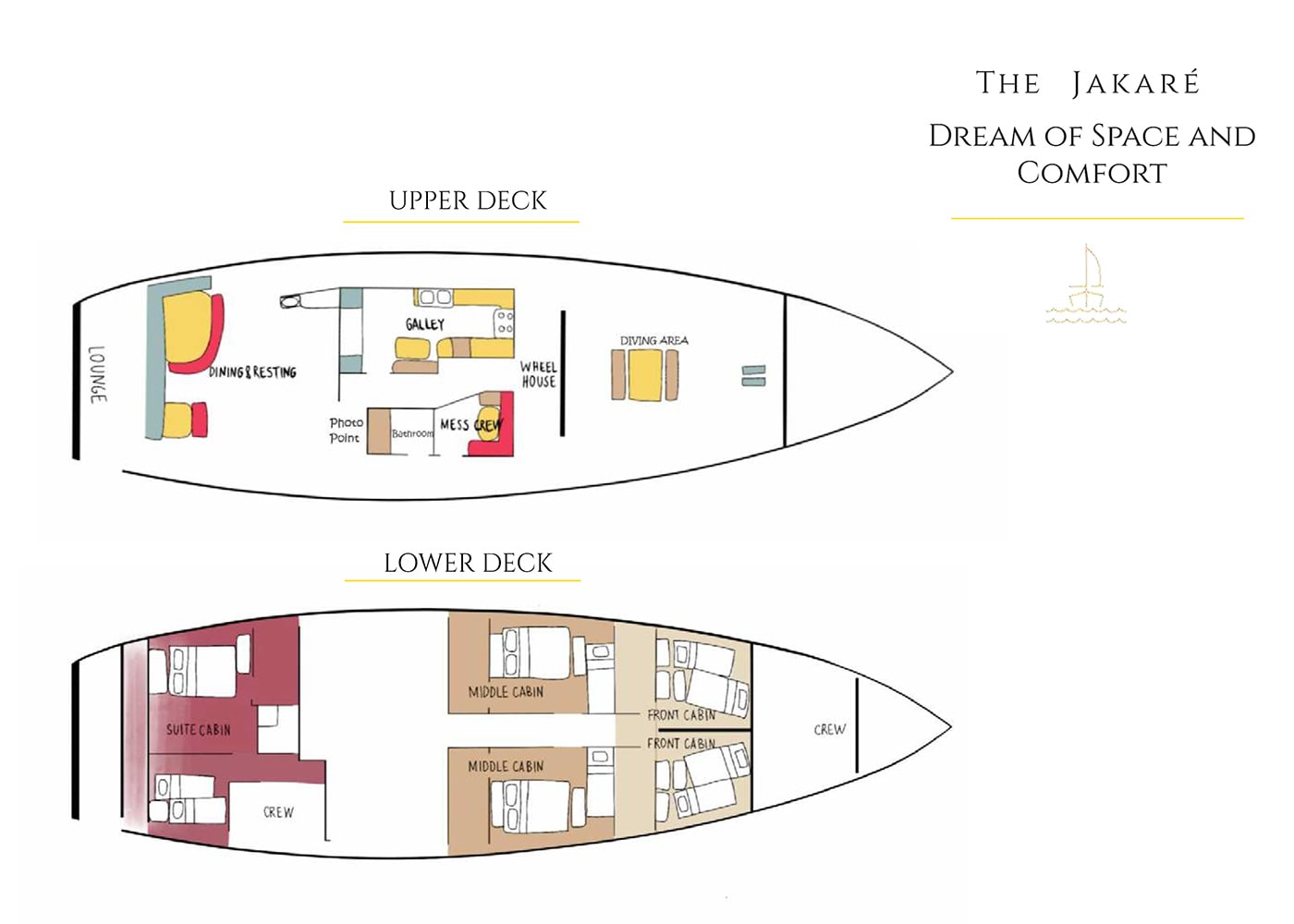 Features
Cabins with balconies

Air conditioning

Deck shower

Lecture room

Camera room

Solar Energy

Hot showers

Family Room (Triple or Quadruple)

Charging areas for electronic equipment
Equipment
Diving gear

Satellite phone

Nitrox

Snorkeling gear

Wetsuits

Stand up paddleboard

Kayaks / Canoes

Wakeboard / Water Ski

Yoga mats

Flash lights

Rubber boots

Water canteen/bottle

Binoculars

Insect repellent