Exclusive, private cruise based on full occupancy
Overview
Operating from Labuan Bajo on the island of Flores, the 88-ft Plataran Phinisi Felicia features two masts and is built in a traditional Indonesian style from locally-sourced ironwood and teak. She offers short cruises for up to 12 liveaboard guests around the waters of Komodo and Flores. There will be plenty of time to dive, snorkel and swim, to experience pristine coves and beaches, and to encounter the famous Komodo dragons along with a diverse range of Indonesian wildlife. She is also available for private charters.
Life On Board
The Plataran Phinisi Felicia was designed with comfort and convenience in mind. Her indoor dining area, TV, home entertainment system and bar in the lounge provide a warm and welcoming environment in which to make yourself at home, but outside is where guests will want to gather most. With an outdoor dining area, two sun decks with loungers, seating, and shaded sections, the boat's exterior social areas are perfect for sunbathing and watching the islands go by during the day, enjoying a drink at sunset, or stargazing at night.
With just six cabins − two bunk-bed cabins and four double cabins – the Phinisi Felicia by Plataran is ideal for small group private charters or alternatively has great accommodation options for every type of traveler wishing to embark on a shared voyage to one of the world's most spectacular wildlife destinations. Each air-conditioned cabin is characterized by a wood-paneled interior, wooden beams, traditional ikat textiles, and Indonesian decorative motifs. All cabins have an ensuite bathroom with a hot shower, toiletries and dryer.
Excellent meals are served three times a day at a communal table on the deck with a magnificent view of the Indonesian landscapes and seascapes. Guests dine together on fresh local specialties, prepared onboard by an expert chef. Meals are served buffet-style, and you will have day-long access to soft drinks and snacks.
Destinations & Dragons
The only way to explore the waters and landscapes of the magnificent Komodo National Park is by boat – especially one as fabulous as the Phinisi Felicia. A typical itinerary will take you to both Rinca and Komodo islands, where you will see the legendary Komodo dragons along with a whole host of diverse Indonesian wildlife and beautiful, rare birds. Continue your adventure to Kalong Island, and gaze in wonder at the sight of hundreds of thousands of giant fruit bats coming alive at sunset and shadowing the sky; go kayaking, and try your hand at stand-up paddleboarding.
On Padar Island, trek to the peak for one of the best views in Komodo National Park, or relax on the pink sands of Long Beach. Snorkel through vibrant reefs of soft and hard corals alongside colorful fish at the world heritage site of Pantai Merah. Visit Kanawa Island and Bidadari Island for more snorkeling, swimming, and relaxation.
Staffed by a professional, friendly, and experienced crew of eight, including an expert divemaster for those keen to discover Indonesia's incredible marine life. All members of the team will strive to give guests an experience to remember. Available on board is scuba diving equipment, snorkeling gear plus a canoe/kayak, standup paddle-boards, fishing gear, and all essential safety equipment.
Get ready to encounter giant manta rays and turtles, and experience the spontaneous warmth of the Indonesian culture as part of this unforgettable voyage, perfect for singles, couples, families, and groups of friends. 
Itineraries & Prices
Embarkation, Rinca Island
AM: Upon arrival, you will be picked by the Plataran staff from the airport and transfered to the beautiful Phinisi Felicia. As you arrive on the boat, you will be warmly welcomed by the staff and served a welcome drink. The boat will then depart for Rinca Island, a journey that will take approximately 3 hours.
PM: Once we arrive, everyone will go off the boat and head to ranger station. From there you'll begin your thrilling trek to see the legendary Komodo dragons, safely guided by the ranger of the island. You may adjust your time trekking with the ranger as you need.
If time allows we'll make a stop at Kambing Island for our first session of snorkeling in the national park.
This evening, we'll return to the boat and sail to Kalong Island. Famed for its mangrove forest and fanged inhabitants, this small island has become known as the "house" of a thousand bats. If you are lucky enough, you will witness the breathtaking spectacle of thousands of bats flying out from their nest looking for food.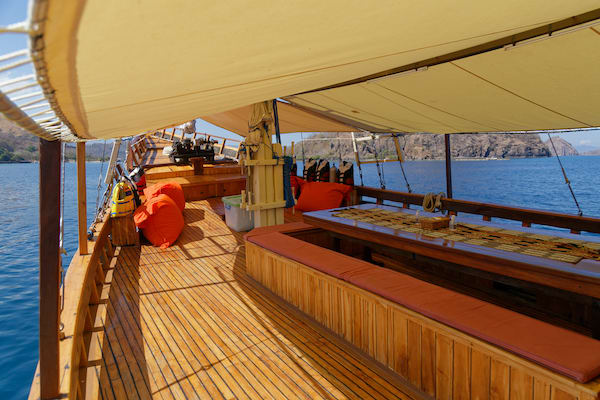 Padar, Komodo & Pink Beach
AM: This morning we arrive at the incredible Padar Island, the third largest island in the national park, where you'll ascend to its peak for one of the best panoramic views imaginable. Once roamed by no less than three species of Komodo dragon, today the island is sadly dragon-free due to historic hunting of the dragons themselves and their prey.
Fortunately the trekking to be had is no less spectacular, and it won't be long before you are in search of dragons as our next stop is Komodo Island itself. Home of the namesake legendary Komodo Dragons, the island is also a haven for deer, wild boar and many bird species.
PM: Afterwards you'll don your mask for more snorkeling and relaxing at the otherworldly World Heritage Site of Pantai Merah, the island's spectacular pink beach, thanks to the eroded red and white coral on its shores.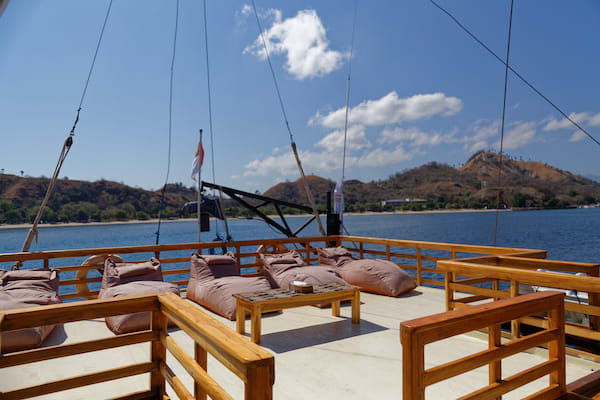 Location
Komodo National Park
Bidadari, Disembarkation
AM: This morning, after breakfast, you'll get the chance to go snorkeling at some of the most breathtaking sub-aquatic spots. First stop is the beautiful small island of Kanawa with its amazing corals. Later, the Phinisi Felicia will bring you to another blissful site of the Komodo sea – the idyllic Bidadari Island.
Bidadari's white sands and turquoise waters are located to the north west part of Labuan Bajo, and are home to untold colorful fish and corals. Enjoy snorkeling or just relax on the beach before we sail back to Labuan Bajo in the afternoon and drop you at the airport or your hotel.
** Please note this itinerary is subject to change at any time due to, but not limited to; local conditions, weather, strong currents or winds, and any unforeseen reason that may endanger the safety of passengers or crew.
1 / 3
Accommodations
Social Areas
Sun Deck
Indoor Dining
Deck
Lunch
Bridge
Stairwell
Suites & Cabins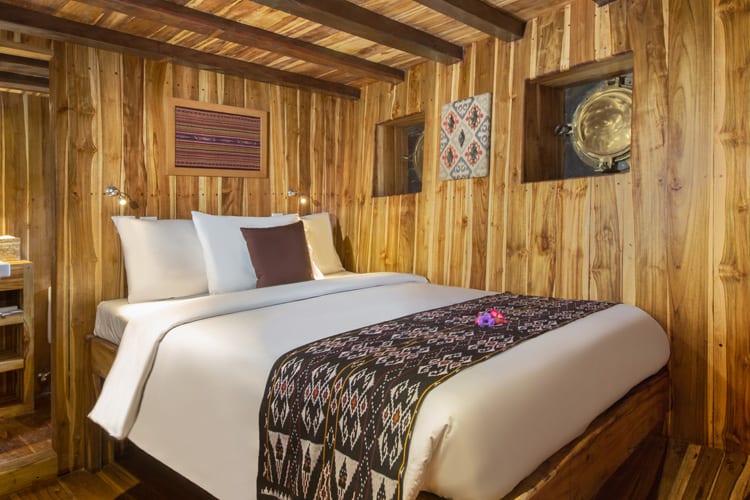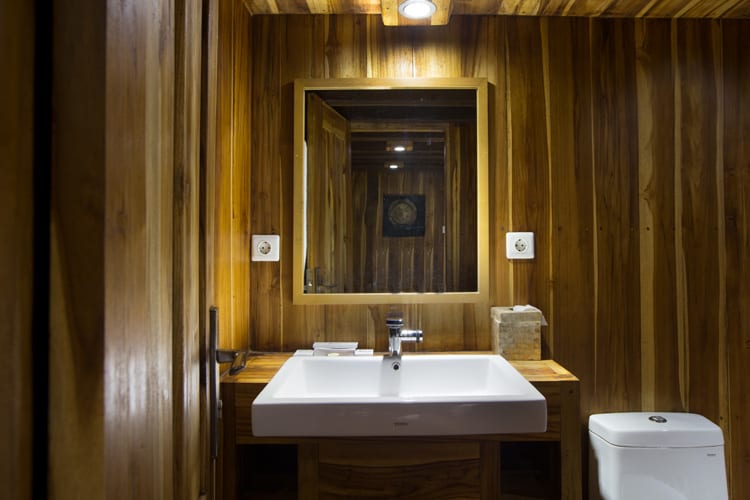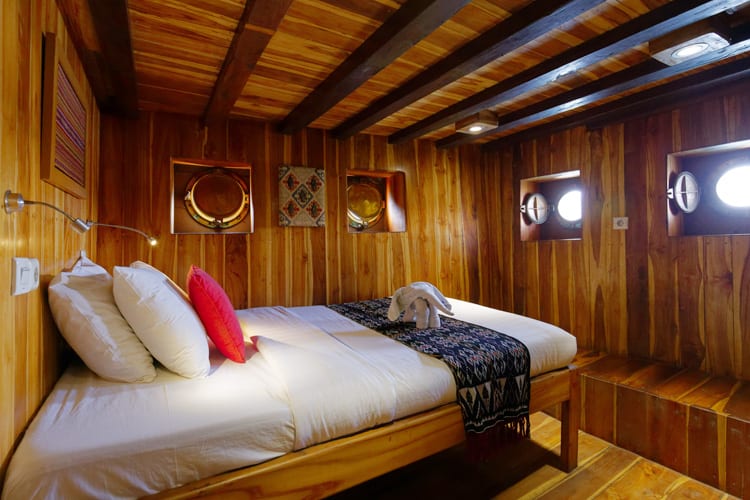 The double bed cabins are adorned with characteristic wood paneling, exposed beams, traditional ikat textiles, and delightful Indonesian decorative motifs. The cabins feature porthole windows, air-conditioning and an en-suite bathroom with a hot shower, toiletries and dryer.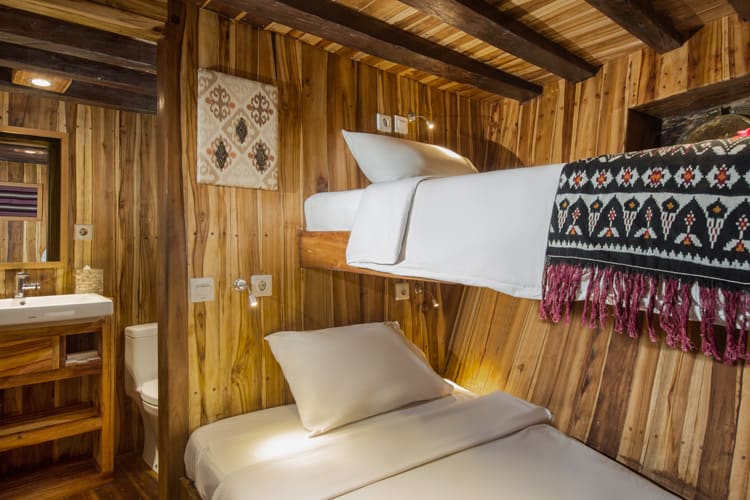 The equally charming bunk-bed cabins are similarly equipped with modern and ample amenities, and decorated in a traditional style befitting of this vintage yet stylish vessel.