Exclusive, private cruise based on full occupancy
Overview
The 124-ft Plataran Komodo Phinisi Malayeka is the largest and most luxurious boat in the Plataran Private Cruises fleet, with a capacity for up to 14 guests. Designed with an emphasis on space, unparalleled privacy and comfort, she invites families and groups of friends to explore the waters and islands of the Komodo National Park and beyond on private charter cruises.
The Kapal Phinisi Plataran Malayeka (Kapal means 'ship', Phinisi is the name given to traditional Indonesian wooden schooners, Plataran means 'God's most favorite courtyard' and Malayeka means 'angel') was built in Tana Beru, Bulukumba, on the shores of South Sulawesi by master Buginese shipbuilders who handcraft exceptionally strong phinisi schooners, using the robust timbers of the islands, age-old techniques and a skillset passed down through the generations.
Luxurious Life On board
Malayeka has seven luxurious cabins, comprising one sumptuous master cabin with the additional luxury of an ensuite bathtub and a private deck, two double-bed cabins, two twin-bed cabins, and two bunk-bed cabins, all with ensuite bathrooms for the ultimate in privacy.
Elsewhere on board, you will find a spacious living room with comfortable sofas, a lounge & dining area with a private bar counter, a 55-inch flatscreen TV supported with Netflix, and a fine quality sound system for fun karaoke sessions. The expansive outdoor deck with comfy daybeds also offers the option of open-air dining, blessed with 360 degrees views of azure seas and the passing landscapes.
The Malayeka is staffed by a professional, friendly, and experienced crew, including an onboard butler, a yoga instructor, spa therapist, an expert divemaster and a private top-class chef who prepares excellent meals served three times a day. You can look forward to delicious and fresh local specialties and international favorites, and will also have all-day access to soft drinks and snacks.
You can practice yoga every morning on the deck, indulge in massages and pampering spa treatments, or venture beneath the surface to discover Komodo's amazing marine life. All members of the team will strive to give guests an experience to remember. Scuba diving equipment and snorkeling gear is available on board, as well as all essential safety equipment.
Activities In The Komodo National Park
A range of activities is available to satisfy all ages and itineraries have been carefully crafted to discover the most spectacular scenery and wildlife in the Komodo National Park. Trek at sunrise or sunset to spectacular viewpoints that will take your breath away. Explore the islands and meet the local people. Try paddleboarding or go bird watching, visit the beautiful pink sand beaches on Komodo Island and Padar Island. Gaze in awe as hundreds of thousands of flying foxes come alive at sunset and shadow the sky. Encounter Komodo dragons in their natural habitat. Enjoy a private sunset picnic on a secret deserted beach.
The waters of the national park are teeming with life, and scuba diving or snorkeling is a delightfully accessible activity for all ages. Explore pristine reefs featuring soft and hard corals, swim with giant manta rays and come face to face with turtles and brightly colored fish.
Itineraries & Prices
Embarkation, Rinca Island
AM: Upon arrival, you will be picked by the Plataran staff from the airport and transfered to the boat. As you step aboard the beautiful Phinisi Malayeka, you will be warmly welcomed by the staff and served a welcome drink. The boat will then depart for Rinca Island, a journey that will take approximately 3 hours.
PM: Once we arrive, everyone will go off the boat and head to ranger station. From there you'll begin your thrilling trek to see the legendary Komodo dragons, safely guided by the ranger of the island. You may adjust your time trekking with the ranger as you need.
If time allows we'll make a stop at Kambing Island for our first session of snorkeling in the national park.
This evening, we'll return to the boat and sail to Kalong Island. Famed for its mangrove forest and fanged inhabitants, this small island has become known as the "house" of a thousand bats. If you are lucky enough, you will witness the breathtaking spectacle of thousands of bats flying out from their nest looking for food.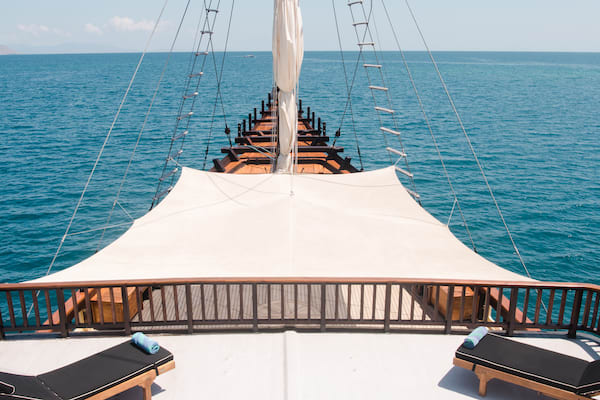 Padar, Komodo & Pink Beach
AM: This morning we arrive at the incredible Padar Island, the third largest island in the national park, where you'll ascend to its peak for one of the best panoramic views imaginable. Once roamed by no less than three species of Komodo dragon, today the island is sadly dragon-free due to historic hunting of the dragons themselves and their prey.
Fortunately the trekking to be had is no less spectacular, and it won't be long before you are in search of dragons as our next stop is Komodo Island itself. Home of the namesake legendary Komodo Dragons, the island is also a haven for deer, wild boar and many bird species.
PM: Afterwards you'll don your mask for more snorkeling and relaxing at the otherworldly World Heritage Site of Pantai Merah, the island's spectacular pink beach.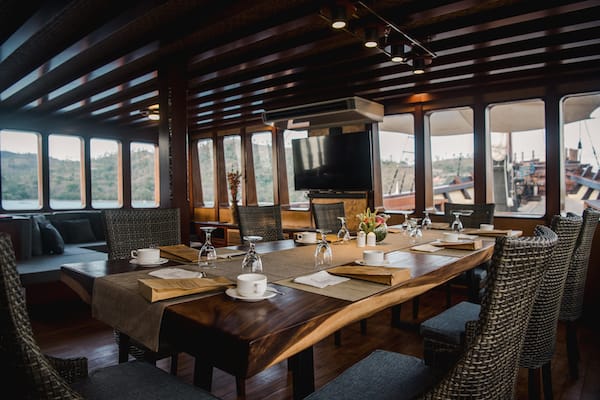 Location
Komodo National Park
Bidadari, Disembarkation
AM: This morning, after breakfast, you'll get the chance to go snorkeling at some of the most breathtaking sub-aquatic spots. First stop is the beautiful small island of Kanawa with its amazing corals. Later, the Phinisi Malayeka will bring you to another blissful site of the Komodo sea – the idyllic Bidadari Island.
Bidadari's white sands and turquoise waters are located to the north west part of Labuan Bajo, and are home to untold colorful fish and corals. Enjoy snorkeling or just relax on the beach before we sail back to Labuan Bajo in the afternoon and drop you at the airport or your hotel.
** Please note this itinerary is subject to change at any time due to, but not limited to; local conditions, weather, strong currents or winds, and any unforeseen reason that may endanger the safety of passengers or crew.
1 / 3
Accommodations
Social Areas
Salon
Outdoor Seating
Dining Room
Upper Deck
Second Deck
Al Fresco Dining
Suites & Cabins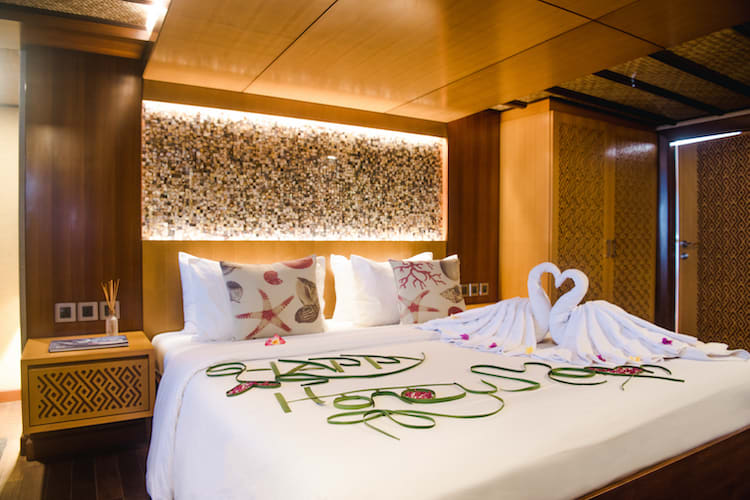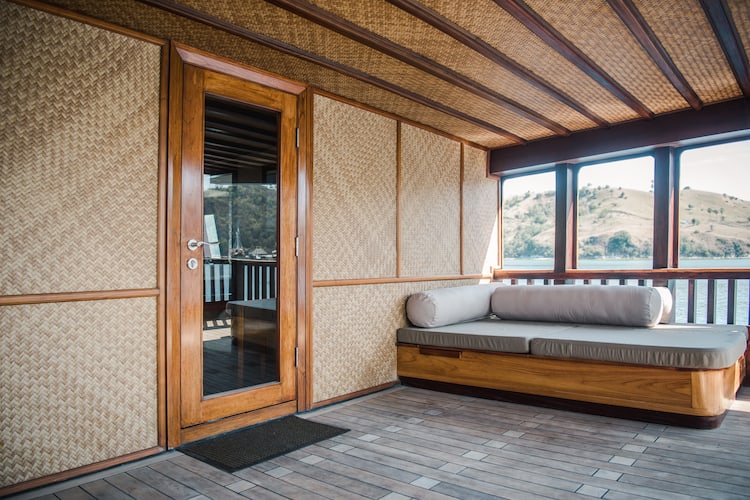 The only Master Cabin on board boasts a spacious extra-large double bed, an ensuite bathtub and private deck, plenty of wardrobe space, a writing desk, and comes fully air-conditioned.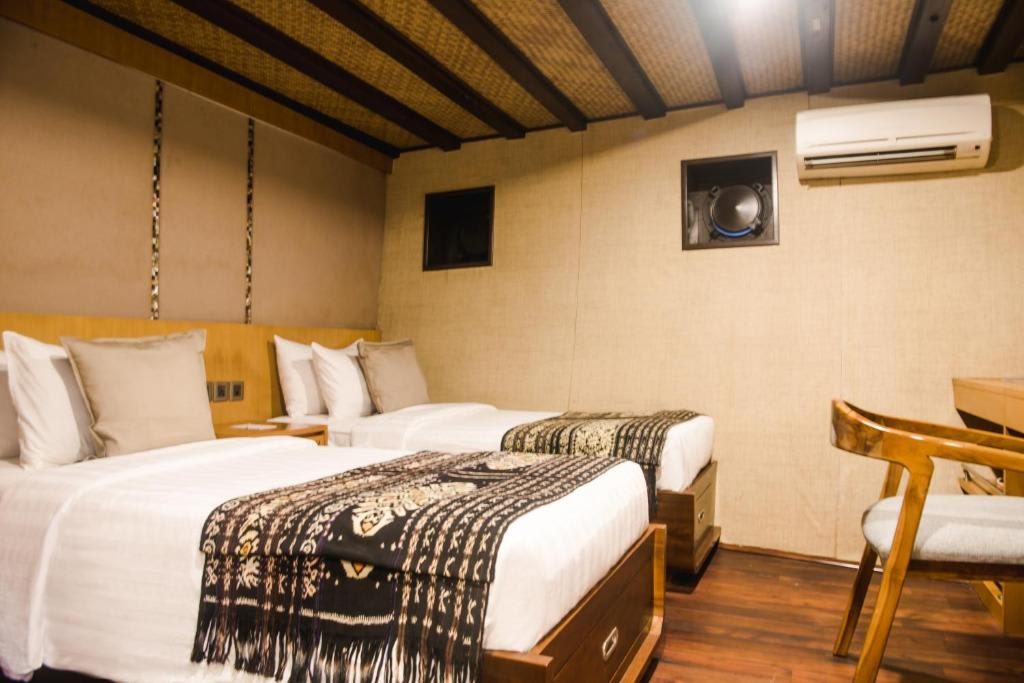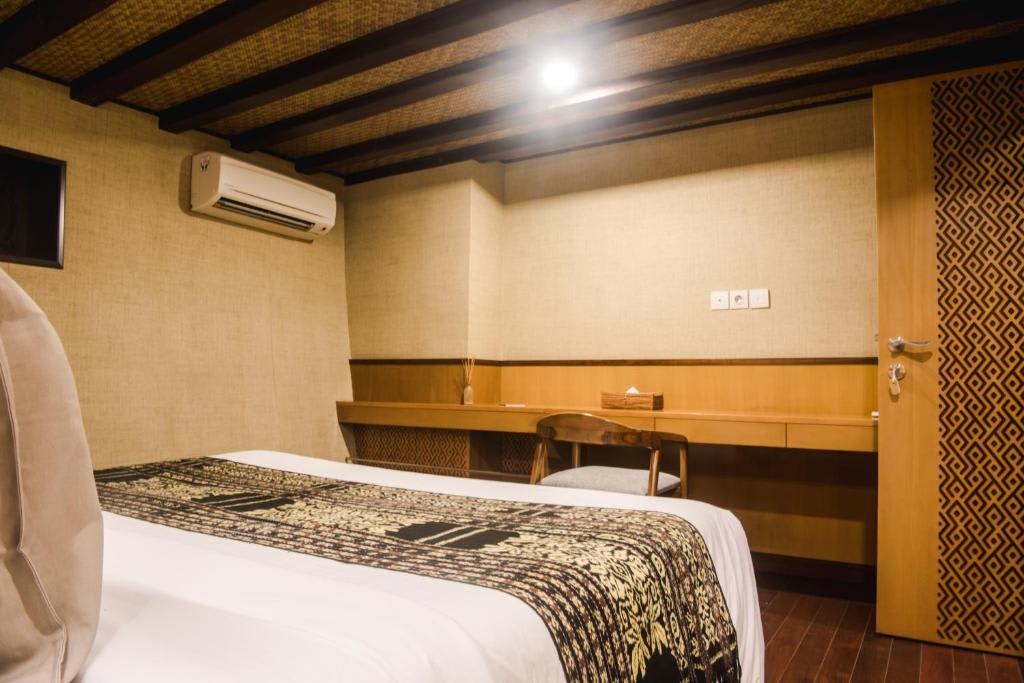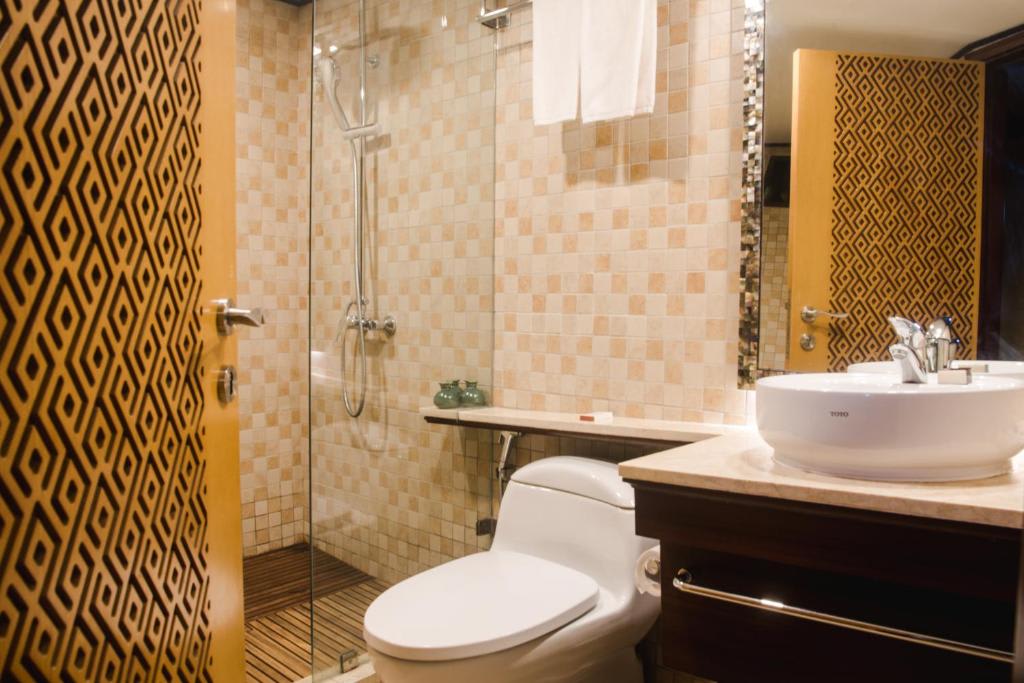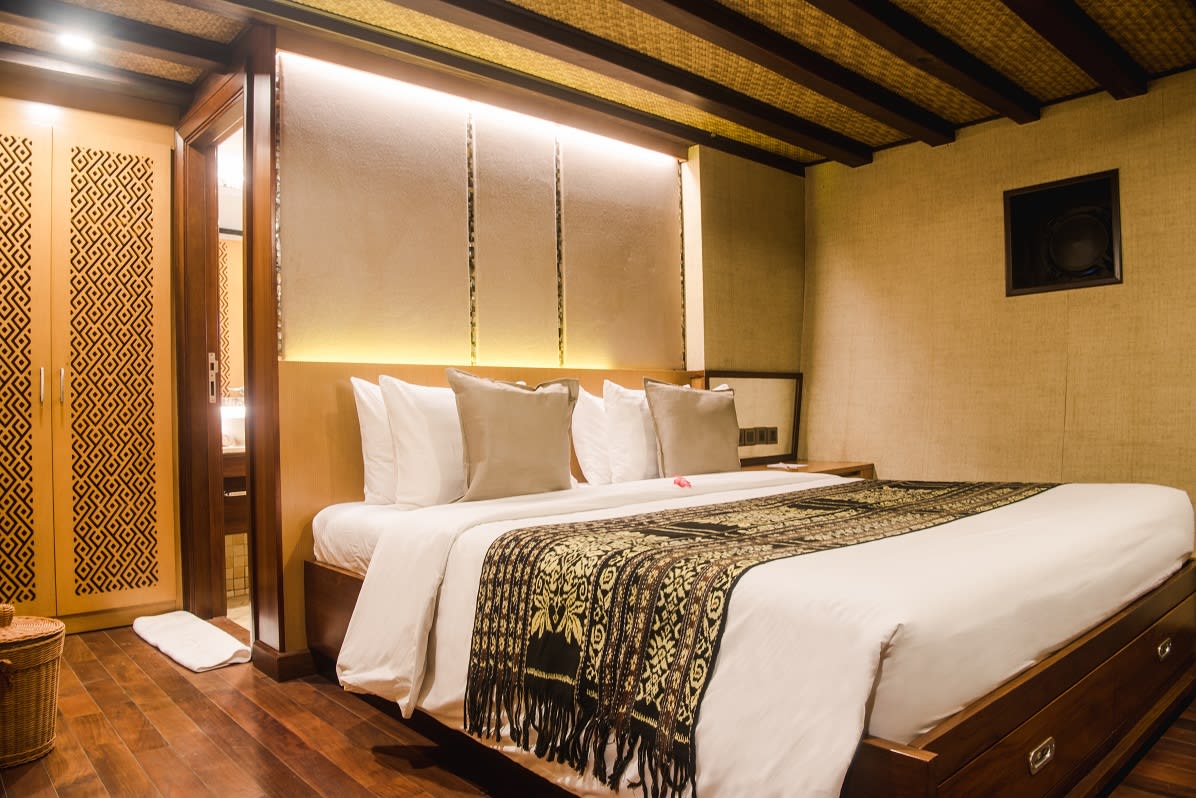 There are four Standard Cabins on board Malayeka, two double and two twin, each featuring porthole windows, air-conditioning, writing desk, and ensuite bathroom with shower.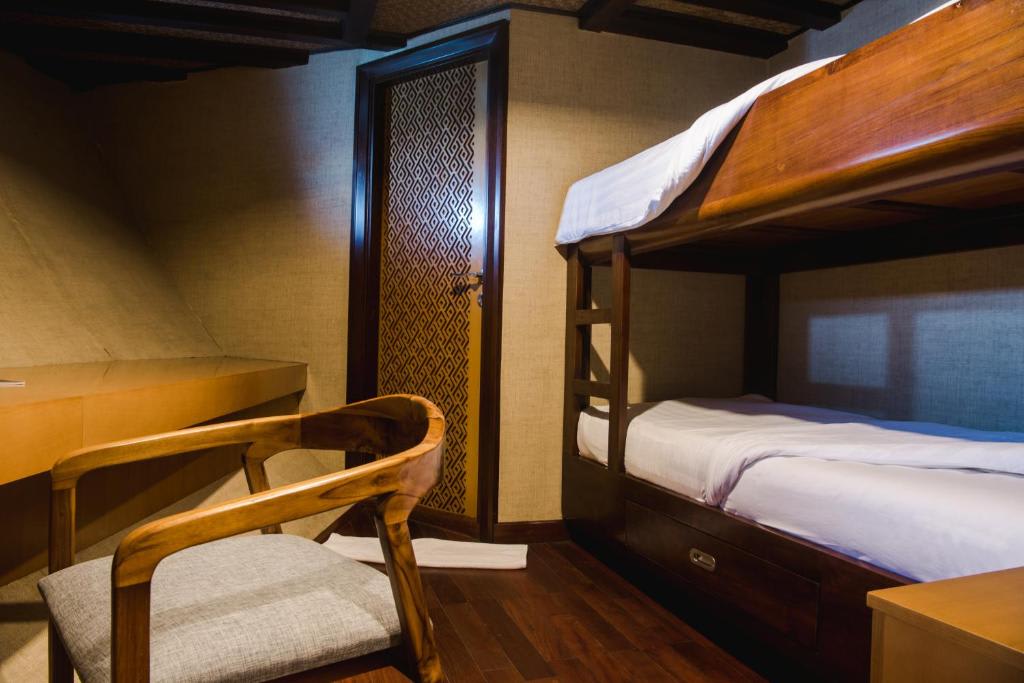 The two Bunk Cabins to the front of the vessel are much smaller, but still feature air-conditioning, writing desk, and ensuite bathroom with shower.
Technical Information
Deck Plan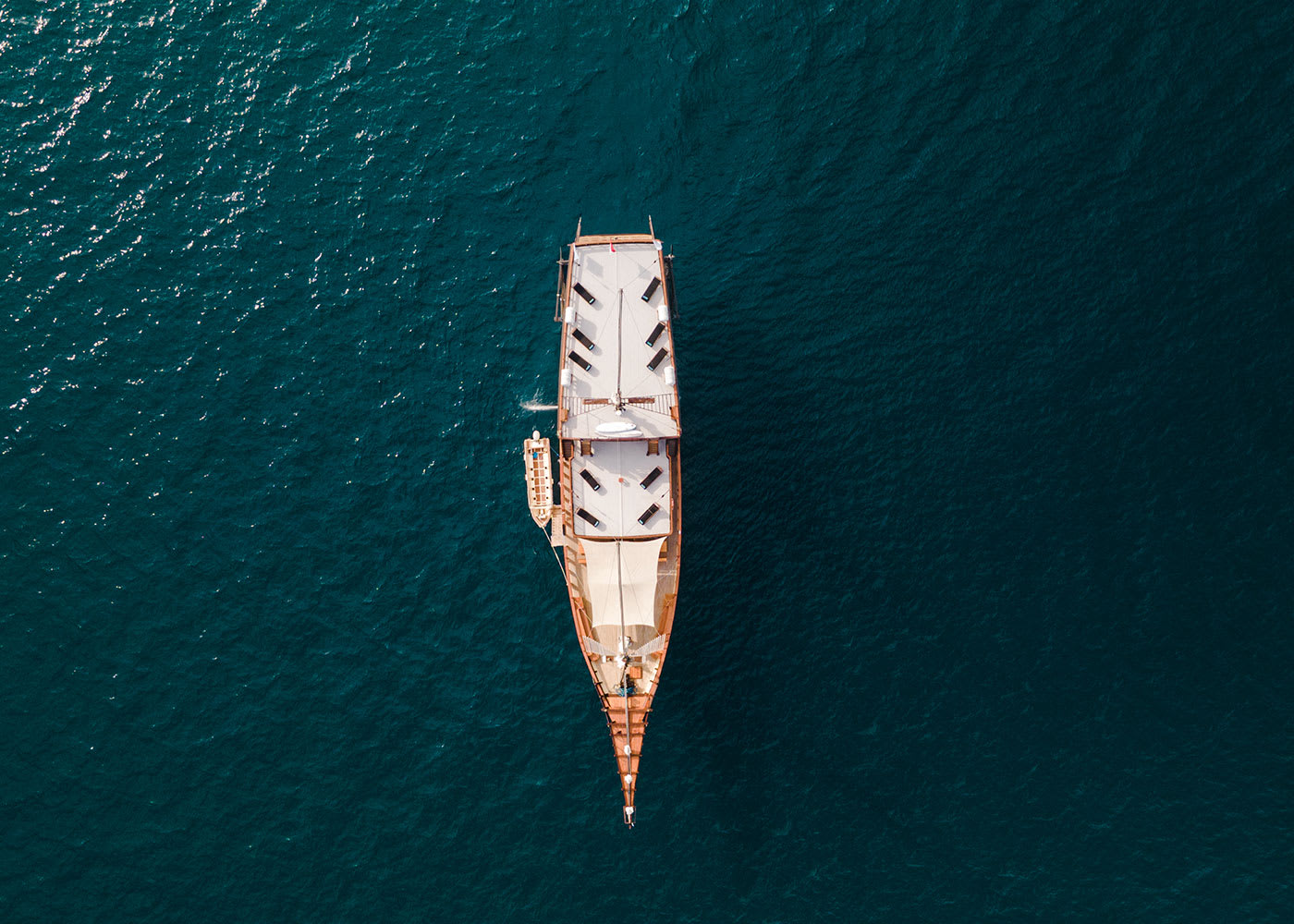 Features
Cabins with balconies

Air conditioning

Cinema

WIFI available

Hot showers

All inclusive

Charging areas for electronic equipment
Equipment
Diving gear

Snorkeling gear

Water canteen/bottle

Dry Bags/Plastic bags to protect cameras
** Use of certain equipment at additional cost, ask for details