Itinerary & Prices
Welocome to Argentina!
Welcome to Argentina! For most travelers, Buenos Aires is the entry point to Argentina… and what an entrance it is: this vibrant city feels almost European! Its cosmopolitan population of Italian, Spanish, French, and many other nationalities, combined with stunning architecture, cultural activities, and attractive neighborhoods with small shops, cafés, and international restaurants, make the atmosphere relaxed and welcoming.
Upon arrival, our local representative will meet you at the airport and take you to your hotel. After settling into your accommodation in the trendy neighborhood of Palermo, the rest of your afternoon and evening is free for you to spend at your leisure. We recommend exploring the area near your hotel where you'll be able to soak up the atmosphere of this thrilling city stopping off at one of the nearby boutique cafés or lively wine bars. Having found somewhere for dinner and experienced one of South America's top restaurant scenes, explore Buenos Aires' nightlife at one of the local wine bars in Palermo, add an exclusive wine tasting to your itinerary or, take a leisurely stroll back to your hotel.
Tip: Porteños eat dinner late; usually restaurants will open their doors around 20:00.
Meals (x)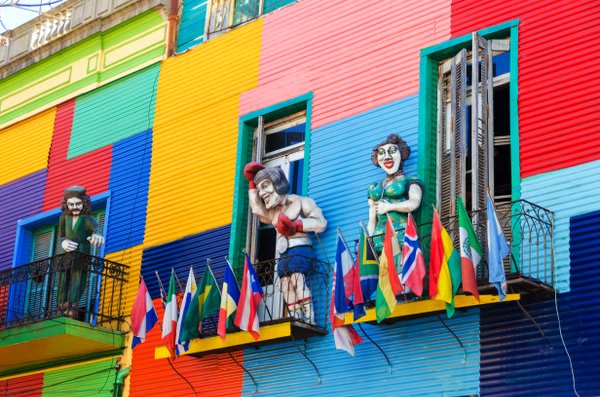 Highlights of Buenos Aires
After breakfast, you are collected from your hotel for your city tour of Buenos Aires, discovering the history and modern life of this world-renowned city.
The tour provides an in-depth introduction to its architecture, the culture of its people, its anecdotes and secrets. Put simply, Buenos Aires is exceptional, dynamic, sophisticated, and overwhelming. An exquisite combination of a European atmosphere and the charm of Latin American cities. You will begin at the famous Plaza de Mayo, before venturing out to the old tango districts of Buenos Aires: Monserrat, San Telmo, and La Boca. You will then move on to the busiest areas – Puerto Madero, Retiro, and Plaza San Martin – and then, districts with wonderful green spaces and old residences: Palermo and Recoleta.
In the evening, you will enjoy a completely unique dining experience that cleverly blends exquisite food and wine, local culture, and social integration. Individuals, couples, families, and groups from all over the world are mixed around two 14 person banquet tables, which are led and entertained by two guides, and our friendly international team. Empanada making, juicy fillet stakes, boutique wines, alfajor making, and sharing 'mate' between new friends. There is no better place to be!
Meals (B, D)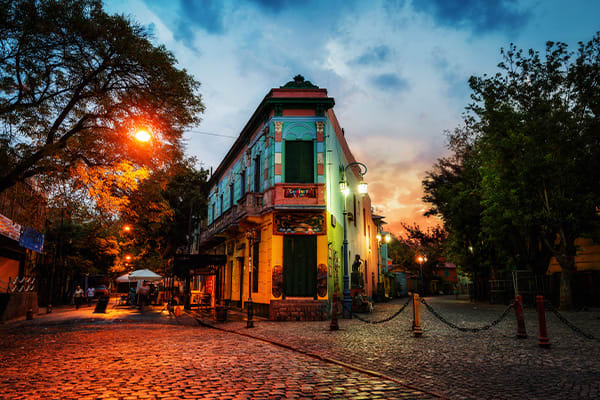 Arrival in Ushuaia
Your day begins as you embark after breakfast, with a private transfer to the airport for your flight to Ushuaia. As the southernmost city in the world, flying to Ushuaia is an adventure in itself as you touch down in the Tierra del Fuego (Land of Fire). It is right next to the legendary Beagle Channel which connects the Atlantic to the Pacific Ocean.
After arriving and settling in at your accommodation, take a taxi to Ushuaia´s old airport, Aeroclub, for a great view of the whole city, bay, harbor, and mountains. Maybe stop off for a popular photo opportunity at the city's famous welcome sign, proclaiming Ushuaia to be 'at the End of the World'. We recommend taking time to visit the historical center of the city including the navy neighborhood, the cemetery, and the Saint Christopher shipwreck that can be seen beside the promenade. You will also pass by historical places such as the prison, school, and police station. After appreciating the Antarctic Explorers promenade, you can visit the End of the World Museum (visit and entrance not included – optional activity).
Stay in the city for dinner tonight as delicious king crab is the specialty here! With a full stomach, you can take a taxi back to your hotel and catch a good night's sleep before tomorrow's adventures.
Meals (B)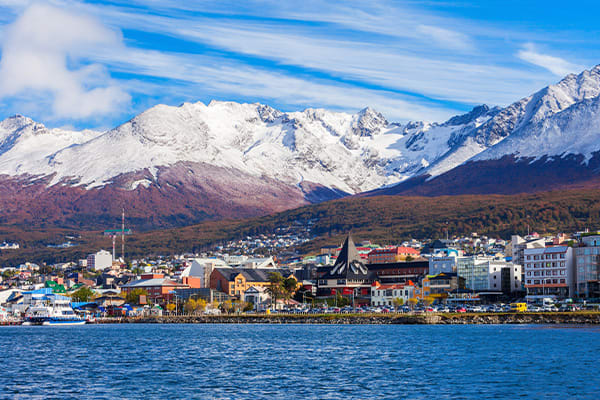 Location
Buenos Aires to Ushuaia
National Park Trekking and Canoeing
Set off on a full-day group adventure into Tierra del Fuego, including kayaking and trekking. Easily reached from Ushuaia and the southernmost national park in the world, it's a brilliant way to discover some of Patagonia's most beautiful scenery. Traveling with an expert local guide, you'll get a real glimpse into the secrets of Tierra del Fuego, learning all about the maze of mountains, lakes, and rivers that make up this recovered paradise.
During the day, you'll head into the forest on a three-hour hike and jump in a kayak to paddle across gorgeous Lapataia Bay towards the Beagle Channel. You'll stop in the heart of the forest for a tasty lunch, soaking up the sights and sounds around you as enjoy your meal. The rest of the day is yours to enjoy after we transfer you back to your hotel.
Meals (B, L)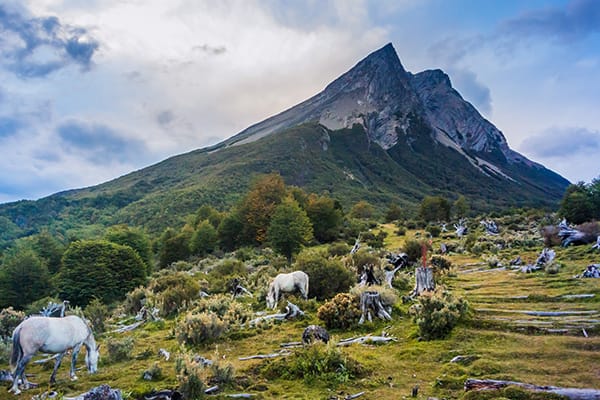 Lakes Off-Road Tour
The Lakes Off-Road tour is a fascinating and fun way to discover the hidden secrets of the Southern Andes. Far off the generic tourist trail, it will take you beyond the guidebooks, giving you a whole new perspective of Patagonia. It's a relaxing day mixed with some serious off-road experiences, giving you the best of both worlds.
From high in the Andes, you'll get a great view of Lago Escondido (Hidden Lake), a little gem tucked away in the bottom of a valley, before exploring the vast Lake Fagnano, a real highlight of the trip. Traveling in a hardy Land Rover Defender that can handle all terrains and weather conditions, you'll drive through forests, across rivers, and alongside lake shores with gorgeous views. At lunchtime, you'll stop for a tasty BBQ and a glass of Argentine Malbec, getting to know the fellow travelers in your group. Open to everyone, it's a brilliant tour that will help you break free from the beaten path for one full and magical day.
Meals (B, L)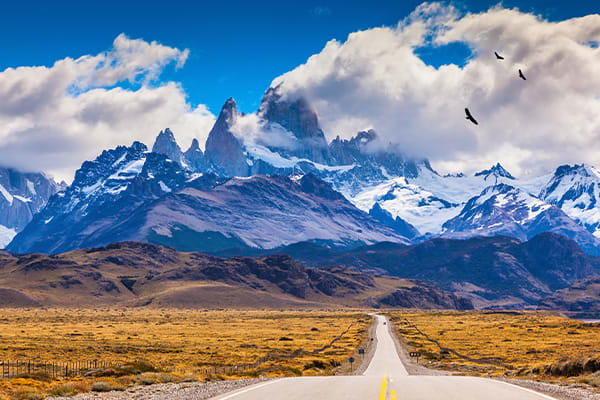 Travel to El Calafate
It's time to hit the road again as you make your way to your next destination, El Calafate, where you can explore the beauty and diversity of Argentina even further. Your private transfer will take you to the airport for your onward flight after breakfast.
If you are lucky enough to land in El Calafate on a clear, sunny day, you will have unforgettable views of the mountains and lakes from the plane before you land. We will take you from the tiny airport to your hotel in town. El Calafate is a nice little town in an otherwise desolate area, with one main street. Most of the restaurants and shops are centered here, and a few streets lead off of it. Get your bearings by strolling around town, perhaps picking out one of the local restaurants for lunch or dinner. It is often cold and windy here, so the lamb racks in the windows of restaurants, the lit fireplaces, and the view of other travelers sipping from their wine glasses will be sure to tempt you inside. If you have a full afternoon available and feel like some fresh air and a walk, then head down to the bottom end of town to the Laguna Nimez Nature Reserve. You have to pay a small entrance fee but there is a beautiful circuit taking you through shrublands and wetlands and down to the lake's edge. You'll see all sorts of unusual birdlife down there, and if you aren't a seasoned bird watcher, you can always borrow a bird guidebook from the nature reserve office to help spot the different species of bird. In the evening take your time to just relax, enjoy dinner and get a good night's sleep as tomorrow you'll be visiting the Perito Moreno Glacier!
Meals (B)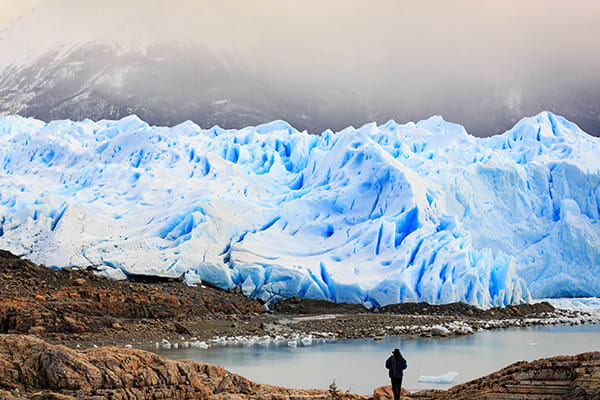 Location
Ushuaia to Calafate
Visit the Perito Moreno Glacier
This full-day private tour, taking you mini-trekking across the jaw-dropping Perito Moreno Glacier, is a trip to remember. You'll have plenty of time to explore the glacier at your own pace and soak up the breathtaking surroundings. First, you'll travel from El Calafate to the eastern side of the Magellan Peninsula, scattered with gorgeous viewpoints of Perito Moreno. You'll then follow the scenic walking tracks skirting the glacier, stopping for photos, and watching huge ice blocks crash into the lake, creating a thunderous sound and huge waves. Next, you'll hop on a boat to cross the Rico Branch, sailing past the huge glacier for a twenty-minute ride.
When you reach the other side, you'll take a walk through the deep green forest on the opposite shore, right along the edge of the Perito Moreno. Along the way, you'll find caves at the base of the glacier, complete with small internal deep lagoons. Next comes the real highlight – a 2-hour trek on top of the glacier with an expert guide. It's the experience of a lifetime.
Afterward, you'll return through the forest and stop for lunch (not included) before heading back towards El Calafate.
Meals (B)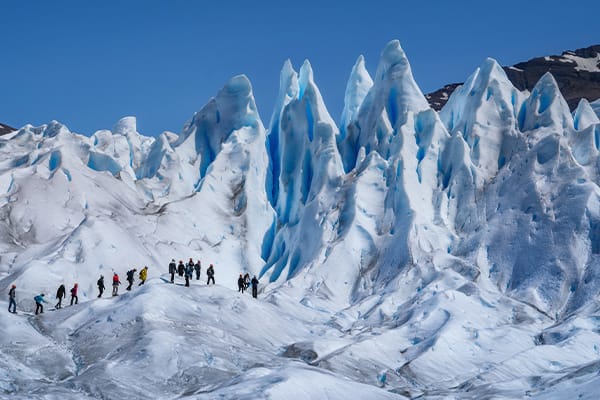 Journey to El Chalten
After breakfast, your private transfer will pick you up in El Calafate to begin your 4-hour journey to the small village of El Chalten. The journey from El Calafate to El Chalten is anything but boring as the road runs alongside Lake Viedma, surrounded by the vast and beautiful Patagonian landscapes which will accompany and entertain you for the duration of the journey.
Towered over by the 11,170 ft. jagged peaks of Mount Fitz Roy and the 10,175 ft. Cerro Torre, the small village of El Chaltén is both Argentina's and Patagonia's trekking capital. Situated near the Los Glaciares National Park, the area surrounding the enchanting village of El Chaltén is made up of World Heritage glaciers, dramatic mountainous landscapes, glacial lakes, and waterfalls.
Upon arrival, having checked in and settled into your hotel, the rest of the afternoon is free to explore the relaxed and down-to-earth atmosphere of the village, or experience the breathtaking scenery on a short mountain trail.
Meals (B)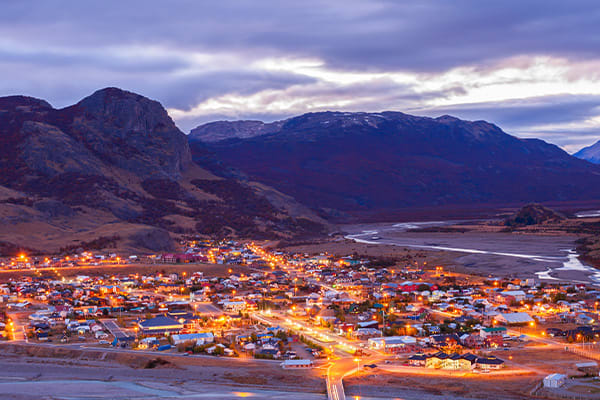 Location
Calafate to Chalten
Hiking Day and return to Buenos Aires
Today is left for you to choose what you'd like to do before being picked up for your return transfer to El Calafate. Of course, we highly recommend getting out into the fresh air and hiking, but whether you wake up at dawn and head out on a serious hike, or take it easy with a light walk, it's entirely up to you! The trails around El Chalten are all extremely well signposted and marked so you can easily hit the trail on your own.
If you're up for the challenge and an early riser, a popular trail is the Laguna Torre hike. This 12.5-mile hike provides a great balance between its level of ease and being a full day hike of about 8 hours. Leaving from the western side of the village and after walking for just over an hour you'll arrive at a viewpoint where you'll see the other imposing mount of El Chalten (known as Cerro Torre), which rises 10,262ft. Continuing along the trail, follow the scenic Rio Fitz Roy until you reach the glistening Laguna Torre. If you have time we recommend continuing for another hour along the northern shore of the lake to reach Mirador Maestri as the view of Cerro Torre's spire is the best from here.
Alternatively, you can go on a shorter 3.8-mile hike to Laguna Capri which is an easy-going and relatively flat half-day hike, perfect if you're limited by time. From the scenic Rio de las, Vueltas to catching your first glimpse of the 11,171 ft. tall Mount Fitz Roy, this trail is the perfect introduction to hiking in Patagonia.
Your private transfer will pick you up as you bid farewell to the small village of El Chalten and make your way back to El Calafate airport for your flight back to Buenos Aires. You will be picked up at the airport and transferred to your hotel for your final evening in Argentina.
Meals (B)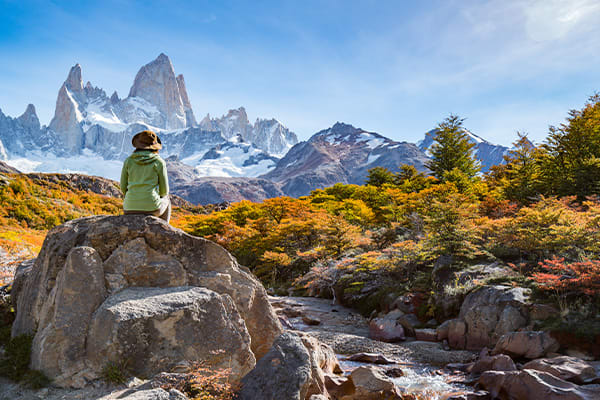 Location
Chalten to Buenos Aires
Return Home
Enjoy your final breakfast at the hotel in Buenos Aires, because it's time to hit the road again as you make your way to your next destination, or return home.
Buenos Aires has 2 airports: Ezeiza and Jorge Newbery-Aeroparque. Many of the domestic flights leave from Jorge Newbery-Aeroparque airport which is located within the city. Travel safely to your next destination as you leave with unforgettable memories that will last a lifetime.
Meals (B)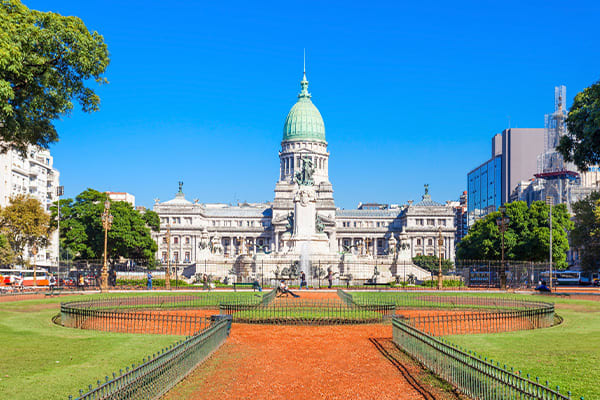 1 / 10
Accommodations
Hotel Options
4 Star
Own Grand Palermo Soho
Buenos Aires
4 Star
Tierra de Leyendas
Ushuaia
5 Star
Legado Mitico
Buenos Aires