Overview
Designed in harmony with its surroundings, the self-sustaining Araras Eco Lodge has 19 suites and up to 30 staff members dedicated to helping you make a lifetime of memories in the Pantanal region. The lodge, located south of the Mato Grosso state capital of Cuiabá, is ideal for birdwatching, photo safaris, and canoeing adventures.
Life At Araras Eco Lodge Brazil
Araras Eco Lodge is full of charm, thanks to a modern take on rustic décor. Farm-to-table meals are sure to be a highlight of your stay at Araras Eco Lodge. Greet the day with breakfast on the pool-side covered patio while listening to morning bird sounds. The full-board plan even includes afternoon tea for a pick-me-up between activities.
Lunch and dinner are served in the lodge's restaurant and feature regional recipes made from honey, milk, yogurt, and cheese made on the lodge's farm. Even the beef, lamb, and buffalo served on the restaurant's buffet is raised on site. After dinner, slip outside with a glass of wine from the climatized cellar or a local craft beer with tangerine and cilantro flavors and watch the sunset over the Pantanal.
Of course, you will also want to spend some time napping in a hammock. Be sure not to miss the three observation towers, which you can climb with a guide's company. The tallest tower is 82-feet tall and offers unparalleled views of the area.
Excursions From Araras Eco Lodge Pantanal
Though the laid-back atmosphere of Araras Eco Lodge Pantanal invites you to relax, you will also want to engage in every naturist-led activity offered. During your time at the lodge, take advantage of daily hikes along 13 miles of trails. To explore hard-to-access areas, take a ride on a beautiful, docile Pantaneiro horse.
You may also meet river otters, caimans, and rare Agami herons in their natural environments on a canoe trip in a two-seat boat. A photo safari in an open-air vehicle offers the chance to see anteaters, tapirs, and foxes. During your stay at the nearly 7,500-acre private reserve surrounding the lodge, a spontaneous wildlife encounter is just around the corner.
The bilingual guides will provide you with a list of birds and animals that call the area home, so you can identify everything you see. No matter which activities you opt for, group sizes are kept to a maximum of eight people to provide a personalized guest experience and to limit the impact on the ecosystem.
Designed For Conservation
Araras Eco Lodge is surrounded by five distinct microsystems, including riparian forest, humid areas, flooded fields, acuri palm forest, and dry forest. The lodge's team feels a responsibility to protect these sensitive areas and has designed every aspect of the physical buildings and programs with this in mind. Several buildings at the lodge feature thatched straw roofs for an eco-friendly way to preserve the traditional building style. The lodge also utilizes solar power, low-pollution equipment, reclaimed wood décor, and separates recyclables.
The Araras Eco Lodge team, most of whom are locals who have always called the Pantanal home, create a welcoming community for travelers. During your time at the lodge, you will meet people, form friendships, and return home with a newfound love for this remote corner of the world.
Accommodations
Social Areas
Breakfast
Outdoor Lounge
Dining Room
Entrance
Fire Pit
Horseback Riding
Luau
Observation Tower
Riverside
Trail Network
Suites & Cabins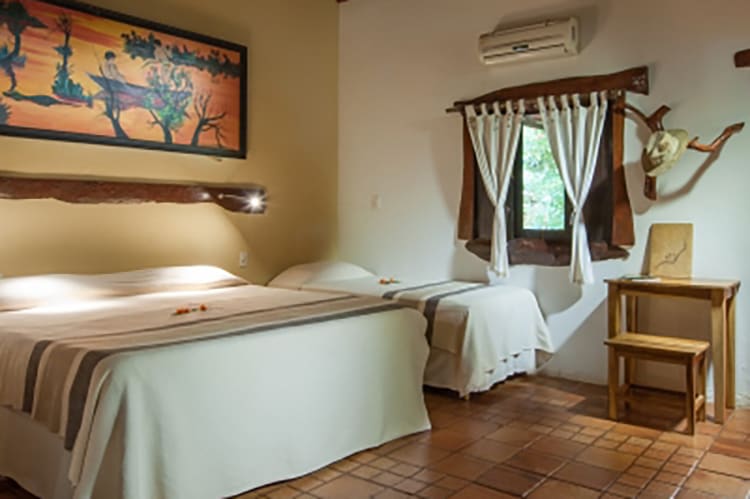 All Premium Rooms come with hammocks and comfy seating on the verandah, where guests can relax as they enjoy the fantastic scenery. The warm and comfortable rooms feature an ensuite bathroom with solar energy showers. These rooms are for 5 people; which makes them, ideal for families.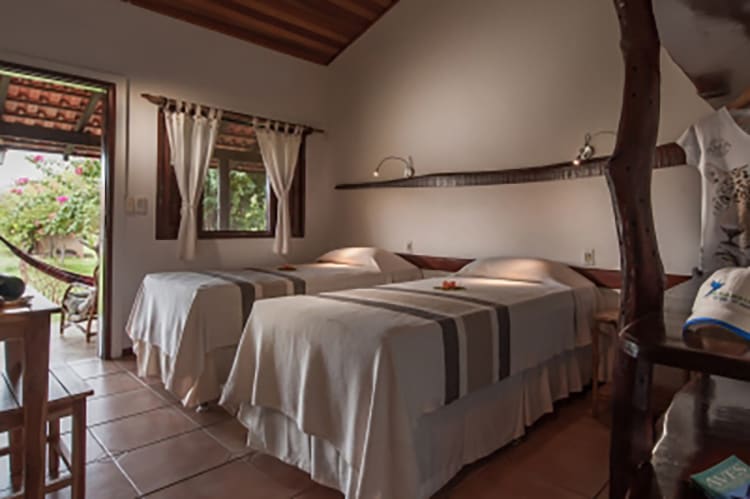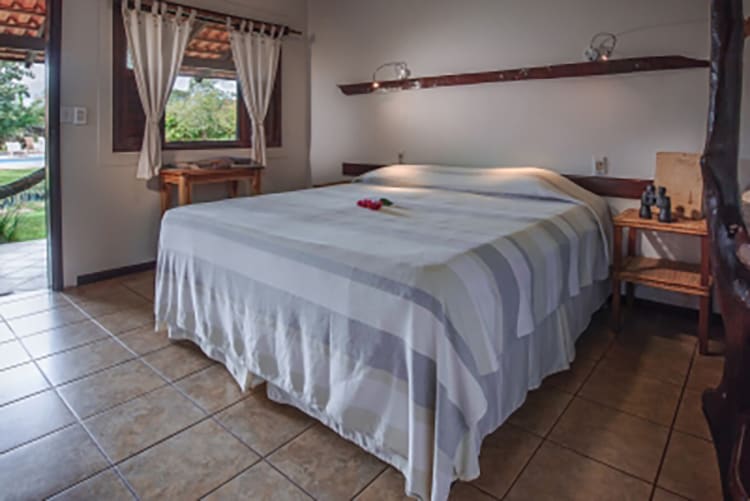 Size
15 - 20 m²/86-100 ft²
These warm and comfortable rooms are furnished in a rustic style, and they feature private bathrooms that come with hot and cold running water. To ensure guest comfort, these rooms come with screened windows and ceiling fans. All rooms can either be equipped with Double Beds or Twin Beds. There is one triple room and 3 quadruples.
Technical Information
Property Layout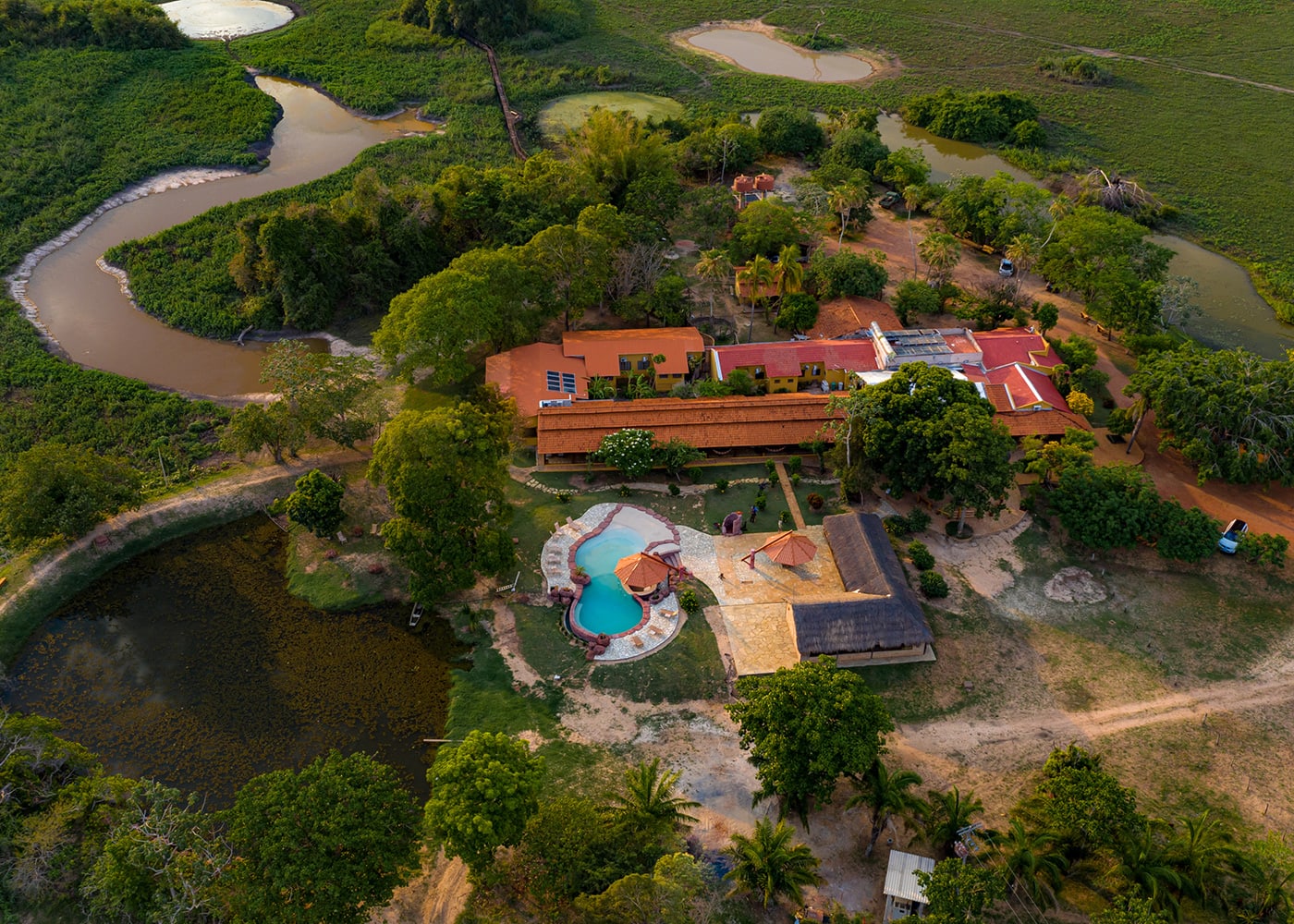 Features
Air conditioning

Pool / Jacuzzi

Lecture room

Wheelchair access

WIFI available

Children's playroom

Solar Energy

Souvenir shop

Mosquito netting

Hot showers

Family Room (Triple or Quadruple)

Charging areas for electronic equipment
Equipment
Kayaks / Canoes

Yoga mats

Flash lights

Rubber boots

Binoculars

Insect repellent
** Use of certain equipment at additional cost, ask for details
Interested in the Araras Eco Lodge?
Please fill in the form beneath and we'll get back to you ASAP.
View last remaining Christmas & New Years availability for Amazon and Galapagos
X