Overview
SouthWild Jaguar Suites combines the views and location of a boat with the spacious comfort of a hotel to create an innovative approach to wildlife viewing. The stationary flotel, which contains 12 surprisingly large rooms, is situated on the Piquiri River at the southern edge of Meeting-of-the-Waters State Park, in an ideal spot for observing jaguars.
Life at SouthWild Jaguar Suites
Even when you are tucked inside your oversized room in the floating lodge, you will still feel that you are surrounded by nature. Each 314-square-foot room features a 13-foot wide floor-to-ceiling window with views over the river to the sandy banks where jaguars often stroll. From your room, you may be able to watch the big cats hunt for caimans and capybara on the beach.
For even better views, head to the open sun deck on the third floor. While on the top deck, you can also grab a seat in the shaded dining area, have a meal fresh off the barbeque grill, or pick up a drink at the bar. Then, head to the lecture room to hear a talk on the wildlife of the Pantanal region. At night, dream of the next day's adventures in a comfortable mosquito-net-draped bed while listening to the gentle lap of the water against the boat.
Excursions In Jaguarland
Though the Pantanal region covers 42-million acres, jaguars inhabit just 0.5% of that space. That zone, lovingly referred to as "Jaguarland" by the SouthWild team, is the floating lodge's home. SouthWild Jaguar Suites program of jaguar observation excursions, which draws in wildlife photographers from around the world, is designed to get you as close as possible to the animals in their natural environment.
You will have the opportunity to go out on the lodge's photo boat, which is equipped with seven rotating seats and tripods with Wimberly-brand gimbal heads capable of supporting large lenses. Along the way, you will be accompanied by a full-time English-speaking jaguar naturalist. Not only will this expert help you find and photograph wildlife, but they also maintain a high-quality dossier of the 190 individual jaguars which the lodge's guest have photographed since 2006. You will even have the opportunity for golden-hour and sunset excursions, since SouthWild Jaguar Suites' prime location eliminates the need to commute back to a city-based hotel.
A Wildlife Photographer's Delight
Realizing that both professional and amateur wildlife photographers have specific travel needs, the rooms at SouthWild Jaguar Flotel are designed to accommodate camera and technology gear. Since photographers spend as much time managing files and editing photos, each suite includes ample workspace. Get down to work over WIFI while sitting in the two adjustable, padded office chairs in each room. Two workspaces, with large desktops, provide space for your laptops, hard drives, lenses, and other gear. And, you will never need to worry about dead batteries when you keep everything charging and plugged into 22 easy-to-access electrical outlets.
Whether you are a professional photographer or are just a discerning traveler looking for a fresh way to see animals in the wild, SouthWild Jaguar Suites is poised to provide a one-of-a-kind experience. Please note the Jaguar Extreme itinerary featured involves overnights at either SouthWild Pantanal Lodge or Hotel Mato Grosso on the first and last nights so transfers don't get too tiring, given the remoteness of the flotel. Despite these not being located within "Jaguarland" itself, stays here come with extra perks for wildlife lovers, as there are different bird species to spot and it is the only place in Pantanal you can see ocelots.
Itineraries & Prices
Arrival to SouthWild Pantanal
PM: Meet your SouthWild guide at the Cuiaba Airport, eat lunch, and depart from Cuiaba by 2:30pm for a 3-hour drive to SouthWild Pantanal.
We stop along the way to observe abundant wildlife on the Transpantaneira Road. If you arrive to SouthWild Pantanal by 5:30 pm, you have the option to visit our Ocelot viewing site located only 400 meters from the lodge. In July 2017, Nat Geo broadcast our Ocelots live worldwide on National Geographic TV on their two-hour-long "Earth Wild" special. SouthWild Pantanal is the only lodge in the world where wild Ocelots are visible with a high probability on many evenings, and at close range and with excellent two-source lighting.
Overnight at SouthWild Pantanal (or Hotel Mato Grosso depending on availability, but meals are still at Southwild Pantanal).
Location
Cuiaba - SouthWild Pantanal
Land and River Safari to Jaguarland
AM: Enjoy breakfast in SouthWild Pantanal Lodge with your camera ready to go for the colorful birds who will be foraging for breakfast around the lodge grounds. After breakfast, embark on your land safari (either our open-air Safari Truck or a closed, air-conditioned vehicle) to Porto Jofre to board your boat into Jaguarland. You will have an opportunity to photograph wild Hyacinth Macaws that nest in a dead tree on the port's riverbank, as well as plenty of caiman and waterbirds along the way. Board your boat to arrive at your lodge for the next 5 days.
PM: Enjoy lunch in our restaurant complete with panoramic views of the surrounding Pantanal riverscape. Embark on your first River Safari in search of the elusive Jaguar on the riverbanks. Wind down after sunset to settle into your room at the SouthWild Flotel & Jaguar Suites. Enjoy a hot delicious meal to be rounded off with a lecture lead by our full-time Jaguar Naturalist. Compare any Jaguar photos you got with our Jaguar Dossier. If you photograph a new Jaguar, you get to name it!
Overnight at Jaguar Suites.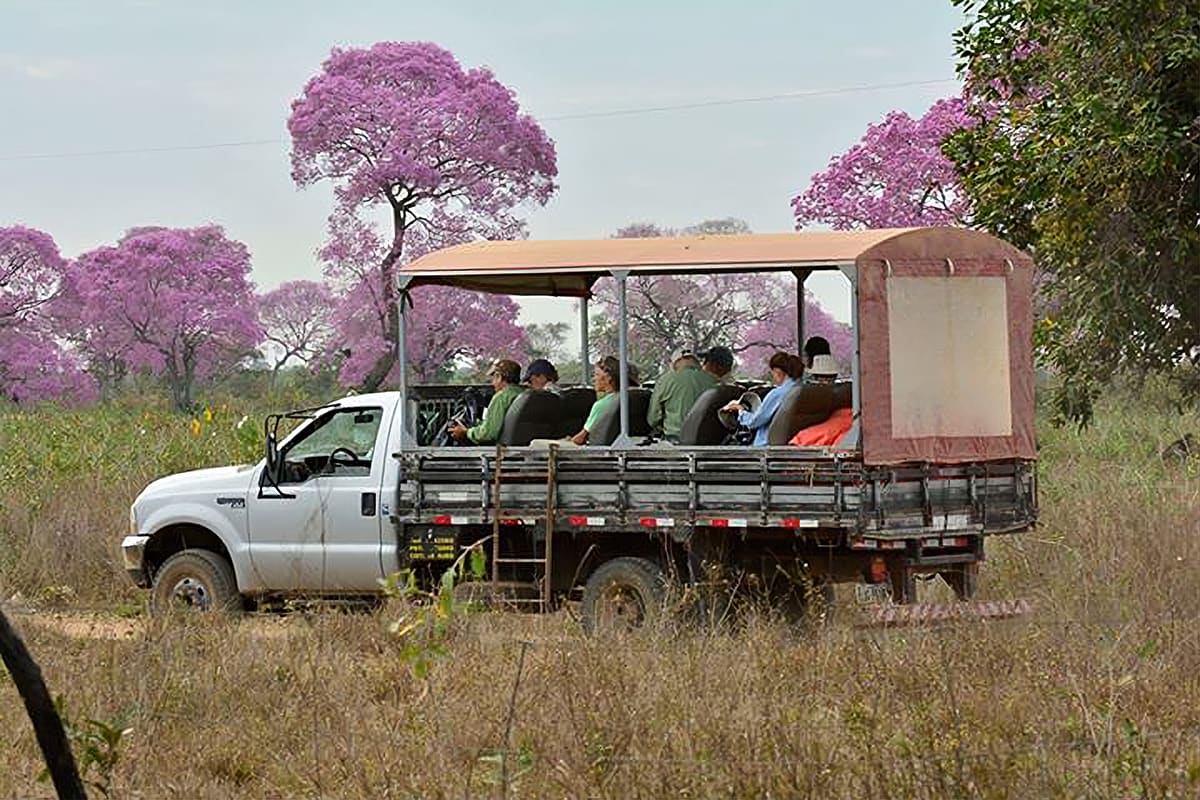 Location
SouthWild Jaguar Suites
Full Day in Jaguarland
AM: Wake up before sunrise to some hot coffee and breakfast in our panoramic restaurant to fuel up before the Jaguars wake. Set-off on your 4-hour morning River Safari to search for Jaguars and Giant Otters within Jaguarland. Return before the sun reaches its peak in time to recoup and refuel with a delicious lunch or drink on the Rooftop Bar above the Jaguar Suites. Wildlife walks by our Flotel all the time so we recommend keeping your gear nearby!
PM: In the afternoon begin your second 4-hour safari which concludes at sunset. Return to the flotel for dinner and top-off your evening by joining us for our nightly Science Lectures on key Pantanal species such as the Jaguar, Giant Otter, Capybara, and Ocelot. These lectures are led by our Jaguar Naturalist, with whom you should review your Jaguar photos to see if you photographed a new Jaguar to add to our Jaguar Dossier! You get to name new Jags!
Overnight at Jaguar Suites.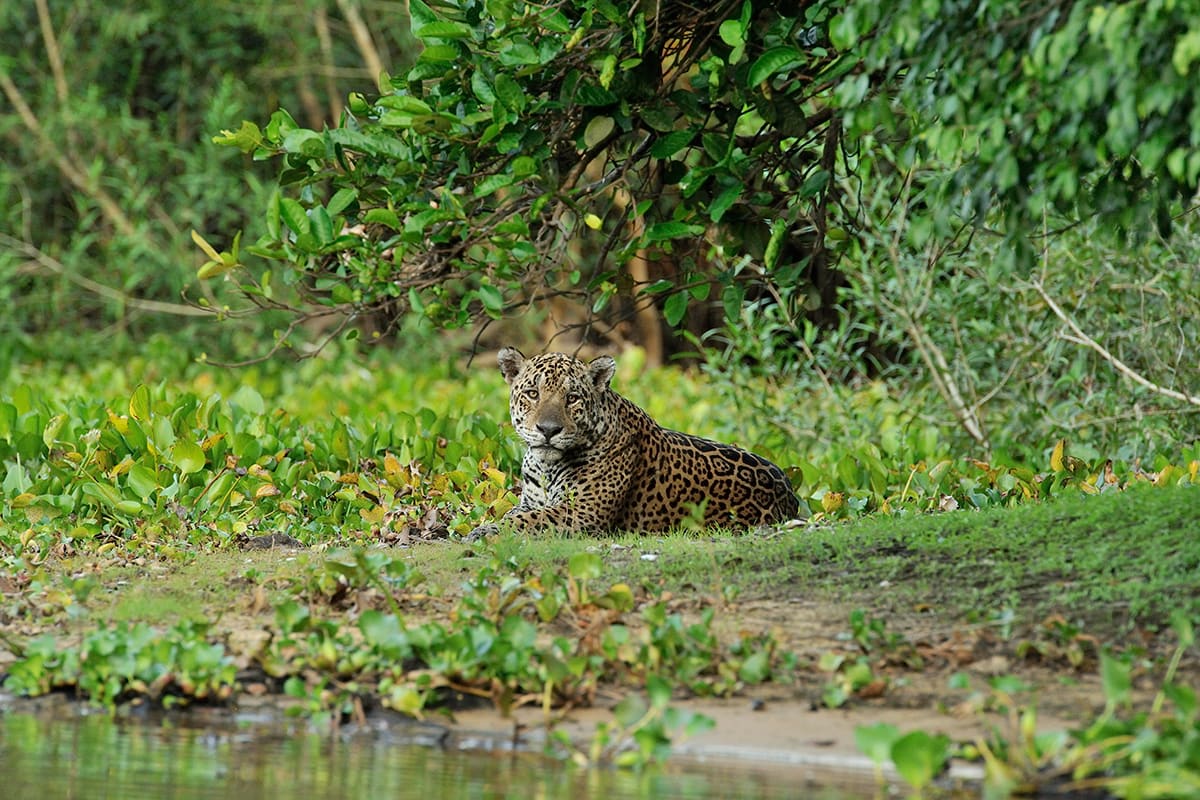 Location
SouthWild Jaguar Suites
Full Day in Jaguarland
AM/PM: The thrill of spotting jaguars and giant otters beckons on another full day of skiff excursions along the richest river channels in search of our quarry. Our boat outings take place on the lesser-visited stretches of Jaguarland's rivers, namely from the 4th to the 30th bend of the Piquiri River, the 25th to the 75th bend of the Three Brothers River, and the lowest 15 curves of the São Lourenço River. These remote reaches of Jaguar-rich rivers are avoided by the vast majority of tourist boats as it consumes more gasoline to reach them, increasing the chances of more intimate, private jaguar sightings. In the evening you'll enjoy another science lecture.
Overnight at Jaguar Suites.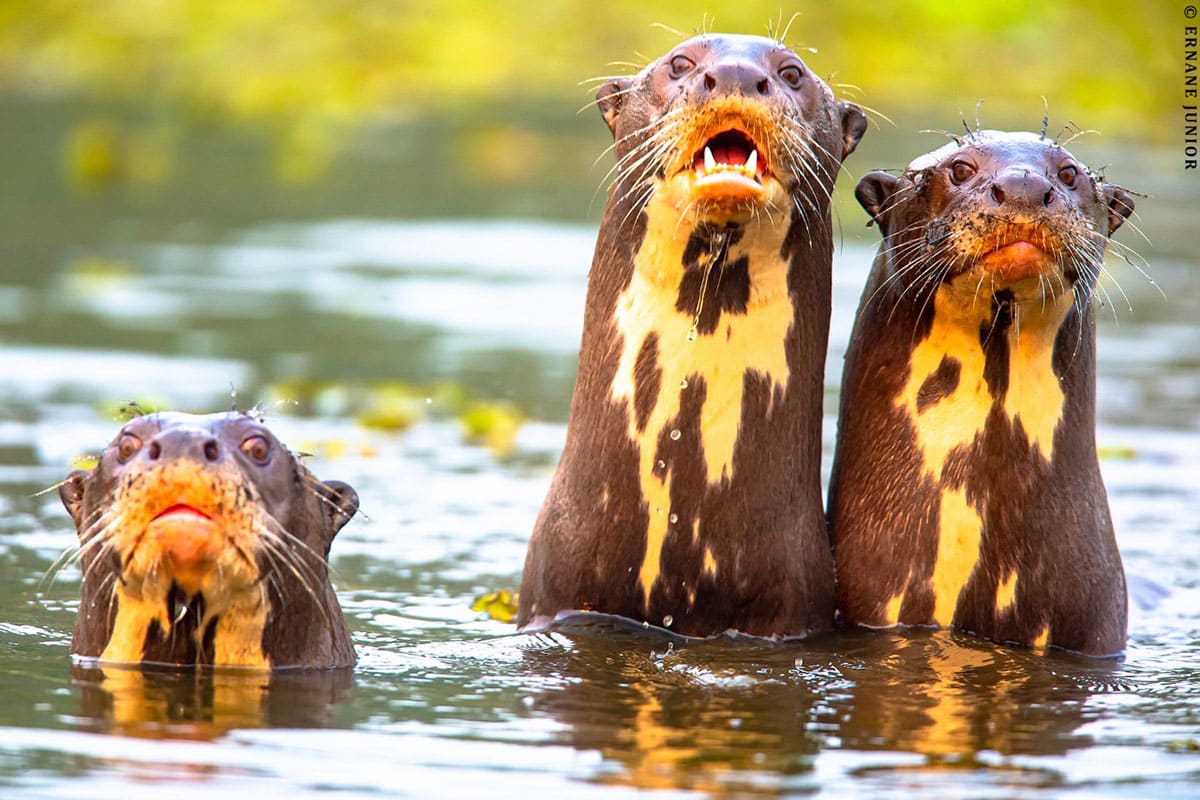 Location
SouthWild Jaguar Suites
Full Day in Jaguarland
AM/PM: As our last full day in Jaguarland, we'll make one final push to see as many species as we can with two more 4-hour boat outings in search of the usual suspects and maybe some surprise species along the way. Again we'll be exploring the best local river channels for wildlife and in the evening you'll enjoy your final science lecture.
Overnight at Jaguar Suites.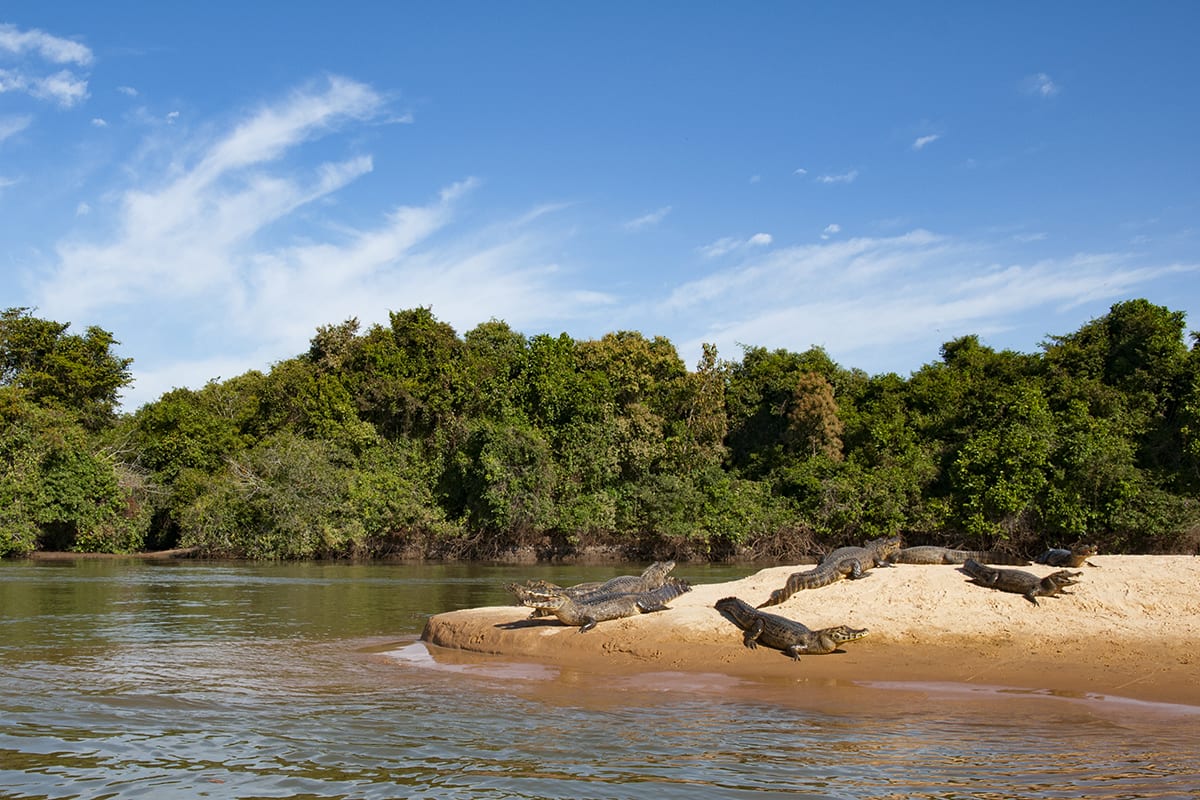 Location
SouthWild Jaguar Suites
River & Land Safari out of Jaguarland
AM: Pack up before enjoying a last breakfast on our flotel. Set off at 7:00 AM on a slow River Safari to see if you can find any last cats on your transfer southwest to Porto Jofre in time for your 8:00 AM road departure. Embark once more on your land safari (either our open-air Safari Truck or a closed, air-conditioned vehicle) to SouthWild Pantanal Lodge. Enjoy lunch in the SouthWild Pantanal Lodge's fully-screened, fresh-air restaurant. Explore the fauna-rich lodge grounds, cool off in our river-side pool, or take a siesta in one of the many hammocks hanging on the lodge's wrap-around patio.
PM: In the afternoon, set out on a 2-hour River Safari on the wildlife-rich Pixaim River. This small river is very serene and private: perfect for enjoying the wonders of a wildlife community that has been protected by SouthWild for over 18 years. In the evening try once-again to see our Ocelots or try for the even more elusive Tapir on a Night Safari. On request, we can also arrange for a Canopy Tower Sundowner Surprise to take in the splendor of the Pixaim River on your last night in the Pantanal. Enjoy dinner and dessert in the lodge restaurant.
Overnight at SouthWild Pantanal (or Hotel Mato Grosso depending on availability, but meals are still at Southwild Pantanal).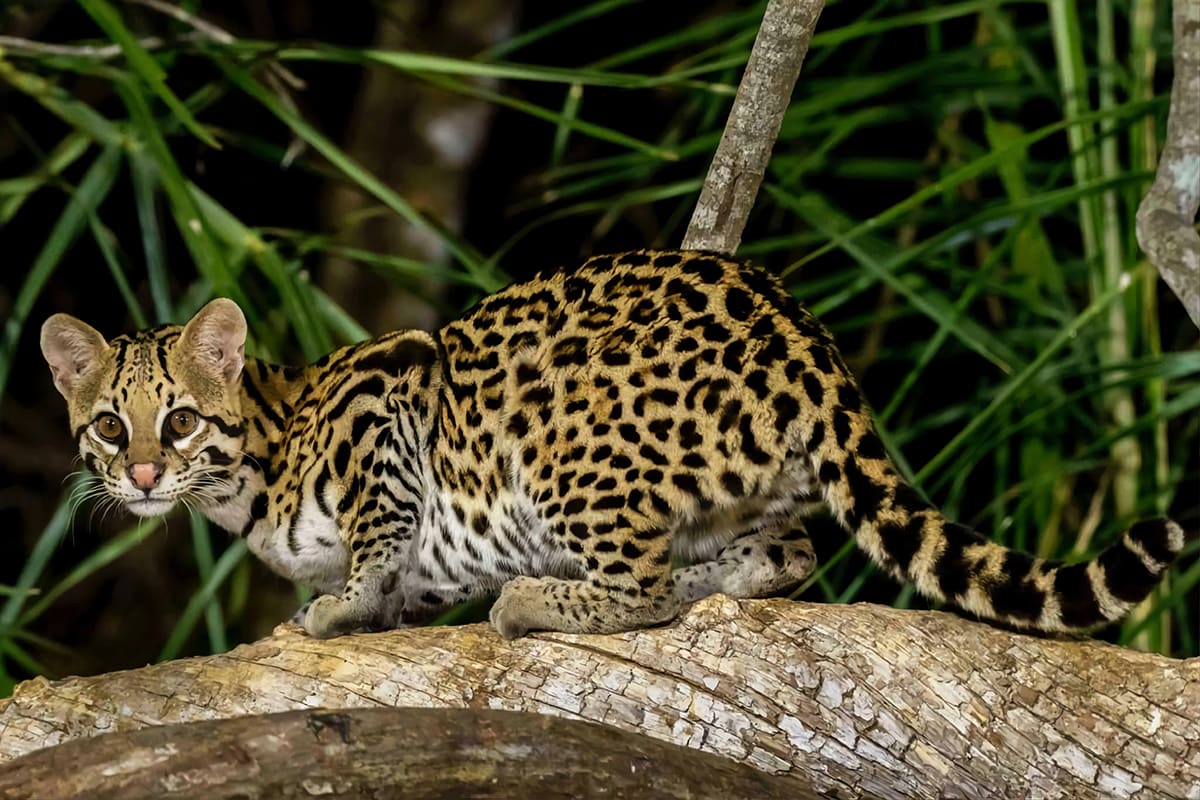 Location
SouthWild Pantanal
Departure
AM: Observe fauna around lodge before your final breakfast. You will depart the lodge between 7:00-8:00 am in a closed, air-conditioned vehicle, transferred for your noon arrival to Cuiabá Airport.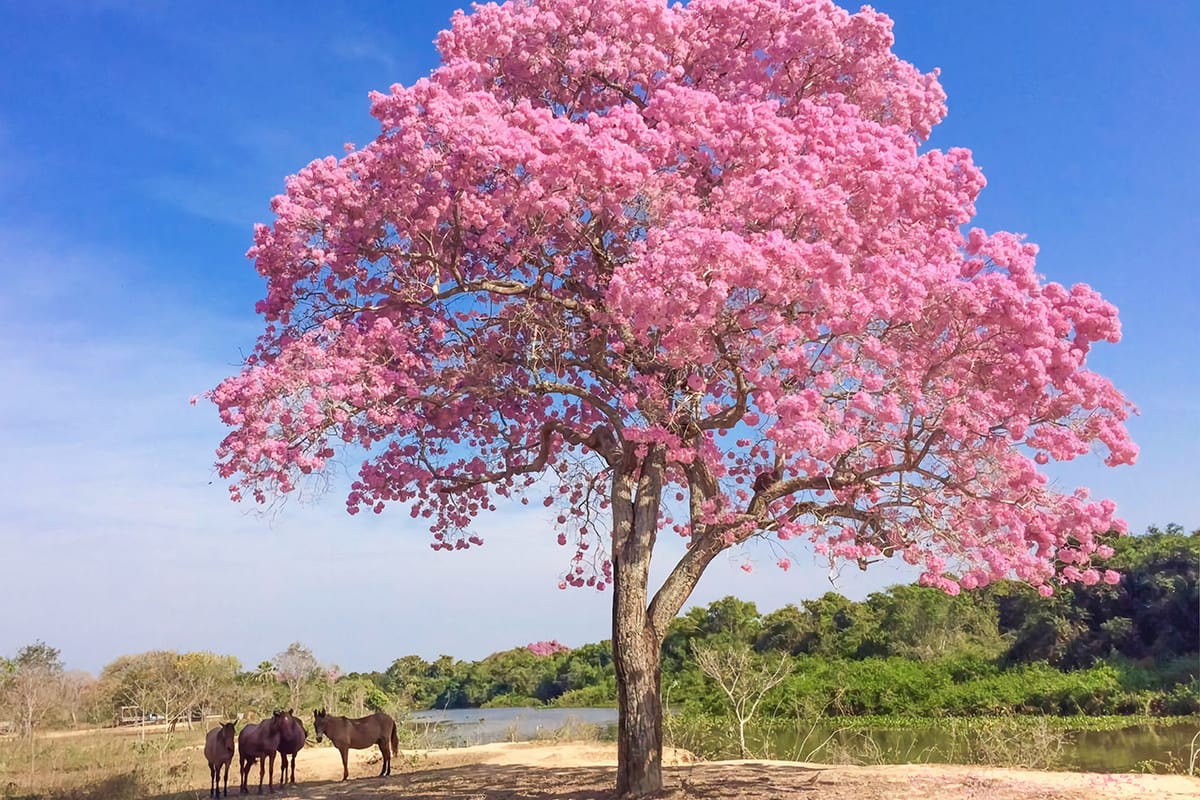 Location
SouthWild Pantanal - Cuiabá
1 / 7
Accommodations
Social Areas
Bar
Deck
Lecture Room
Restaurant View
Restaurant
Welcome Lecture
Suites & Cabins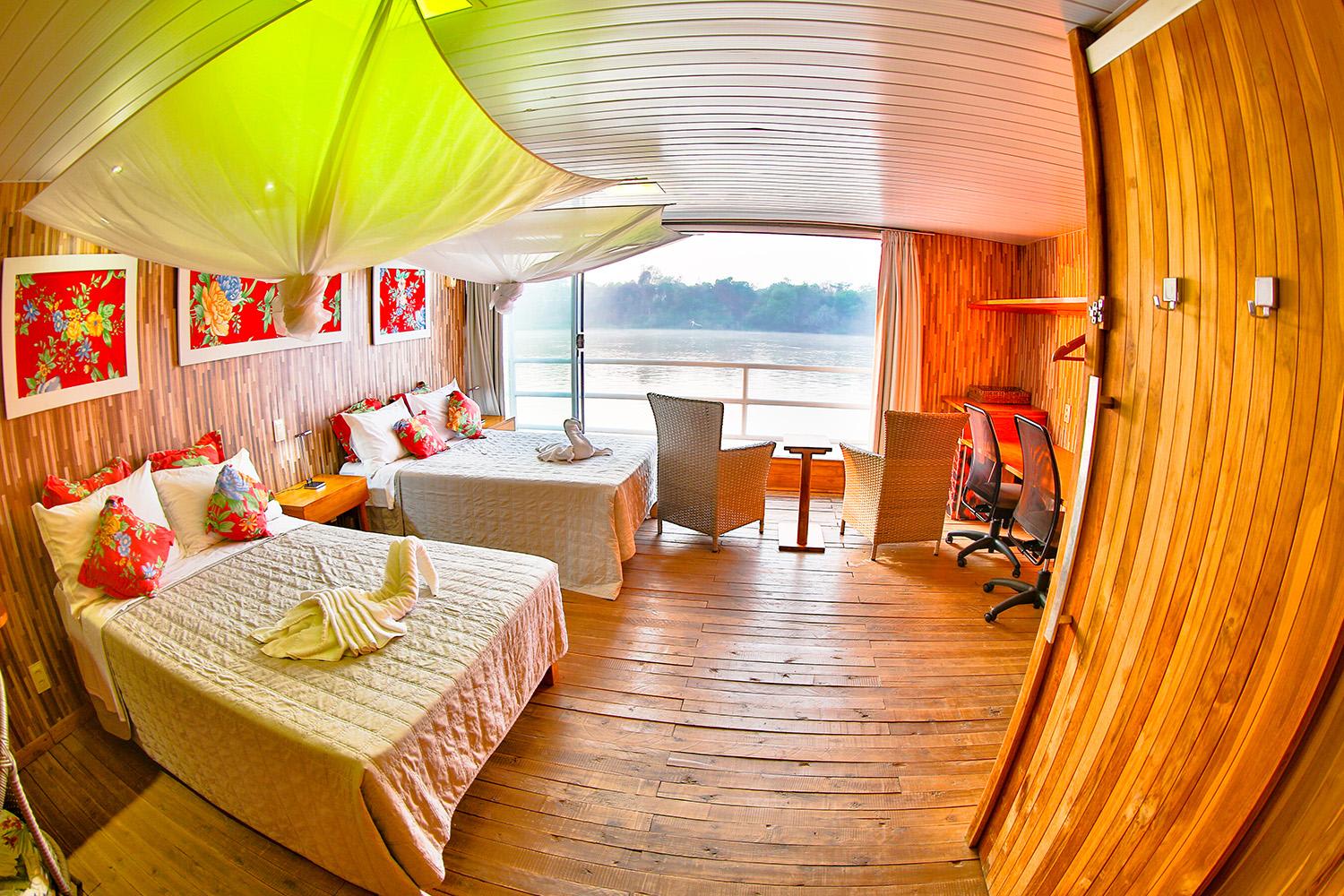 Each Jaguar Suites room offers a view of wild forest, two beds, 22 easy-access electric sockets and two large work tables. Each room offers work table space, 2 adjustable, padded desk chairs and Wi-Fi, ensuite hot-shower bathrooms, split air-conditioning, and enormous floor-to-ceiling windows gazing out across the 100-meter-wide Piquiri River and the Meeting of the Waters State Park.
Interested in the Southwild Jaguar Suites?
Please fill in the form beneath and we'll get back to you ASAP.
View last remaining Christmas & New Years availability for Amazon and Galapagos
X