Overview
Explore the incredible heartland of Ecuador and its enchanted islands together and build new memories along the way during this 9-day Ecuador Galapagos family adventure. From coastal hacienda excursions to island safaris, vacationing in Ecuador is the perfect opportunity to reconnect and have fun.
Coastal Hacienda Stay and Excursions
From Guayaquil, you will be transported to your coastal accommodations at the family-owned Hacienda Danesa. Immersed in lush greenery at the base of the Ecuadorian Andes, your family's stay here will be filled with both wonder and comfort.
Join in on the many fun and educational activities available each day. Together you can learn how chocolate is made, enjoy freshly prepared meals, and participate in the various activities of this working farm. Go horseback riding or lazy river tubing if you like, also.
You'll have incredible excursions to choose from as well. Hike through the impressive cloud forests with stops along the way, or experience a close encounter with water buffalos. Immerse yourselves in the local honey beekeeping experience, or join the chef for a hands-on cooking class, including a trip to the local farmers' market.
When it comes to Ecuador family adventures, you'll be hard-pressed to find one more exciting and hands-on than this coastal hacienda experience.
Galapagos Islands Family Safari
The fun's not over yet, though, because it's time to transition to one of the best Galapagos family adventure tours we offer.
Once back in Guayaquil, you'll hop on a short flight to Baltra Island to begin your enchanted islands adventure. From there, you'll be transported to the Galapagos Safari Camp, located on a volcanic crater rim and encompassed within a 135-acre reserve complete with its own tropical fruit trees and cacao plants.
While here, you'll stay in luxury upscale tents on the property or choose the family suite for your accommodations. Each tent and the family suite have their own private bathrooms with hot showers and a perfect balcony to relax on. An infinity pool, small library, and the main lodge also offer amazing spots to gather.
Opportunities abound to build family memories and reconnect in nature on a grand scale while here. You can explore volcanic craters and lava tunnels, search for the famous giant tortoises, and learn about the many exotic bird species of the islands.
More choices include walking through wetlands, biking to local beaches, snorkeling, or sea kayaking. Keep an eye out for sea lions, marine iguanas, blue-footed boobies, flamingos, and maybe even a few white tip reef sharks if you do.
You'll also have chances to interact with the locals, such as taking an art class with a local artist, learning fishing tricks from the island fishermen, and touring the famous Charles Darwin Research Station.
There's something for everyone here, and the memories you make together will stay with you for a lifetime.
Itinerary & Prices
Our First Day at Danesa
Today, you will be picked up from your hotel in Guayaquil and driven eastwards towards Hacienda Danesa. Located in the coastal region of Ecuador right before the marvelous Andes, the hacienda prides itself on a mindful approach to living the good life. Lush, green, and discreetly luxurious, Hacienda Danesa models hospitality with enduring expressions of land and family unique to the Olsen Peet family, its long-term owners.
On arrival, we are greeted with a refreshing drink and shown to our comfortable rooms. Our first day at the hacienda will be comprised of a number of traditional activities:
Cacao & Chocolate Experience: Chocolate has a rich history in Ecuador. Today we learn about how chocolate is made, from harvesting the pods through sampling the final product. We will observe how beans are harvested, fermented, dried, and stored. We then visit the workshop where the chocolatier shows us how to make our own small-batch chocolate is made.
Farm to Table Lunch: Enjoy a truly rich gastronomic experience as we enjoy a three-course meal prepared from fresh fruits and vegetables from the farm. Vegan and vegetarian options are available.
Milking in the Gardens:  Hacienda La Danesa is a working milk farm, producing 1,200 liters per day. It is consistently named the best dairy farm on the Ecuadorean coast! Take the opportunity to milk one of our cows and enjoy a glass of fresh milk, or a Café au lait!
Additional Activities available include lazy river tubing, biking, horseback riding or enjoy the afternoon with a massage. The property is yours to enjoy so make the most of your time!
Meals (L, D)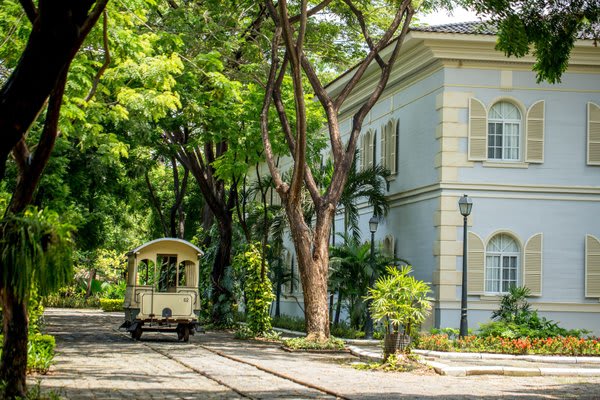 Location
Guayaquil to Hacienda La Danesa
Waterfalls or Water Buffalos
Today you may choose your own adventure.
Option 1 – A hike through the Cloud Forests:
La Esperanza Cloud Forest Reserve will astound visitors with its beauty, bounty, and a great amount of biodiversity. Wind-sculpted elfin woodlands give way to rainforests where tall trees (Guayacán, Matapalos, Laurel, Balsa, Vegetable Ivory (Tagua) and others – festooned with orchids, bromeliads, ferns, vines, and mosses – rise high into the sky. The variable climate and large altitudinal gradient have helped to produce an amazingly heterogeneous set of creatures that live here. Some of these include the jaguar, ocelot, Baird's tapir, three-wattled bellbird, bare-necked umbrellabird, and the famously elusive resplendent Andean Cock-of-the-Rock.
We depart Hacienda La Danesa at 9:00 am (or earlier if bird-watching) and arrive at Bucay at 9:30 am, which is our trailhead. During this one-hour hike, you will visit three different waterfalls of varying heights. For a bit of refreshment feel free to jump in to feel the power of the cascade. Afterward, we visit a local sugar cane farmer and enjoy a hands-on experience of making our own sugar cane and lime juice.
Option 2 – Close Encounter with Water Buffaloes:
Guests will visit Hacienda La Victoria, a 15-minute drive from Hacienda La Danesa, known for its excellence in farming Brahman and Water Buffaloes. On arrival, you will be greeted with a fresh coffee and mozzarella before given a tour of the operations. You will have the option of a horseback or mule ride around the property, visiting the pastures where the buffalo roam or try your hand at trout fishing for your lunch. The property is rich in local flora and fauna so many species of birds may be observed throughout the day. Lunch is served lakeside, with house wine and spectacular views of the highlands.
In the afternoon, we return to the hacienda. This time is a great opportunity for guests to just relax or go for a walk, or perhaps have a relaxing in-room spa.
Meals (B, L, D)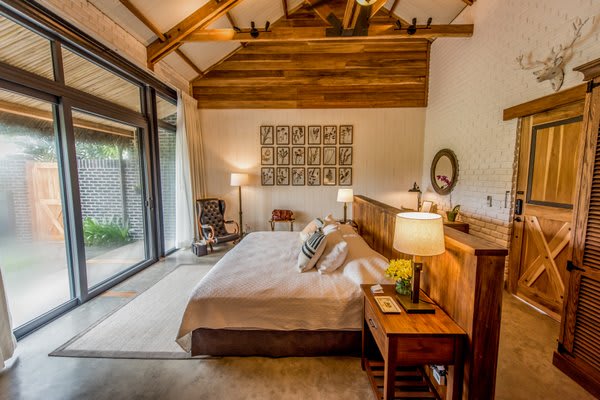 Location
Hacienda La Danesa
Honey Bees or Cooking Classes
Option 1-  Beekeeping immersion:
Learn about the intriguing world of honeybees in a way that few get to experience: through the hands­-on exploration of an active, living beehive! This experience is led by a professional local beekeeper, will include suiting up in protective gear, lighting a bee smoker, and getting up close with more than 100,000 bees.
You will walk away with a better understanding of the importance of honey bees and why their survival is so important, and see firsthand why bees aren't near as scary as many of us think! Watch honey bees at work creating honey, witness as new bees are 'born', and learn more about what you can do to help the health and survival of this vital species. This experience includes a tasting of honey fresh from the hive.
Option 2 – Cooking workshop:
Join our Chef for a farmers' market tour in Naranjito and a hands-on cooking class at Hacienda La Danesa! We will begin at a small town close to the farm,  walking to the indigenous market, where we will meet local farmers and learn how to shop for the best local produce. After strolling the market, we drive back to Hacienda La Danesa for a laid-back + hands-on cooking class, where you'll hone your knife skills and create a beautiful, seasonal dish inspired by our farmers' market bounty.
Again, the evening is free to explore the property on your own before dinner is served.
Meals (B, L, D)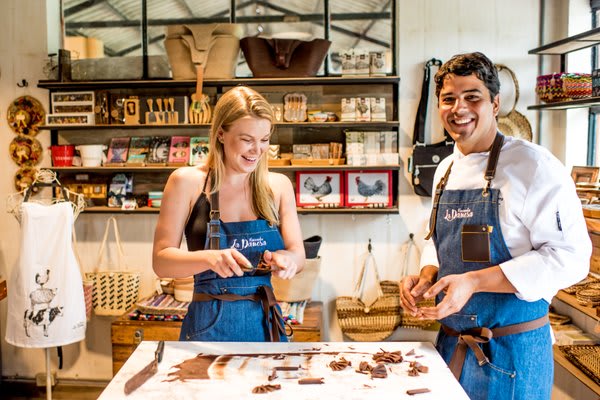 Location
Hacienda La Danesa
Depart Guayaquil & Begin Family Safari
AM: After breakfast, at the scheduled time, you will be picked up from your hotel and privately transferred to Guayaquil airport, ready to board your departure flight to the Galapagos Islands!
Your family's naturalist guide meets you at Baltra Airport. You will cross the narrow Itabaca Channel to Santa Cruz Island, and then drive up to Galapagos Safari Camp. While you settle in, your guide will capture your children's imagination with an overview of the animal species they are soon to encounter. After lunch, you may explore our 135 acre farm, pick local tropical fruit, harvest cacao seasonally, and spot local birds. Before sundown, visit the lava tunnels and search for giant tortoises roaming the National Tortoise Reserve adjacent to GSC.
Meals: (B, L, D)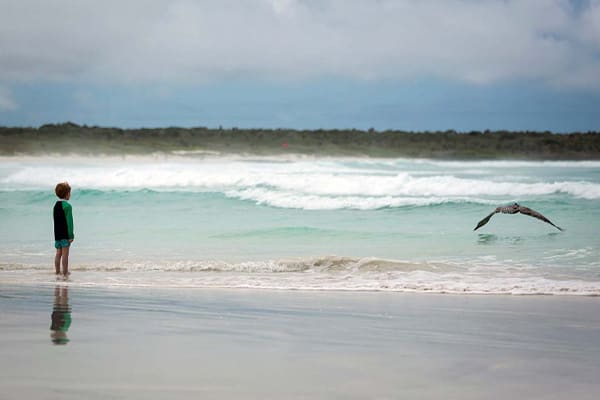 Location
Guayaquil to Galapagos Islands
Family Activity Day
AM: After breakfast, visit a neighboring organic coffee plantation to learn about responsible small–scale farming in the Galapagos, and the children have a chance to pick coffee beans if season allows. Then drive to the enormous Cerro Mesa crater for a short walk in the wetlands that is home to a wonderful variety of birds and the occasional bathing tortoise.
PM: After lunch at a local restaurant, jump on bikes for a downhill ride to Garrapatero Beach, where the contrast of mangroves, black lava, white sand, and turquoise water, along with its birdlife and flamingo lagoon, is magnificent. Explore the bay in sea kayaks, accompanied by marine iguanas, blue-footed boobies, and countless shorebirds. In the evening, back at GSC, parents can relax while the children take a private art class with a local artist.
Meals: (B, L, D)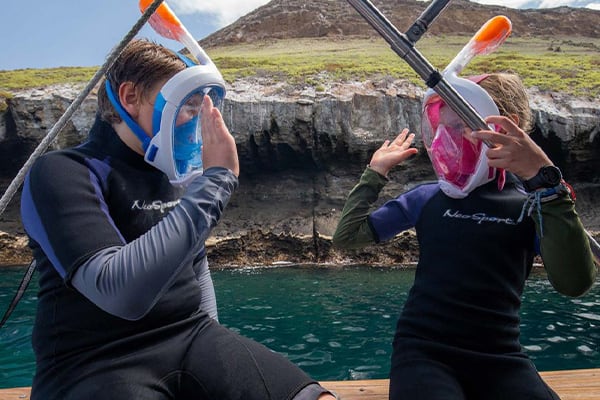 Location
Galapagos Safari Camp
Explore an Uninhabited Island
AM/PM: Spend the day spotting wildlife and snorkeling on one of the uninhabited islands easily accessed by a day–yacht from Santa Cruz Island. The exact island location depends on travel dates, but options include North Seymour, South Plazas, Santa Fe, and Bartolomé, all of which are rich in wildlife and offer wonderful snorkeling opportunities. Please note this is a shared boat excursion unless requested otherwise. Destination will depend on your dates. 
Meals: (B, L, D)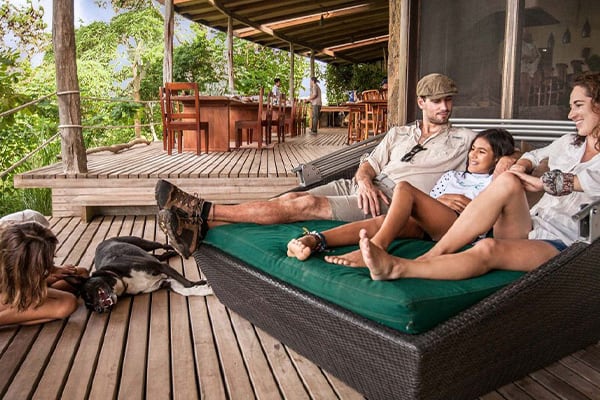 Location
Galapagos Safari Camp
Fishing Adventure
AM: This excursion is both a wildlife experience and a cultural exchange opportunity. We are involved in a program with the National Park Service that aims to engage local fishermen in tourism activities as an alternative means of income, with the added benefit of protecting local fisheries from depletion. The fishermen have very safe and modern speedboats, which we charter privately for the day. With your guide acting as translator, the fishermen share anecdotes from a lifetime at sea, and the children learn local fishing tricks.
PM: After fishing, you'll land on a deserted beach and may snorkel in a spot known only to locals. If you prefer to limit fishing and enhance the snorkeling or beach experience, your guide is there to adapt the day to your preferences.
Meals: (B, L, D)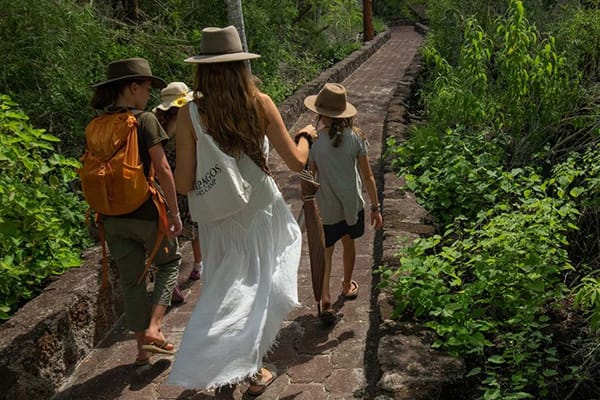 Location
Galapagos Safari Camp
Charles Darwin Research Station & Bay Tour
AM: Visit the famous Charles Darwin Research Station to learn about its preservation efforts and scientific research. The children will have an up–close experience with the tortoises that are the islands' namesake. Parents can enjoy free time to wander around Puerto Ayora, while your guide takes the children to a local playground or on a tour of the local fish market on the waterfront.
PM: After lunch, take a speedboat to Tortuga Bay, a white sandy beach with basking marine iguanas, and shallow turquoise waters teeming with white–tip reef sharks and fish. Or you can join a snorkeling boat that will take you to frolic with sea lions.
Meals: (B, L, D)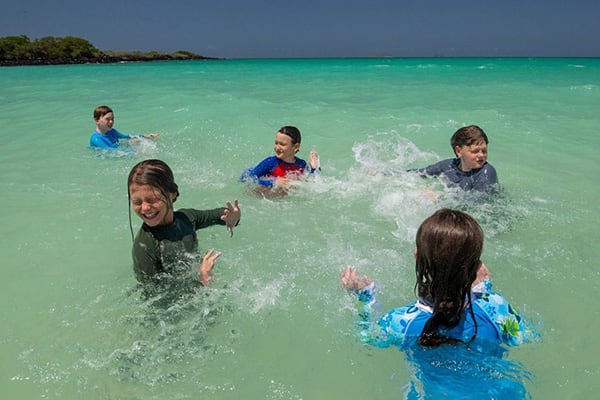 Location
Galapagos Safari Camp
Sunrise Walk and Departure
AM: Enjoy the serenity that Galapagos Safari Camp has to offer. Relax, walk, or enjoy the sunrise from our observatory before departure to your next destination.
Meals: (B)
1 / 9
Accommodations
Cruises & Lodges
Galapagos Safari Camp
Upscale camping on the crater rim of an extinct volcano at the edge of the Galapagos National Park.
Hotel Options
Boutique
Hacienda La Danesa
Guayaquil