Overview
Sailing from Manaus, the Amazon Odyssey features four cabins and can host up to 13 guests. Thanks to the efforts of its French interior designer owner, this traditional riverboat is a chicly comfortable space. Best of all, the Amazon Odyssey is eco-friendly and designed to minimize impact on the rainforest environment.
Life Aboard The Amazon Odyssey
Life aboard the Amazon Odyssey centers around the ship's upper observation deck. This open-air space features 360-degree views and is home to many of the ship's amenities. Start the day with a cup of coffee from the Nespresso machine while lounging in the relaxation area or in the solarium. Or, select a novel from the onboard library to read in a hammock.
In the evening, gather around the large dining table for a homemade feast of regional flavors prepared by a local chef. On the lower deck, you'll find an open kitchen, which is ideal for grabbing a snack or a glass of fresh fruit juice. The lower deck is also home to a swim deck and is where you will board the launch boat for safe, comfortable trips ashore.
All four of the cabins, including the panoramic room, are also on this deck. The panoramic room, which is located on the ship's bow, features 180-degree floor-to-ceiling windows for unparalleled views of the river.
During your time on the Amazon Odyssey, you will be attended by six to seven crew members, who will provide butler and daily maid services. The ship is fully equipped with safety equipment, including sonar and a satellite phone, and silent generators that will not interrupt your peaceful holiday. If you are traveling with children over the age of six, you will appreciate the toy library.
Bespoke Excursions
Though days of watching local wildlife from the luxury of the ship might be relaxing, a range of exciting excursions is sure to tempt you ashore. With an Amazon Odyssey cruise, bespoke excursions provide an authentic experience centered on the things that excite you most. Catch-and-release fishing parties on skiff boats occur at either dawn or dusk and give you the thrill of fishing in the mighty Amazon while also respecting the natural habitat. Or, explore the islands of the Anavilhanas archipelago to see the dolphins that call the area home.
Hike or kayak along tributaries to freshwater waterfalls and get up-close peeks at wildlife, including endangered scarlet macaws. For a rare look at the ways the jungle transforms after dark, opt for an overnight safari. Of course, you will not want to miss delving into local culture with a visit to a local rubber plantation. Or, if you have a more low-key holiday in mind, soak up the sun on a deserted beach.
Private Charters For Ultimate Privacy
The Amazon Odyssey is exclusively available for private charters. This allows you and your family and friends to make memories and savor once-in-a-lifetime adventures as a close-knit group without sacrificing privacy. For those seeking a similarly exclusive experience but with fewer companions, you may like to consider her smaller, yet equally elegant and eco-friendly sister ship, the Amazon EcoBoat. Whether you are looking for a relaxing holiday with your family or an activity-packed adventure, the Amazon Odyssey has everything you need for a unique, custom trip.
Accommodations
Social Areas
Dining
Kitchen
Living Room
Lounge
Solarium
Upper Deck
Suites & Cabins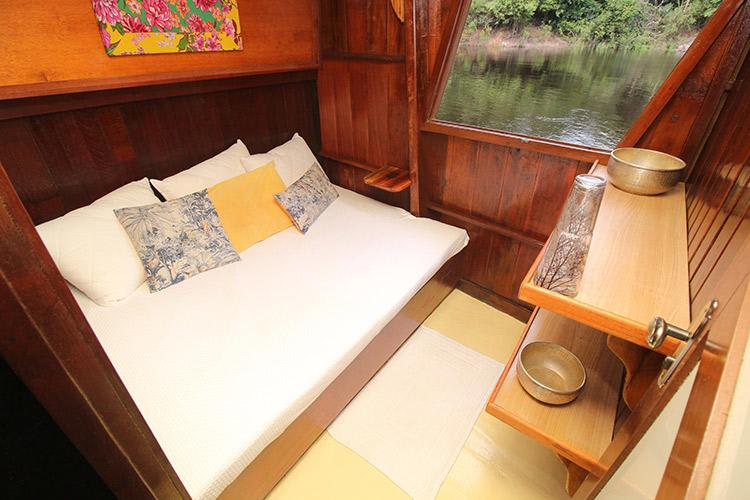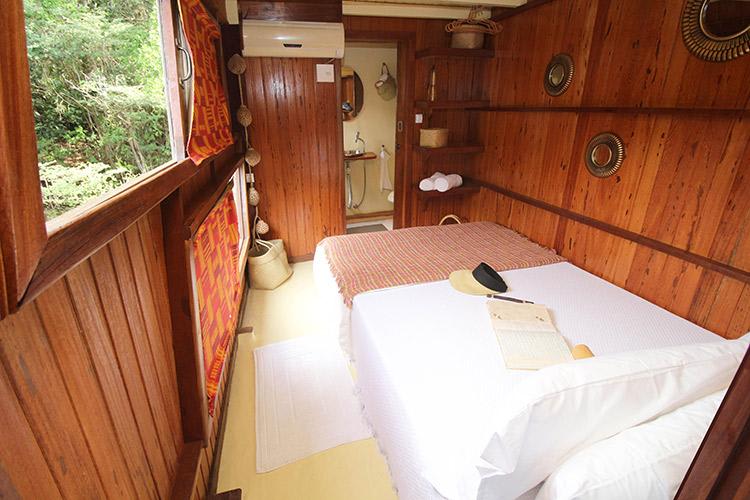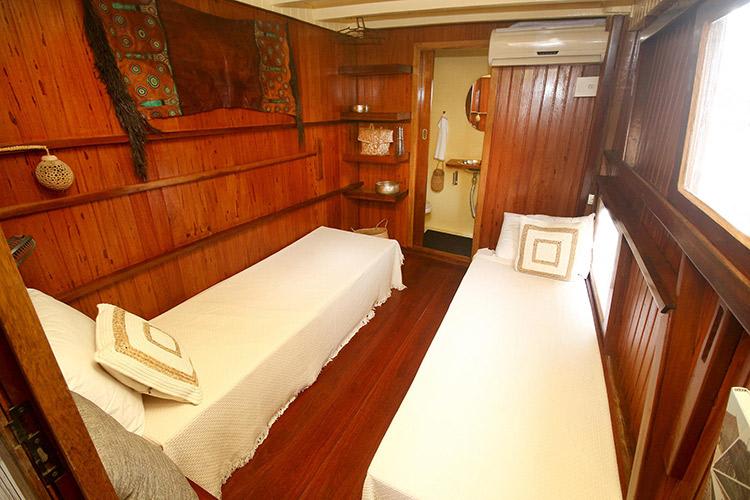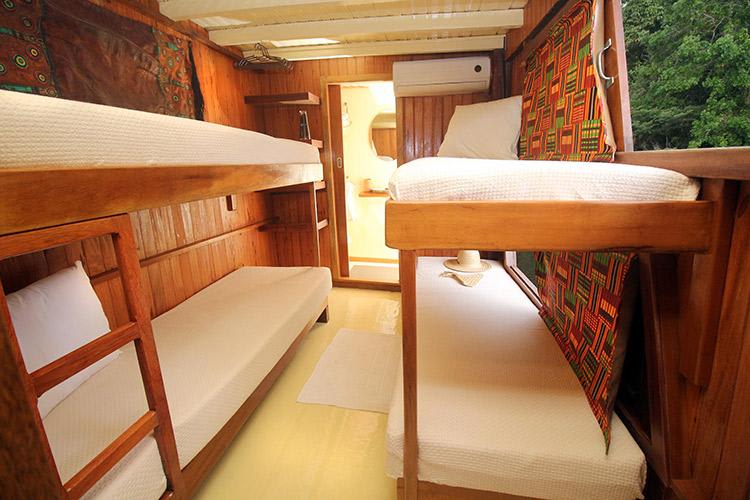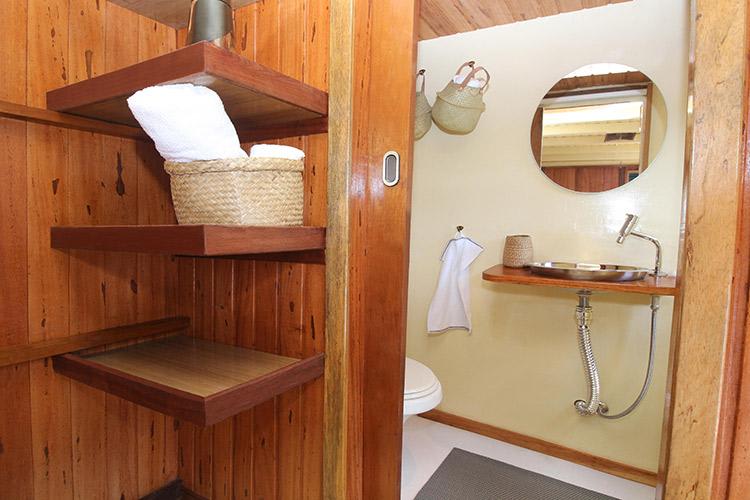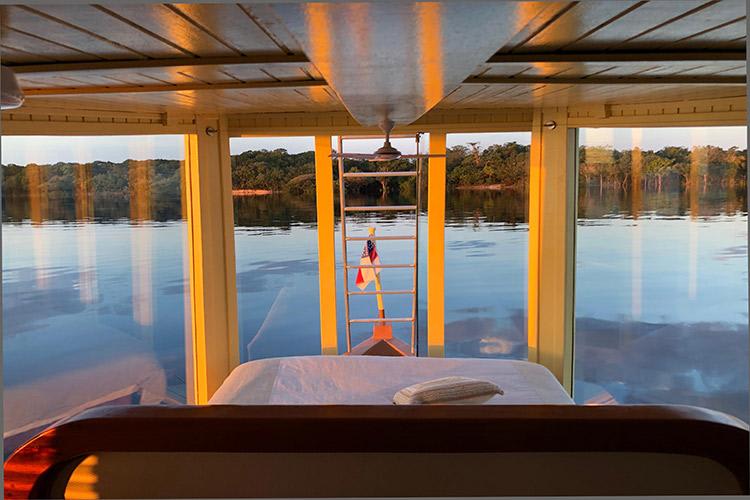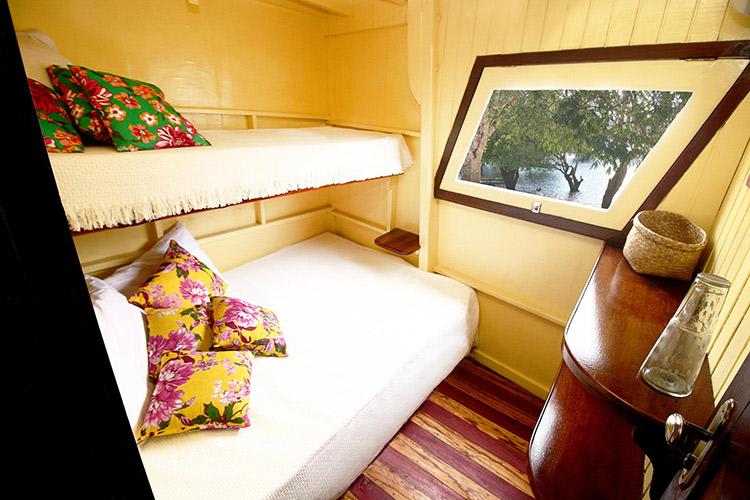 Size
5 m² / 54 ft² (approximately)
Beds
Double / Twin + Single
These Cabins feature 180° floor-to-ceiling windows giving the guest a majestic view of the tropical rainforest. The cabins also boast private ensuite facilities equipped with biodegradable and organic amenities, the finest quality linen, and adequate wardrobe storage for your belongings.