Overview
Built in November 2022, the luxurious Ocean Pure yacht (officially Ocean Pure 1 as there is a second Ocean Pure yacht based in the the Mediterranean and Caribbean) is a chic all-season charter option sailing to Indonesia's most sought-after shores, untouched wildernesses brimming with cultural riches and faunal treasures.
With capacity for just 12 guests in 6 cabins spread over 3 spacious decks, Ocean Pure is a refined floating oasis for families or groups of friends who wish to explore the region in style. With a staunchly yacht-chic ambiance, the interior design blends a true French art de vivre with renowned Indonesian hospitality—perhaps no surprise given its owners are a famous designer and hotel owner—and creates a luxurious base from which to experience the magic and charms of the archipelago.
Part-museum, the yacht is adorned with teak, lacquered wood and precious indigo-coloured Shibori fabrics, each room featuring bespoke furnishings from a unique collection of artifacts, including ancient spoons, sculpted oars, pearl hats, calligraphy brushes, ancestral spears, tribal masks and antique tableware. The pieces are either created by Indonesian artisans or found on the neighboring islands during the yacht's journeys—adventures you will soon be able to experience.
Ocean Pure Spirit
There is a solicitous spirit and soulful serenity on board, with attentive and amenable staff always on hand to cater to your every whim while you relax in the yacht's spacious social areas and soak up the superlative seascapes and volcanic vistas. Slink onto the sofa or slump onto the spacious sunbed on Bridge Deck overlooking the bow, or make your way to the cozy comforts of the Main Deck, comprising an air-conditioned living/dining room and bar, and vast open deck living space. Two sliding bay windows between them mean you can open the living and dining rooms onto the outside front deck, to create an incredible combined inner and outer-space of almost 180m2.
Equally serene and exquisitely furnished, her air-conditioned, ensuite cabins provide a more private escape should you wish. With king-sized beds, panoramic windows with 180-degree views, and sliding doors leading out onto private 15m2 terraces with daybeds and a massage table, the 50m2 Master suite on Bridge Deck and 40m2 VIP suite on Main Deck are the epitome of style, but the four porthole-windowed cabins on Lower Deck are not to be sniffed at either, all well-appointed with queen-size double or twin beds, writing desk, and dressing room.
Ocean Pure Indulgence
A talented chef is at your service, ready to introduce you to the full flavors and variety of delicious Southeast Asian delicacies, or more traditional western cuisine should you desire. Each island puts its own twist on its dishes, which are as rich and diverse as their cultures. Let yourself be guided, or choose your own, bespoke daily menus.
WIth a fervent focus on the culinary arts, every meal is a new discovery, each breakfast, lunch and dinner a chance to discover new glassware, table sets and tablecloths. You can choose to enjoy your meals outside on the main deck, or in the cool, air-conditioned dining room, while still admiring the stunning, 180-degree views. Or why not opt for a picnic lunch on a white sandy beach in the shade of the palm trees, or evening BBQ while watching the sunset on a deserted island? Everything is possible, and the staff will take care of your needs from start to finish.
Her experienced 12-strong crew pride themselves on providing an indulgent Indonesian stay on board. From busy butlers and diligent deckhands, to an on board massage therapist and dedicated cruise manager, all at your service, 24/7, there is always someone available, eager to extend the warmest hospitality and provide the very best service with a genuine smile—the trademark magic of Indonesia!
Ocean Pure Discovery
The entire region is filled with picture-postcard, sandy, secluded beaches waiting to be explored, breathtaking bays to be paddled across by sea kayak or paddleboard, as well as volcanoes to climb, tropical rainforest to trek through, prehistoric dragons to walk with, traditional villages and ancient temples to visit, friendly tribes to meet, and the beauty of nature and its wildlife to admire.
Beneath the waves, the waters of Indonesia are an epicenter of biodiversity, offering the world's most varied concentration of marine life. With hundreds of unique, colorful coral reefs, warm water and exotic, tropical marine life, it's a paradise for divers and snorkelers of all levels. Your very own dive master is stationed aboard the yacht, ready to take you on the most incredible diving adventures. Every day promises something remarkable and unique!
From the abundant marine life of Lombok & the Gili Islands, and dragon-laden, diver's paradise of the Komodo National Park, to the far-flung spice islands of Maluku and Banda, and famous Papuan paradise of Raja Ampat—wherever you choose to visit on your exclusive charter cruise, Ocean Pure's friendly and helpful crew will expertly guide you as you stylishly discover the rich natural surroundings and bewildering biodiversity of Indonesia in private according to your own personal itinerary.
Accommodations
Social Areas
Massage
Front Deck
Indoor Living
Chill Corner
Dining
Outdoor Lunch
Picnic
BBQ
Suites & Cabins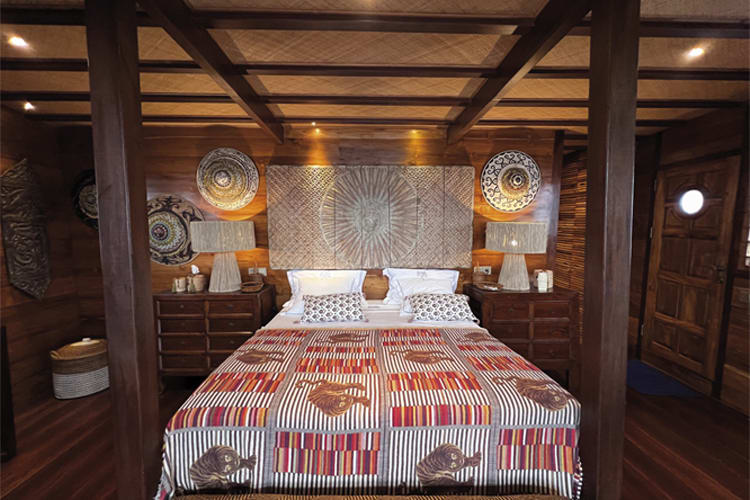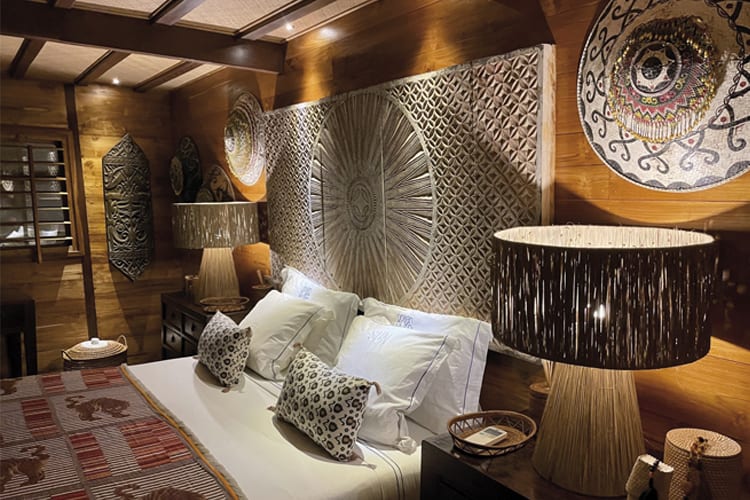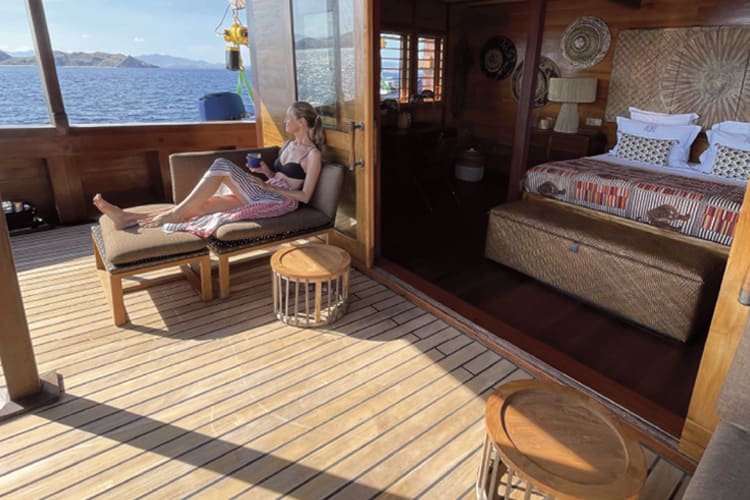 Located aft on Main Deck and close to all the yachts social areas, the VIP suite offers panoramic windows with incredible180-degree views, sliding doors opening onto a private 15 sqm terrace with daybeds and a massage table, a king-size bed, antique Asian furnishings, writing desk, integrated A/C, a separate toilet, and dressing room.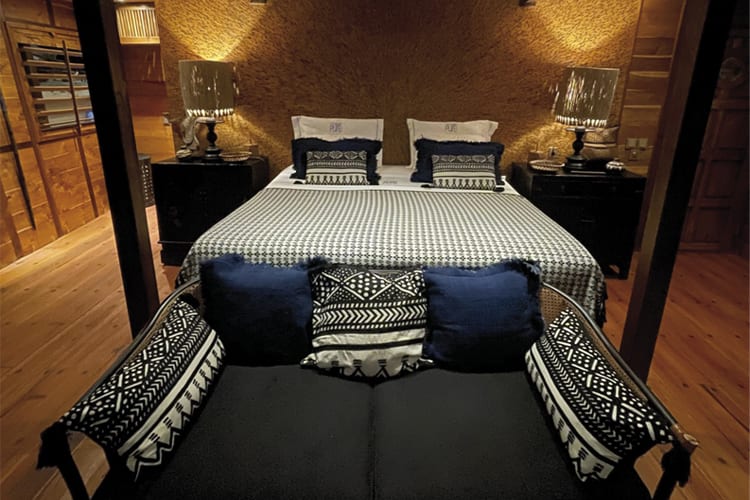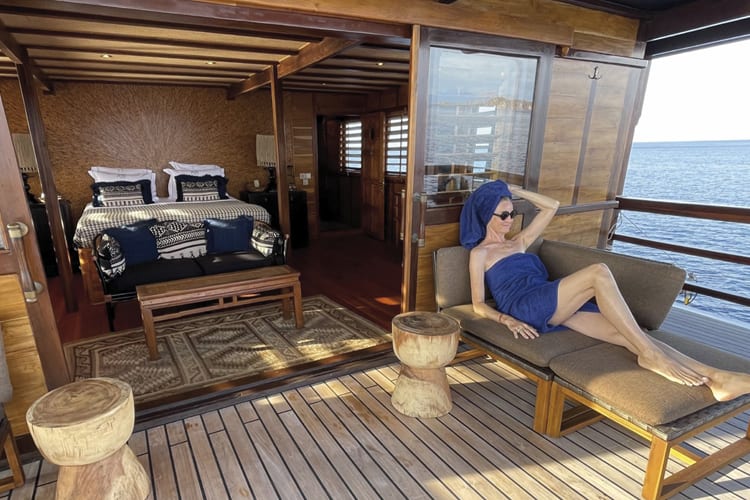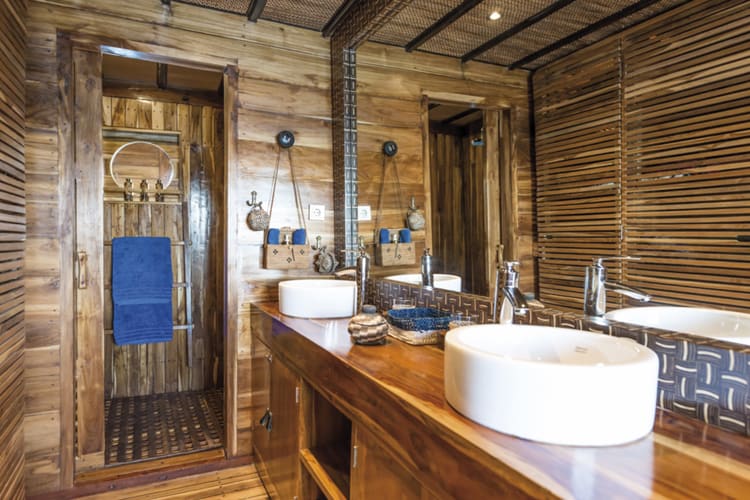 The Master Suite has the privileged located to the aft of the uppermost Bridge Deck, with stunning 180-degree views, a private 12 sqm terrace with daybeds and a massage table, antique Asian furnishings, a writing desk, integrated A/C, a separate toilet, 2 walk-in showers, and a dressing room.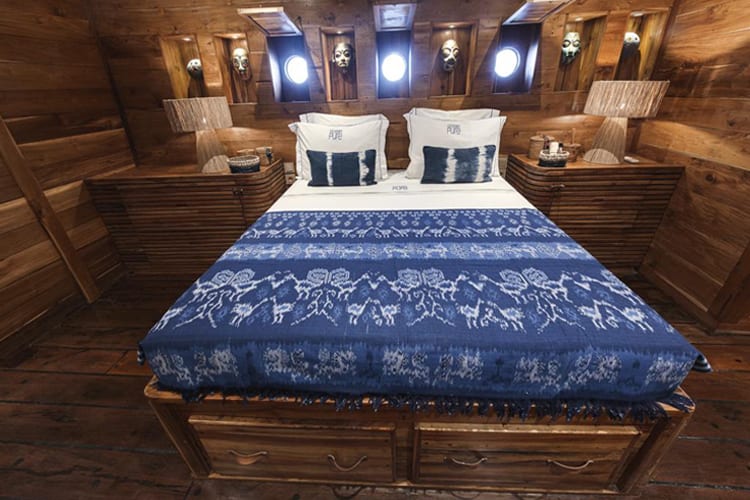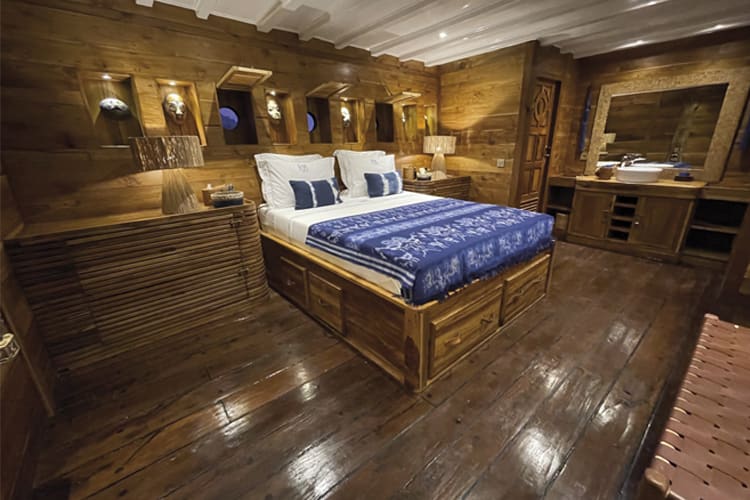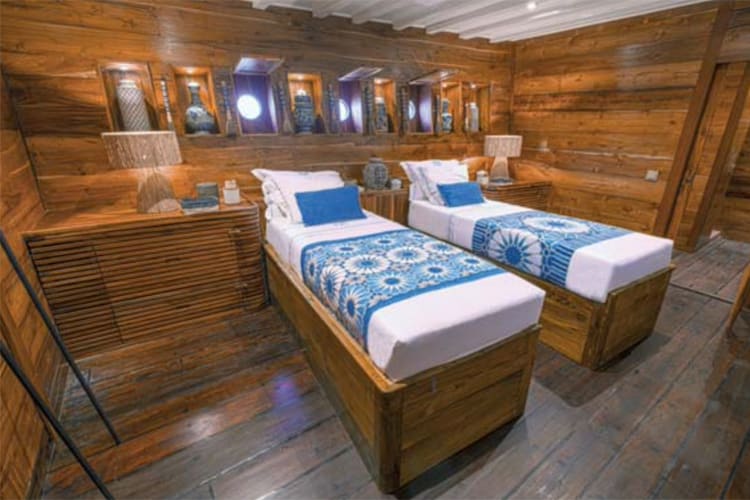 4 Cabins
Lower Deck Cabins
On the Lower Deck are 4 air-conditioned cabins, each with 4 porthole windows, separate toilets, separate showers, wash basins, writing desk and a dressing room. Whilst smaller than the other cabins, they are still spacious and equally stylish, well-appointed, and have an elegant, fresh, and relaxing feel. They feature either a queen-size bed or 2 single beds.